Hope, Help, and Healing for Eating Disorders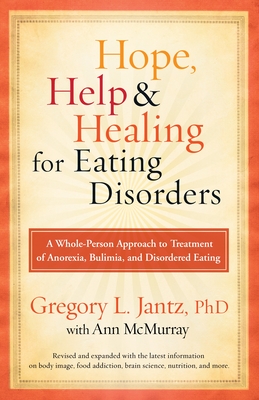 Hope, Help, and Healing for Eating Disorders
A Whole-Person Approach to Treatment of Anorexia, Bulimia, and Disordered Eating
Waterbrook Press, Paperback, 9780307459497, 288pp.
Publication Date: October 5, 2010
* Individual store prices may vary.
Buy Now
or
Shop Local
Enter your zip code below to purchase from an indie close to you.
Description
Heal your relationship with food.
Eating disorders and disordered eating ravage and consume too many lives. In this powerful book for individuals suffering from eating disorders as well as those wanting to help Dr. Gregory Jantz comes alongside his readers with a well-tested and successful approach that addresses the emotional, relational, physical, and spiritual dimensions of healing from an eating disorder.
Topics include:
Five often-overlooked nutritional keys to recovery
How to let go of anger, fear, and guilt
Tools for creating a binge-free life
How not to be a victim of others
The role of emotional and verbal abuse in eating disorders
Seven keys to creating healthy relationships
This completely updated and revised edition contains new material on nutritional leading-edge interventions, spiritual abuse, and healing strategies for compulsive behaviors.
If food has not found its proper place as nutrition in your life, discover the answers in "Hope, Help and Healing for Eating Disorders." Because you can do more than just survive--you can "really live."
""
"Contains thought provoking questions and activities to guide readers through progressive healing steps.
About the Author
Mental health expert Dr. Gregory Jantz is an internationally recognized best-selling author of twenty-six books. Dr. Jantz is the Founder of The Center for Counseling and Health Resources, Inc., known as "A Place of Hope," a leading health-care facility based in Seattle.

Ann McMurray has coauthored several books, including "Healing the Scars of Emotional Abuse" and "Every Woman's Guide to Managing Your Anger". She too lives in Washington and works at The Center for Counseling & Health Resources, Inc.
Praise For Hope, Help, and Healing for Eating Disorders…
"I highly recommend Hope, Help, and Healing for Eating Disorders to anyone who feels they will never escape the trap of eating disorders. Practical, hopeful, sensitive, and wise, this book offers unique insights for body, mind, and soul."
—DR. GARY SMALLEY, author of numerous books including The Amazing Connection Between Food and Love

"This must be the most helpful book on eating disorders there is." —LENDON SMITH, MD, author of numerous books
including Feed Your Body Right

"No guilt here, no hype, only a grace-filled glimpse, a true reflection of what could be you. Trust this man because he cares with enough passion and honesty to get to where it really hurts and to help you (or someone you love) to find creative healing."
—GRAHAM KERR, television host of Graham Kerr's Gathering Place

"I was deeply touched and encouraged that [Jantz]…believes people living (or nearly dying) with eating disorders can overcome and be free." —CYNTHIA ROWLAND, author of The Monster Within

"A practical plan for healing the wounds and growing into a rewarding life beyond eating disorders." —ROBERT A. ANDERSON, MD, author of Clinician's Guide to Holistic Medicine

"Thanks, Gregg, for not only providing hope for those who are hurting but offering a way to turn their experiences into help for others." —DR. LYNDA HUNTER-BJORKLUND, author and speaker

"Whether you are personally battling an eating disorder (as I did) or you care for someone who is, Dr. Jantz's book will provide highly informative and helpful steps to finding your way back to emotional, spiritual, and physical wellness." —KATHY TROCCOLI, singer, author, and speaker