Puppyhood Deck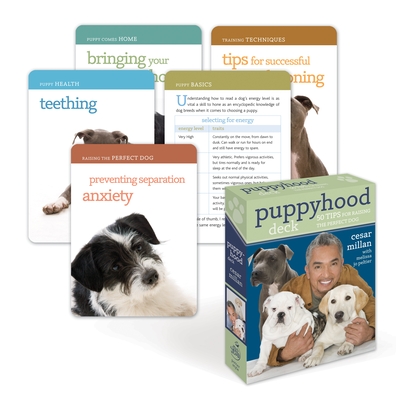 Puppyhood Deck
50 Tips for Raising the Perfect Dog
Potter Style, Hardcover, 9780307463487, 50pp.
Publication Date: April 6, 2010
* Individual store prices may vary.
Buy at Local Store
Enter your zip code below to purchase from an indie close to you.
or
Not Currently Available for Direct Purchase
Description
Following in the paw prints of the highly successfulCesar's Way Deck, this set of puppy training reference cards offers the best-selling author's trademark insight in a format that is easy to read and easy to use. Each flashcard includes a tip from Cesar Millan's bookHow to Raise the Perfect Dog, a guide thatcovers information such as how to choose the ideal breed for your family and energy level, which vaccinations to get and when, how to prevent important behavioral issues from developing from day one, how to manage issues that develop in adolescence, and much more.
The tabbed sections include quick-to-read tips for:
1) Which Puppy is Right for You? Evaluating a Puppy's Mother, Evaluating a Puppy's Energy
2) A Timeline of Puppyhood: Neonatal, Transitional, Socialization, and Adolescent Periods
3) Puppycare: How to Hold and Carry Your Puppy, How to Introduce a Puppy to Your Home, Nutrition and Feeding Schedules, When to Vaccinate Your Puppy, and Dealing with Teething
4) Training: Housebreaking Dos and Don'ts, Leash Training, Establishing House Rules, and Exercise and Play
5) Common Misbehaviors and Causes: Chewing, Marking, Nipping, Digging, and Crying
As the host ofThe Dog Whisperer, Cesar has inspired people all across the country with his accessible methods for training, rehabilitating, and caring for dogs. If pet owners know about these tips before even bringing their puppies home, then they can assume the "pack-leader" position from day one and avoid any behavioral problems down the road.