Larousse Gastronomique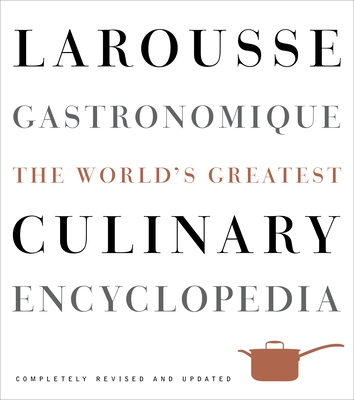 Larousse Gastronomique
The World's Greatest Culinary Encyclopedia
Clarkson Potter Publishers, Hardcover, 9780307464910, 1206pp.
Publication Date: October 13, 2009
* Individual store prices may vary.
Shop Local
Enter your zip code below to find indies closest to you.
Description
"Larousse Gastronomique" has been the foremost resource of culinary knowledge since its initial publication in 1938. Long revered for its encyclopedic entries on everything from cooking techniques, ingredients, and recipes to equipment, food histories, and culinary biographies, it is the one book every professional chef and avid home cook must have on his or her kitchen shelf. In fact, Julia Child once wrote, "If I were allowed only one reference book in my library, "Larousse Gastronomique "would be it, without question."
The culinary landscape has changed dramatically in the last decade, prompting a complete revision of this classic work. "Larousse Gastronomique" has now been updated to add the latest advancements that have forever changed the way we cook, including modern technological methods, such as sous-vide cooking and molecular gastronomy. All-new color ingredient-identification photographs give this edition a fresh, elegant look. And for the first time, "Larousse" features more than 400 reportage photos-candid images of upscale restaurants from around the world-that give behind-the-scenes access into the kitchens where the finest food is created. Dozens of new biographies of people who have made significant contributions to the food world debut in this revision, including such luminaries as Ferran Adria, Daniel Boulud, Alice Waters, Gaston Lenotre, Thomas Keller, James Beard, and Julia Child.
With entries arranged in encyclopedic fashion, "Larousse Gastronomique" is not only incredibly user-friendly, but it is also a fantastic read for anyone who loves food. Skip from Roasting to Robert (a classic French sauce), and then to Robiola (the Italian cheese); or go from Sake to Salad-with dozens of recipes-and on to Salamander, a type of oven used in professional kitchens for caramelizing (and named after the legendary fire-resistant animal). An index at the end of the book of all 3,800 recipes for cuisines from around the world makes it easy to find a myriad of preparations for any ingredient (eggs or chicken, for example) or type of dish (such as cakes or sauces).
The unparalleled depth and breadth of information-from the traditional to the cutting-edge-make this newest edition of "Larousse Gastronomique" indispensable for every cook.
About the Author


JOEL ROBUCHON, the winner of the prized "Meilleur Ouvrier de France" award, with a three-star rating in the Michelin Guide, is one of the world's greatest chefs. He has already published several books of delicious recipes, including two that have been translated into English: Simply French in 1991 and Joel Robuchon's Cooking Through the Seasons in 1995. Robuchon has also done a number of other books in his native French tongue, and in 1996 hosted a daily television program called "Cook Like a Great Chef" on France's number one television channel, TFI.
Praise For Larousse Gastronomique…
"Larousse Gastronomique is clearly the best cooking encyclopedia ever, but I also love to open it anywhere and just read. The descriptions are clear and the recipes are easy to follow. Anyone who thinks French cooking is daunting will be forever changed by this book."
—Ina Garten

"Larousse has a place of honor on every cookbook shelf in America."
—Martha Stewart

"It is critical to have a sound understanding of traditional culinary principles before attempting to push boundaries in cuisine. Larousse Gastronomique helps me execute the progressive cooking we do at Alinea."
—Grant Achatz

"The bible of cooking. The all-time argument ender. Early in my cooking career, I wielded my Larousse like a weapon and it never let me down."
—Anthony Bourdain

"Larousse Gastronomique has always been the first and last word on classic European techniques and recipes. I love that it has expanded its reach to cover world cuisines and modern culinary innovations, making it more indispensable than ever."
—Marcus Samuelsson

"The history of food has never had a better biographer. Required reading for anyone who eats."
—Dan Barber

"Young chefs, famous chefs, home cooks, and everyone who loves food and cooking–we all depend on Larousse Gastronomique. It is the only culinary encyclopedia that is always up-to-date."
—Daniel Boulud

"You can't go into the chef's office of any serious kitchen and not see a copy of Larousse. A must-have for professional and home cooks alike."
—David Chang

"The Larousse is the first place I look when I need to clarify a cooking question. The greatest reference book, it is a fascinating read."
—Jacques Pépin

"Larousse is an invaluable tool for any cook. I've used this great resource all throughout my cooking career, and of course I look forward to the new edition. New information and knowledge are always welcome."
—Thomas Keller

"Larousse Gastronomique is a veritable dictionary of cooking terms for the French kitchen. If a chef were allowed only one book, this would have to be it."
—Mario Batali