The Man from Saigon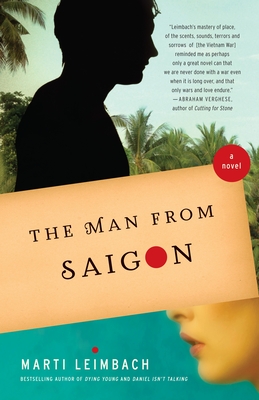 The Man from Saigon
Anchor Books, Paperback, 9780307472168, 342pp.
Publication Date: March 8, 2011
* Individual store prices may vary.
Buy at Local Store
Enter your zip code below to purchase from an indie close to you.
or
Not Currently Available for Direct Purchase
Description
It's 1967, and Susan Gifford is one of the first women correspondents in Saigon, dedicated to her job and passionately in love with an American TV reporter. Son is a Vietnamese photographer anxious to get his work to the American press. Together they cover every aspect of the war from combat missions to the workings of field hospitals. Then one November morning, after narrowly escaping death, Susan and Son find themselves the prisoners of three Vietcong soldiers. Helpless in the hands of the enemy, they face the jungle, living always with the threat of being killed and the slow realization that their complicated relationship is the only thing sustaining them both.
About the Author
Marti Leimbach is the author of several novels, including the international bestseller Dying Young, which was made into a major motion picture starring Julia Roberts. Born in Washington, D.C., Leimbach attended the Creative Writing program at University of California, Irvine, and Harvard University. She currently lives in England and teaches at the University of Oxford s Creative Writing program."
Praise For The Man from Saigon…
"Leimbach's mastery of place, of the scents, sounds, terrors and sorrows  of  [the Vietnam War] reminded me as  perhaps only a great novel can that that we are never done with a war even when it is long over, and that only wars and love endure."  —Dr. Abraham Verghese, author of Cutting for Stone

"Fast-paced, vividly descriptive. . . . Leimbach's emphasis on a female reporter in a war that was so often covered by men is refreshing." —The New York Times Book Review

"This impressive novel finds a new way of illuminating the horrors of an old war." —People
 
"From Tim O'Brien and Denis Johnson to Bao Ninh, the war in Vietnam gave rise to long shelf of fine fiction. In this novel, set in Saigon and the jungle battlefields of 1967, Marti Leimbach nods to forerunners but still finds a path of her own. . . . Emotionally rich, viscerally intense." —The Independent (London)

"This novel is one of the great examples of artistic imagination. Marti Leimbach was just starting grammar school at the time in which she set The Man from Saigon. She wasn't there—but if you read this book, you will be. . . . Writers are always told in writing classes to write about what you know. What Leimbach knows and writes about superbly is the human heart, its relationship with others, and its conflicts with duty, fear, and ambition. . . . You won't want to put it down for anything except reluctant pauses for necessities." —Karl Marlantes, author of Matterhorn: A Novel of the Vietnam War  

"With vivid description, Marti Leimbach makes you feel Gifford's breath, feel the heat, see her bleeding barefoot and listen to her thoughts. In The Man From Saigon, Leimbach shows through his characters that every aspect of life is different during war: relationships, memories and even the things that someone yearns for." —Austin American-Statesman

"Powerful." —Editor's Choice, The Denver Post

"Leimbach masterfully conjures the hothouse atmosphere of foreign correspondents in Saigon in the late 1960s, and in Susan she has created a heroine who is a worthy counterpart to the real life reporters who covered the war. Whether describing a convoy taking fire, a farcical press briefing, a quiet moment between Susan and Marc, or the ironic aftermath of Susan's ordeal, Leimbach expertly captures the contradictions of the war, making this a solid addition to the literature of an endlessly reconsidered conflict." —Publishers Weekly (starred review)

"The Man from Saigon is stunning — so visual, so sensual and sharply realized. Almost nothing else could interest me in another book about that war, but by writing about a woman reporter in Vietnam, Leimbach makes its dark history brilliantly new." —Karen Connelly, author of The Lizard Cage
 
"Leimbach does an impressive job of evoking the frenetic chaos of Saigon and the claustrophobia and suffocating humidity of the dense jungle, while her story has a vivid immediacy as it flashes backwards and forwards in a deliberately disorienting fashion. The result is intense and gripping."  —Daily Mail