Strangers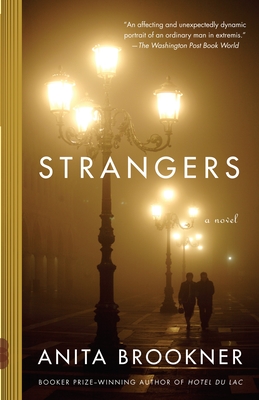 Strangers
Vintage Books USA, Paperback, 9780307472601, 235pp.
Publication Date: July 13, 2010
* Individual store prices may vary.
Buy at Local Store
Enter your zip code below to purchase from an indie close to you.
or
Not Currently Available for Direct Purchase
Description
Booker Prize-winner Anita Brookner captures the magic and depth of real life with this story of an ordinary man whose unexpected longings, doubts, and fears are universal.
Paul Sturgis is resigned to his bachelorhood and the quietude of his London flat. He occasionally pays obliging visits to his nearest living relative, Helena, his cousin's widow. To avoid having to turn down her Christmas invitation, Paul sets off for a holiday in Venice where he meets Mrs. Vicky Gardner, an intriguing woman in the midst of a divorce. Upon his return to England, a former girlfriend, Sarah, reenters Paul's world and these two women spark a transformation in Paul, culminating in a shocking decision.
About the Author
Anita Brookner est nee a Londres en 1928 et, excepte quelques annees passees a Paris, elle y a toujours vecu depuis. Historienne d art et ecrivain, elle est l auteur de vingt-quatre romans, dont "Hotel du lac", qui lui a valu d etre recompensee par le Booker Prize en 1984. Presque tous ses ouvrages ont ete publies en francais. Chez Fayard ont paru: "Les Regles du consentement" (2004) et "Loin de soi" (2006).
Praise For Strangers…
"With such prudence and steely humor … Brookner creates an affecting and unexpectedly dynamic portrait of an ordinary man in extremis." —The Washington Post Book World

"The beauty and precision of Anita Brookner's writing is rightly praised each time she publishes a novel, but what is less often remarked on is her daring…. A novel of sober brilliance." —The Times (London)

"Brookner faithfully presents the elderly person's dilemma: trying to figure out what to do with your old age.... Her astringent sense of humor, often unappreciated, is slyly evident." —The Wall Street Journal
 
"[Brookner's] subject is the best one: the definition of human nature.... In Brookner's hands, in her descriptions so vivid and exact, it can be exhilarating." —The Independent (London)

"Brookner ... can't write a paragraph that doesn't engage your mind or tug at your heart.... Lovely." —San Francisco Chronicle
 
"Characteristically Brooknerian: at once tense and highly controlled, and distinctly comic." —The Boston Globe
 
"Anita Brookner, the most intelligent of observers, a Barbra Pym with sinew, brings such refined intellect, candor and irony to her intense tales of small lives that once you read her work and grasp her intent, she becomes a valued constant." —The Irish Times
 
"There's something undeniably fascinating about [Brookner's] protagonists." —Los Angeles Times
 
"Shares keen insights on the emotional toll of a painful past." —Entertainment Weekly
 
"In the hands of a lesser novelist, [Brookner's] stories of human frailty would be depressing, but she manages to make them sparkle with life—and always with hope.... Absorbing." —The Sunday Telegraph (London)
 
"Marvelously atmospheric." —Vogue
 
"[Brookner's] technique as a novelist is so sure and so quietly commanding that we forget the essential artifice, and as soon as we meet the inhabitants of her rooms we start to advise them on redecoration; to psychoanalyze them; to fantasize about introducing them to other Brookner characters, whom surely they have narrowly avoided bumping into at the Wallace Collection or the Royal Academy." —The Guardian (London)
 
"An elegant, heartfelt novel—seldom have the afflictions of old age had such an astute chronicler." —Tatler
 
"Every sentence that falls from Brookner's pen is beautifully curated and carefully weighted.... Handsomely, sighingly sad, [Strangers] is tackled with beauty and aplomb, resulting in a tender elegy of lament. —The Scotsman
 
"With clarity and an elegant simplicity, Brookner exposes Paul's deepest yearnings and longings.... Intricate and nuanced, Strangers is about aging, loneliness, and acknowledging the past as Paul's fragility and silent tenacity are slowly exposed." —Curled Up With a Good Book
 
"A story about empowerment in making life choices, a lesson in breaking away from old habits to find the spirit that drives you and makes life worthwhile.... Extraordinary in how thoughtful it is and how truthful it feels.... Strangers flows with an easy formality that is a joy to experience in and of itself." —Bookreporter