The Mind's Eye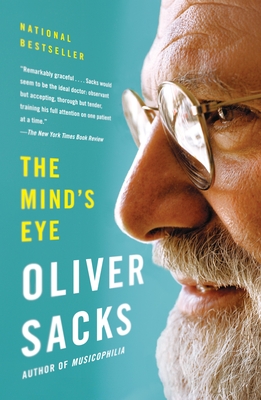 The Mind's Eye
Vintage Books, Paperback, 9780307473028, 263pp.
Publication Date: October 4, 2011
* Individual store prices may vary.
Buy at Local Store
Enter your zip code below to purchase from an indie close to you.
or
Buy Here
Description
With compassion and insight, Dr. Oliver Sacks again illuminates the mysteries of the brain by introducing us to some remarkable characters, including Pat, who remains a vivacious communicator despite the stroke that deprives her of speech, and Howard, a novelist who loses the ability to read. Sacks investigates those who can see perfectly well but are unable to recognize faces, even those of their own children. He describes totally blind people who navigate by touch and smell; and others who, ironically, become hyper-visual. Finally, he recounts his own battle with an eye tumor and the strange visual symptoms it caused. As he has done in classics like "The Man Who Mistook his Wife for a Hat" and "Awakenings," Dr. Sacks shows us that medicine is both an art and a science, and that our ability to imagine what it is to see with another person's mind is what makes us truly human.
About the Author
Oliver Sacks is the author of "Awakenings, The Man Who Mistook His Wife for a Hat," and many other books, for which he has received numerous awards, including the Hawthornden Prize, a Polk Award, and a Guggenheim Fellowship. He is a member of the American Academy of Arts and Letters, and lives in New York City, where he is a practicing neurologist.
Praise For The Mind's Eye…
"Remarkably graceful . . . Sacks would seem to be the ideal doctor: observant but accepting, thorough but tender, training his full attention on one patient at a time." —The New York Times Book Review

"Elaborate and gorgeously detailed. . . . Again and again, Sacks invites readers to imagine their way into minds unlike their own, encouraging a radical form of empathy." —Los Angeles Times

 "Sacks has taken the patient history—the most basic tool of medicine—and turned it into art." —The New York Review of Books

"Once again, Sacks explores our shared condition through a series of vivid characters. . . . The Mind's Eye is a collection of essays [with] a remarkably graceful coherence of theme, tone and approach." —The New York Times Book Review
 
"Frank and moving. . . . His books resonate because they reveal as much about the force of character as they do about neurology." —Nature
 
"Rich with the sort of observation and insight that makes Sacks's writing satisfying. . . . Sacks shows us knowledge, discipline, and imagination confronting the terrors of illness and loss. . . . Readers may never take the view of a sunrise or of their child's smile the same way again." —Boston Globe
 
"From first phrase to final sentence, Dr. Sacks will draw you into a fascinating mental landscape that will leave you in awe of its strange, often spiritual and exquisite pathways." —Bookpage
 
"Another masterpiece of phenomenological description by our most gifted and humane chronicler of neurological disorders. . . . Sacks effortlessly blends his teaching of neurology with the most sensitive descriptions of the ways in which our individual brains yield the most extraordinary variety of human experience." —New Scientist
 
"Sacks the doctor once again dramatises the most strange and thrilling scientific and cultural issue of our time – the nature of the human mind – through the simple act of telling stories. And he does so with avuncular good nature, even in the midst of his own agonies. Read him for endless consolation"  -- Literary Review
 
"Extraordinary. . . . An elegant mixture of case history and street-level observations of the struggles of those afflicted with visual disorders." —San Francisco Chronicle
 
"Brilliantly described cases. . . . The reader comes away with numinous feelings of wonder, mysticism, and gratitude. What more can one want from any book? " —Science
 
"Is there anyone who's done more to elucidate the ability in disability than Oliver Sacks?. . . . In Sacks' world, even with great loss there are fascinating compensations." —People
 
"Unfailingly wise, humane and edifying. . . . The Mind's Eye is a welcome addition to the rich repository of Sacks' collected works." —The Oregonian
 
 "Inspiring. . . . [Sacks is] as cogent and elegant as ever. . . . Sacks raises a number of fascinating questions about vision, thinking, reading and writing. . . . Erudite yet lucid." —Minneapolis Star Tribune
 
"Stellar. . . . Dazzling. . . . Sacks writes with a dexterous clarity that illuminates the incredibly complex neurological conditions he studies, and lends wit, humor, understanding and compassion." —Dallas Morning News
 
"Sacks can open windows on subjects that, prior to his arrival, left people in the dark. . . . The possibility of another Oliver Sacks book is reason enough to get out of bed in the morning." —The Hartford Advocate