The Universe Within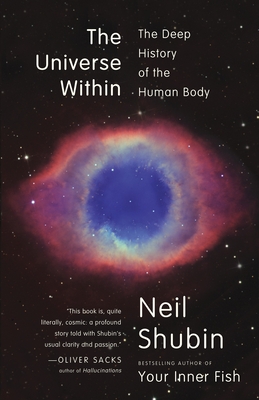 The Universe Within
The Deep History of the Human Body
Vintage Books, Paperback, 9780307473271, 225pp.
Publication Date: October 8, 2013
* Individual store prices may vary.
Buy Now
or
Shop Local
Enter your zip code below to purchase from an indie close to you.
Description
A "Kirkus Reviews" Best Nonfiction Book of the Year
In "The Universe Within, "Neil Shubin reveals the connection between the evolution of the cosmos and the evolution of the human body.
Just as the history of the earth is written in the rocks, so too is the universe's 14-billion-year history written in the human body. Starting at the smallest level, with our very molecular composition, Shubin explores the question of why we are the way we are, tracing the formation of the planets, the moon, and the globe of Earth through the development of the organs, cells, and genes that make up human life.
About the Author
Neil Shubin is senior advisor to the president and the Robert R. Bensley Distinguished Service Professor of Anatomy at the University of Chicago. His books include "The Universe Within: "" Discovering the Common History of Rocks, Planets, and People "and "Your Inner Fish: "" A Journey into the 3.5-Billion-Year History of the Human "Body.
Praise For The Universe Within…
"This book is, quite literally, cosmic: a profound story told with Shubin's usual clarity and passion."
     —Oliver Sacks, author of Hallucinations

 
"What is special about the book is its sweep, its scope, its panorama—how physics, biology, geology, chemistry, and seemingly every other science are brought to bear on the most intricate details of human life. . . . Shubin makes it all seem rather glorious."
     —The Wall Street Journal
 
"An illuminating account of how life on earth is shaped by the rhythms of the cosmos. . . . [A] dazzling excursion into life, the universe, and everything."
     —Times Literary Supplement

"A new, fresh way of telling the story of life, the universe and everything. . . . Shubin illuminate[s] the story of discovery in unexpected and hugely enjoyable ways."
     —The Guardian (London)
 
"Shubin shows that all creation, from the big bang on, is packed in [the human body]. . . . In short, universal history made us what we are. Wow."
     —Booklist (starred review)
 
 "Shubin illuminates, with a Carl Sagan–like clarity and elegance, the specifics behind the Joni Mitchell lyric 'We are stardust.'"
     —Time Out Chicago
 
"Even those familiar with the basic underpinnings of how we evolved will find The Universe Within engaging. It is laced with Shubin's own fossil-hunting adventures and filled with colorful tales of historical figures."
     —Scientific American 
 
 "The Universe Within gives us an appreciation of how we are just small specks and small moments in time. But it also challenges us to take steps to protect our environment so our world can last a little longer."
     —BookPage
 
"Shubin shares the findings of some of the great scientific specialists —as well as those of a few unsung heroes. But he also explains how a generalist's appreciation of their work is still possible, simply by looking inside the human body."
     —New Scientist
 
"An exhilarating ride through the workings of science and . . . a fascinating glimpse into the vast universe's many constituents . . . To read The Universe Within is to arrive at all sorts of wonders."
     —Book Browse  
 
"Wonderful . . . We need writers [like Shubin] who can make deeper connections between people and the natural world around them, as well as showing how that interrelatedness has played out over the deep time of geology."
     —The Seattle Times
 
 "A volume of truly inspired science writing . . . Shubin deftly balances breadth and depth in his search for a 'sublimely beautiful truth.'"
     —Publishers Weekly
 
"Engrossing . . . An intelligent, eloquent account of our relations with the inanimate universe."
     —Kirkus Reviews (starred review)