What a Wonderful World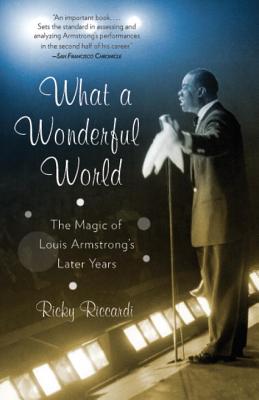 What a Wonderful World
The Magic of Louis Armstrong's Later Years
Vintage Books, Paperback, 9780307473295, 364pp.
Publication Date: June 5, 2012
* Individual store prices may vary.
Buy at Local Store
Enter your zip code below to purchase from an indie close to you.
or
Buy Here
Description
Much has been written about Louis Armstrong, but the majority of it focuses on the early and middle stages of his career. In this prodigiously researched and richly detailed book, jazz scholar and musician Ricky Riccardi reveals for the first time the genius and remarkable achievements of the last 25 years of Armstrong's life, providing along the way a comprehensive study of one of the best-known and most accomplished jazz stars of our time. During the last third of his career, Armstrong was often dismissed as a buffoonish if popular entertainer, but Riccardi shows us instead the inventiveness and depth of his music during this time. These are the years of his highest-charting hits, including "Mack the Knife" and "Hello, Dolly; the famed collaborations with Ella Fitzgerald and Duke Ellington; and his legendary recordings with the All Stars. An eminently readable and insightful book, "What a Wonderful World" completes and enlarges our understanding of one of America's greatest and most beloved musical icons.
About the Author
Ricky Riccardi holds a B.A. in journalism and an M.A. in Jazz History and Research from Rutgers University. He has lectured at the Institute of Jazz Studies, at the National Jazz Museum in Harlem, and at the annual Satchmo SummerFest in New Orleans. He is the author of a popular Armstrong blog (dippermouth.blogspot.com) and is himself a jazz pianist. He is the archivist for the Louis Armstrong House Museum. He lives in New Jersey.
Praise For What a Wonderful World…
"The great untold story of postwar jazz. . . . Unique and indispensable. . . . A weathervane that will point the way to all future writings on [Armstrong's] life and work." —Terry Teachout, author of Pops: A Life of Louis Armstrong

"An important book. . . . This book sets the standard in assessing and analyzing Armstrong's performances in the second half of his career." –San Francisco Chronicle

"Mr. Riccardi—writing with the fervor of an advocate, the skill of a critic and the knowingness of a musician—gives us something vivid on every page of What a Wonderful World." —The Wall Street Journal
 
"An intimate portrait of a singular talent who left us a rich legacy of glorious music and lit up audiences the world over for nearly half a century" –The Christian Science Monitor

"Riccardi writes about Armstrong with self-evident and infectious love. . . . Written in a generous spirit. . . . Enhances our understanding of just how good Armstrong really was in the postwar years." —The Washington Post
 
"[An] in-depth study. . . . Riccardi has done his homework. . . . He has immersed himself in Armstrong's papers, his correspondence, his tape-recorded conversations, and has somehow secured countless bootleg recordings of concerts and broadcasts made over a period of decades. From these and other sources, he has drawn a wealth of new information that will change our perspectives on Armstrong's life and legacy." —San Francisco Chronicle
 
"Many of Armstrong's critics charged that his artistic stature diminished after 1931, 1940, 1952…(pick a year). Riccardi's meticulous research and engaging narrative put that notion to rest. Armstrong's professionalism, toughness, humor and, most of all, the spirit of his music, emanate from the book's pages. This is an invaluable addition to the Armstrong bibliography—and a great read." —Doug Ramsey, Arts Journal
 
"Riccardi…reveals new dimensions in a portrait of a highly familiar pop-culture icon." —Milwaukee Journal-Sentinel
 
"Riccardi provides a wealth of detail about the music that brought Armstrong his greatest notoriety, from his collaborations with Ella Fitzgerald and Dave Brubeck to his 'Satchmozation' of pop gems like 'Mack the Knife' and 'Hello, Dolly'. . . . [Riccardi's] love for the music is vivid on every page, and he proves adept at expressing the worth of Armstrong's late-career music. . . . The book's richest value is in its extensive utilization of quotes from Pops himself. The man who emerges is warm, funny and generous, but also unafraid to speak from the heart. . . . Shines a clear light on a much-neglected period of a great musician's life." —JazzTimes
 
"A valuable account." —Newark Star-Ledger
 
"This is not only a tale of interest to jazz fans or academics but the climactic portion of the inspiring life story of a man who, against all odds, rose from extreme poverty and discrimination to become, indisputably, one of the stellar figures of the twentieth century . . . We need this book."  —Dan Morgenstern, director of the Institute of Jazz Studies, Rutgers University
 
"[Riccardi] makes a strong case. . . . Recount[s] in extensive detail the trials and vicissitudes—and the triumphs—of the musicians' later career, beginning with the arrival of bebop in the late 1940s until his death in 1971. . . . You'll find much to like in What a Wonderful World about the later years of a genuine jazz icon." —Washington Independent Review of Books
 
"Riccardi brings a unique bag of qualifications to the task, including unprecedented access to private Armstrong archives and thousands of hours of tape recordings of the man himself. . . . The rich details of the musicmaking, colorful personalities, and Armstrong's life on the road with his beloved All Stars band is priceless." —Christian Science Monitor
 
"A major work of research and interpretation which for the first time has provided details of the last half of the most colorful and glorious career in the history of jazz." —George Avakian, Producer, Louis Armstrong Plays W. C. Handy
 
"Magical. . . . Deeply and effectively faces the complex question of what it is to be a working artist in the modern world. . . . [Riccardi is] a fine writer. . . . A pleasure to read. . . . Even if you are someone who appreciates Louis Armstrong only casually, you will find in this book a deep, rewarding, honest portrait of a man, an artist, his century." —JazzLives
 
"A well-wrought biography and flowing read. . . . Riccardi defends [Armstrong] with admirable dispassion." —New Orleans Magazine