The Room and the Chair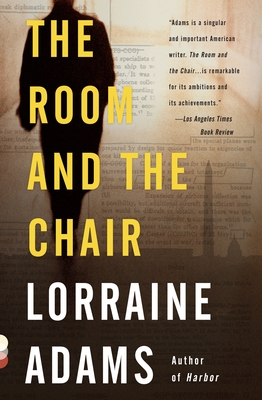 The Room and the Chair
Vintage Books USA, Paperback, 9780307473370, 315pp.
Publication Date: February 8, 2011
* Individual store prices may vary.
Buy at Local Store
Enter your zip code below to purchase from an indie close to you.
or
Buy Here
Description
A ridiculed night editor for a prestigious newspaper.
An overburdened nuclear engineer.
A female fighter pilot.
A religiously impassioned young reporter.
A sergeant major thrust into the responsibilities of a secretive command.
 
Moving from a newsroom in the American capital to a cockpit over Afghanistan, from an Iranian cemetery to a military intelligence office in suburban Washington, The Room and The Chair by Lorraine Adams—award-winning author of Harbor—is an unforgettable, groundbreaking novel about the often overlooked actors in today's dangerous world.
About the Author
Lorraine Adams was educated at Princeton University and was a graduate fellow at Columbia University, where she received a master's degree in literature. She won a Pulitzer Prize for investigative reporting and was a staff writer for the "Washington Post "for eleven years. She lives in Washington, D.C., and is at work on her second novel.
"From the Hardcover edition."
Praise For The Room and the Chair…
"Adams is a singular and important American writer. The Room and the Chair is remarkable for its ambitions and its achievements. . . . One of the triumphs of this book is that it's a war novel that's mostly about women. Though often unwitting tools and even more often thwarted, they are the fulcrum of the book, lifting what might otherwise be a dazzling thriller into the realm of literature."
—Los Angeles Times Book Review

"Wonderful. . . . One of the most thrilling literary novels I've read in years. . . . Lorraine Adams seems to have it all—a journalist's sharp eye, a poet's ear, a cynic's wisdom and a story-teller's flourish. . . . . A tough, fast and beautiful read."
—Colum McCann, National Book Award–winning author of Let the Great World Spin

"Spellbinding. . . . Fiercely intelligent. . . . A stunning portrayal of our uneasy days. . . . Sinuous and intricately plotted. . . . A breed apart: a novel that combines the meticulous reportage of Bernstein and Woodward's All the President's Men with the spellbinding poetry and creepy political intrigue of Robert Penn Warren's All the King's Men."
—Chicago Tribune
 
"Engaging. . . . A Syriana-type yarn that tracks a dozen linked characters and shifts from the United States to the Islamic world and back again. . . . A wild and often fascinating ride."
—The New York Times Book Review
 
"Adams is so smart about how official Washington works and, like Don DeLillo in Underworld, she is fascinated by how information conceals the world from us."
—The Washington Post

"Intellectually challenging and artfully written, bursting with arresting imagery and cultural detail, and buzzing with the inner lives of its many characters. Ambitious in its intent as well as narrative structure."
—The Boston Globe
 
"An ejection-seat view of the war on terror in the media age. . . . Adams's page-turner maneuvers between cockpit and newsroom, the Potomac and the Panjshir Valley."
—Vogue
 
"Masterly. . . . Forceful. . . . The West's post-9/11 preference for information-boggle over truth-telling gets a blunt reckoning in The Room and the Chair . . . [It] mercilessly critiques our addiction to narratives of Western exceptionalism even as it compels us to turn its pages."
—Bookforum
 
"Ambitious. . . . Cinematic. . . . [Offers] profound insights into how newspapers actually operate and stretches of dialogue that are as spare and pitch-perfect as anything written by Hemingway or Waugh."
—San Francisco Chronicle
 
"Penetrating. . . . Provocative. . . . Adams's The Room and the Chair is suspenseful and transporting—fine, many good novels are—but it is also that rarer thing: part of the conversation about our seemingly endless War on Terror. . . . Adams is a limber and inventive stylist, capable of great music and rhythm. . . . Exceptional."
—The Daily Beast
 
"Poetic. . . . Innovative. . . . In the last few lines of the book, Adams upends the expectations she has so carefully nurtured throughout, providing a creepy and ambiguous denouement that concerns the fate of our heroine, to be sure, but also turns on the even more complicated question of a world's meaning."
—Harper's Magazine
 
"What you see in [this] spy story is that same old, grand theme that Faulkner talked about: the human heart in conflict with itself."
—Alan Cheuse, NPR's "All Things Considered"
 
"Adams writes with precision and empathy of lives marginalized or discounted by the ambitions of superiors, by institutional imperatives and global ideologies. She understands the tragic scale of this vast struggle, and that every day, we are, all of us—from Washington to Bagram to Guantanamo—more vulnerable and less valuable, and closer to being counted as casualties of one kind or another. This book tallies that cost and does so in utterly human terms."
—David Simon, creator and writer of The Wire
 
"A thriller with brains. . . . Reads like Top Gun meets All the President's Men."
—More Magazine
 
"Precise, lyrical. . . . An inside view of both the U. S. intelligence community and the newsroom floor, allowing Adams to explore how reality is created, warped, and disguised at the whims of those in power. . . . Vivid."
—Salon