The Girl with the Dragon Tattoo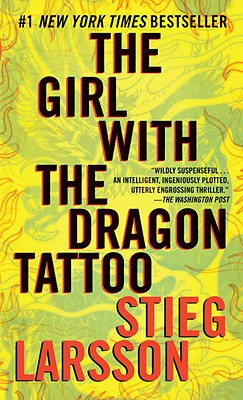 The Girl with the Dragon Tattoo
Book 1 of the Millennium Trilogy
Vintage, Mass Market Paperback, 9780307473479, 672pp.
Publication Date: June 23, 2009
* Individual store prices may vary.
Buy at Local Store
Enter your zip code below to purchase from an indie close to you.
or
Not Currently Available for Direct Purchase
Description
An International Bestselling Sensation A murder mystery, family saga, love story, and a tale of financial intrigue wrapped into one satisfyingly complex and entertainingly atmospheric novel.Harriet Vanger, scion of one of Sweden's wealthiest families, disappeared over forty years ago. All these years later, her aged uncle continues to seek the truth. He hires Mikael Blomkvist, a crusading journalist recently trapped by a libel conviction, to investigate. He is aided by the pieced and tattooed punk prodigy Lisbeth Salander. Together they tap into a vein of unfathomable iniquity and astonishing corruption.
About the Author
Stieg Larsson was the editor in chief of the magazine "Expo." He was a leading expert on anti-democratic, right-wing extremist organizations. He died in 2004, soon after delivering the manuscripts of the novels The Girl with the Dragon Tattoo and its sequels.

"The Girl with the Dragon Tattoo" is translated from the Swedish by Reg Keeland. "From the Trade Paperback edition."
Praise For The Girl with the Dragon Tattoo…
"Wildly suspenseful . . . an intelligent, ingeniously plotted, utterly engrossing thriller."
—The Washington Post

"I doubt you will read a better book this year."
—Val McDermid

"Mesmerizing. . . . Imagine the movies of Ingmar Bergman crossed with Thomas Harris's novel The Silence of the Lambs."
—USA Today

"A blazing literary sensation [this] dark-hearted thriller . . . is now poised to burn up bestseller lists in America."
—Vanity Fair

"Unique and fascinating. . . . It's like a blast of cold, fresh air to read The Girl With the Dragon Tattoo."
—Chicago Tribune

"A super-smart amalgam of the corporate corruption tale, legal thriller and dysfunctional-family psychological suspense story."
—Fresh Air (NPR)

"As vivid as bloodstains on snow—and a perfect one-volume introduction to the unique strengths of Scandinavian crime fiction." —Lee Child

"Combine the chilly Swedish backdrop and moody psychodrama of a Bergman movie with the grisly pyrotechnics of a serial-killer thriller, then add an angry punk heroine and a down-on-his-luck investigative journalist, and you have the ingredients of Stieg Larsson's first novel."
—Michiko Kakutani, The New York Times

"A whip-smart heroine and a hunky guy who needs her help? This sexy, addictive thriller is everything you never knew you could get from a crime novel."
—Glamour

"So much more than a thriller, The Girl with the Dragon Tattoo is a dazzling novel of big ideas. It tackles issues of power, corruption, justice, and innocence–all the while drawing you into the twists and turns of a frighteningly suspenseful mystery."
—Harlan Coben

"An exceptional effort for a first-time crime novelist. In fact, a fine effort for any crime novelist . . . This book is meticulously plotted, beautifully paced, and features a cast of two indelible sleuths and many juicy suspects."
—Boston Globe

"The book lands in the United States as Wall Street sputters and global markets clench, a timely fit to Larsson's themes of corporate corruption. He tells his crime story cleverly, but the zing in Dragon Tattoo is inked in its two central characters."
—Cleveland Plain Dealer

"Larsson's novel could serve as the definition of page-turner . . . The worst part: We have to wait until summer '09 for the second installment."
—Time Out New York

"The biggest Swedish phenom since ABBA."
—People

"Larsson's debut thriller succeeds on so many levels it's hard to know where to begin. First off, it's an absolute page-turner. But the characters are so fascinating and the clear, understated writing so graceful, you are going to want to savor it . . . Electrifying."
—Portsmouth Herald (NH)

"Is the hype justified? Yes . . . This complex, multilayered tale grabs the reader from the first page."
—Library Journal (starred)

"The first U.S. appearance of another major Swedish crime writer is cause for celebration . . . The novel offers compelling chunks of investigative journalism, high-tech sleuthing, and psychosexual drama. What a shame that we only have three books in which to watch the charismatic Lisbeth Salander take on the world!"
—Booklist

"The Girl with the Dragon Tattoo is a striking novel. Just when I was thinking there wasn't anything new on the horizon, along comes Stieg Larsson with this wonderfully unique story. I was completely absorbed."
—Michael Connelly

"Dark, labyrinthine, smart, sexy, utterly original, and completely captivating, Stieg Larsson's The Girl with the Dragon Tattoo delights at every level. Nuanced, sympathetic characters, caught in a tangle of unusual and compelling relationships, grapple with a baffling family mystery and with their own demons in the unique literary environment of modern-day Sweden. This book is artful and grand entertainment. I couldn't recommend it more highly."
—John Lescroart

"As vivid as bloodstains on snow."
—Lee Child

"The Girl with the Dragon Tattoo is an utterly fresh political and journalistic thriller that is also intimate and moral. In spite of its dark unearthings Stieg Larsson has written a feast of a book, with central characters you will not forget."
—Michael Ondaatje

"Cases rarely come much colder than the decades-old disappearance of teen heiress Harriet Vanger from her family's remote island retreat north of Stockholm, nor do fiction debuts hotter than this European bestseller . . . At once a strikingly original thriller and a vivisection of Sweden's dirty not-so-little secrets, this first of a trilogy introduces a provocatively odd couple."
—Publishers Weekly (starred)

"What a cracking novel! I haven't read such a stunning thriller debut for years. The way Larsson interweaves his two stories had me in thrall from beginning to end. Brilliantly written and totally gripping."
—Minette Walters

"With its compelling situation, its complex plot and especially its unique, fully-realized characters, The Girl with the Dragon Tattoo embodies–in seamless translation–the best of European crime fiction."
—S.J. Rozan

"The Girl With The Dragon Tattoo is a Tolstoyan re-invention of the 'closed room' murder mystery, Agatha Christie for adults. Curl up on the sofa with this masterwork of noir and let Stieg Larsson draw you into the shadows. It's also a profound investigation into tribal violence in the world of high finance, and a revelation of the dark side of a country normally seen as the very height of propriety. By the end of the first chapter you will know better. By the end of the second you will be putty in his hands. Don't even think about putting it down."
—John Burdett

From the UK:

"Crime fiction has seldom needed to salute and mourn such a stellar talent as Larsson's in the same breath."
—The Sunday Times

"Larsson has up his sleeve two extremely engaging protagonists. Once these characters have appeared, our surrender to the novel is guaranteed . . . This is classic English mystery territory. But what follows is much darker and bloodier–more Thomas Harris than Dorothy L. Sayers."
—The Independent

"The ballyhoo is fully justified . . . The novel scores on every front–character, story, atmosphere, and the translation."
—The Times

"This is a striking novel, full of passion, an evocative sense of place and subtle insights into venal, corrupt minds . . . The journalist and the hacker are ingenious creations."
—The Observer

"One of the greatest crime-fiction novels I have ever read . . . As mesmerizing as it is insightful . . . The Girl with the Dragon Tattoo is a multi-layered, multi-character tale by a writer of some considerable power. Full of social conscience and compassion, with insight into the nature of moral corruption, it knocked me out . . . Mikael Blomkvist and his partner, the enigmatic and deeply troubled Lisbeth Salander, will soon join the pantheon of greatest crime-fiction characters that populate the genre at its apex."
—Shots Magazine

"A blockbuster story . . . The plot is interesting and credible but above all the heroine is splendidly original . . . An extraordinary book."
—Literary Review

"An absorbing and idiosyncratic crime novel."
—Daily Mail