India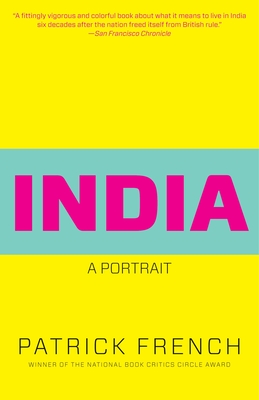 India
A Portrait
Vintage Books, Paperback, 9780307473486, 398pp.
Publication Date: June 5, 2012
* Individual store prices may vary.
Buy at Local Store
Enter your zip code below to purchase from an indie close to you.
or
Buy Here
Description
A monumental biography of the Indian subcontinent from the award-winning author of "The World Is What It Is: The Authorized Biography of V. S. Naipaul."
Second only to China in the magnitude of its economic miracle and second to none in its potential to shape the new century, India is fast undergoing one of the most momentous transformations the world has ever seen. In this dazzlingly panoramic book, Patrick French chronicles that epic change, telling human stories to explain a larger national narrative. With a familiarity and insight few Westerners could approach, he provides a vital corrective to the many outdated notions about a uniquely dynamic and consequential nation.
About the Author
DIANA ATHILL was born in 1917. She helped Andre Deutsch establish the publishing company that bore his name and worked as an editor for Deutsch for four decades. Athill's distinguished career as an editor is the subject of her acclaimed memoir Stet, which is also published by Granta Books, as are five volumes of memoirs, Instead of a Letter, After a Funeral, Yesterday Morning, Make Believe, Somewhere Towards the End and a novel, Don't Look at Me Like That. In January 2009, she won the Costa Biography Award for Somewhere Towards the End, and was presented with an OBE. She lives in London.
Praise For India…
"A fittingly vigorous and colorful book about what it means to live in India six decades after the nation freed itself from British rule."
—San Francisco Chronicle
 
"French mingles historical analysis with on-the-spot reportage, aiming to capture the country in all its teeming, volatile complexity. The result is rich, engaging and indeed multi-hued."
—Los Angeles Times
 
"A well-informed and well-crafted portrait. . . . [French is] a skilled interviewer who writes with a descriptive flair."
—The Boston Globe
 
"Perceptive. . . . French goes beyond the obvious. . . . India is a burgeoning nation with an inspiring message to the struggling people of the world: It gets better."
—The Christian Science Monitor
 
"Sharply observed. . . . An accomplished portrait of momentous times in a remarkable country. . . . French is a fine reporter, with an appealing fascination for all things Indian, as his book makes clear."
—The Economist
 
"It is a funny, witty book; also dense, gripping, thrilling. What blazes through from each page is French's absolute and uncondescending engagement with India, Indians and the mindboggling plurality of practices."
—The Times (London)
 
"Fizzing with wit, insight and infectious curiosity. . . . A riveting read. . . . One suspects that French could not pen a boring passage if he tried. . . . A thoroughly enjoyable romp through six momentous decades."
—The Wall Street Journal Asia
 
"Vivid. . . . An impressive study of India since independence."
—The Telegraph (London)
 
"Admirable. . . . There are many Indias, and French sets out, with enthusiasm and empathy, to encounter as many as he can find."
—The Spectator
 
"Complex. . . . Stirringly accurate. . . . French offers a fascinating analysis, revealing a deeper truth."
—The Independent (London)
 
"Lives up to its promise. . . . It's not just readable; it's gripping. . . . French's writing is touchingly evocative at times . . . and hilarious at others. . . . If you're Indian, reading the book is like learning the history of your country in four days."
—New Indian Express
 
"French is the brilliant enfant terrible who can get away with heresies because they are embedded in his deep affection for and intimate knowledge of India."
—Business Standard