Things We Didn't See Coming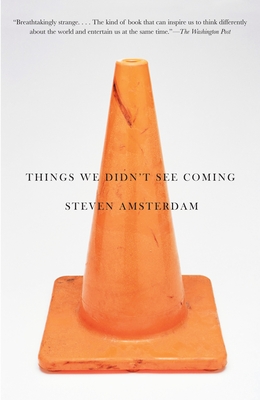 Things We Didn't See Coming
Anchor Books, Paperback, 9780307473608, 199pp.
Publication Date: February 8, 2011
* Individual store prices may vary.
Buy Now
or
Shop Local
Enter your zip code below to purchase from an indie close to you.
Description
Richly imagined and darkly comic, Things We Didn't See Coming follows a single man over three decades as he tries to survive in an increasingly savage apocalyptic world that is at once utterly fantastic and disturbingly familiar. Here, coming-of-age is complicated not only by family troubles and mercurial love affairs, but treacherous weather, unstable governments, pandemic, and technology run amuck.
About the Author
Steven Amsterdam is the author of Things We Didn t See Coming, which was long-listed for the Guardian First Book Award and won the Age Book of the Year Award, among other honors. A native New Yorker and a nurse, he lives in Melbourne, Australia.
Praise For Things We Didn't See Coming…
"Breathtakingly strange. . . . The kind of book that can inspire us to think differently about the world and entertain us at the same time." —The Washington Post

"Things We Didn't See Coming feels like a genuine discovery. It is the most compelling portrait of dystopia I've read in years. . . . Timely and unexpectedly moving." —Taylor Antrim, The Daily Beast

"A small marvel, overflowing with ideas. Scary, funny, shocking and touching by turns, it combines the readerly pleasures of constant reorientation with the sober charge of an urgent warning. Things We Didn't See Coming refracts our life-and-death fears through those moments of human contact where they are most keenly felt." —The Guardian (London)
 
"Deeply smart . . .  and full of surprises."  —Time Out New York
 
"[The narrator] is a wry observer with a throbbing conscience. . . . A heartbreaker. It's hard to embrace a Cassandra. But Amsterdam seems to still be betting on the better parts of our humanity, if not our prescience, to see us through." —The Plain Dealer
 
"Brilliant. . . . Thoughtful, intelligent, savvy." —The News & Observer

"Funny, scary, and described with a flair for the telling detail." —Harper's 

"Impressive. . . . [Those] looking for a more ruminative view of the world's end—perhaps not with a bang so much as a series of whimpers—may find Amsterdam's close-focus approach to thinking about the unthinkable to be chillilngly effective." —David Maine, author of The Preservationist
 
"Steven Amsterdam . . . bolsters his dystopian vision with issues facing our planet, from climate change to refugees; computer bugs to medical malpractice. Each of these issues that fill our daily news consumption and contribute to heightened anxieties is, in Amsterdam's hands, a mere backdrop to explore how humans need not become devils in the face of approaching annihilation. Which makes Things We Didn't See Coming a far more hopeful book than its subject indicates." —Chicago Sun-Times
 
"Such an impressive novel. . . . In Amsterdam's hands, the apocalypse sounds like it might be fun." —The Sunday Times (London)
 
 "Describes the smaller, most human responses to unimaginable disaster." —The San Francisco Chronicle
 
"Fantastic and gripping and utterly original. . . . Read it once and then read it twice, often." —The Irish Times
 
"Amsterdam enters the literary world with a full-blown talent that can't be stopped." —Library Journal (starred review)
 
"Impressive and believable. . . .  Amsterdam's understated predictions are refreshing." —The Onion's A.V. Club
 
"Read it all in one day. You won't be disappointed." —The Decatur Daily
 
"Something very strange happens upon finishing Steven Amsterdam's (remarkably assured and kind of masterful) stories: what should be a bum trip through a variety of dystopias . . . ends up anything but; one puts down the book feeling something close to hope. . . . I'm inclined to think it's just gratitude that there are such writers around." —David Rakoff, author of Fraud and Don't Get Too Comfortable
 
"Don't read this book in bed unless you want to stay up past your bedtime thrilled by the discovery of a new writer. . . . [A] stunning read." —The Millions
 
"Amsterdam blazes through his bleak tale of hope—the true heart of any good dystopia. . . . Thought-provoking entertainment." —San Antonio Current
 
"Spare, effective, and, when it needs to be, even stunning. . . . The characters we encounter in these narratives . . . feel alive and whole." —Orion magazine
 
"Bold, original, and sneakily affecting." —Emily Maguire, author of Taming the Beast
 
"[A] clever blend of humor and razor-edged sadness" —Courier-Mail (Brisbane)
 
"Sharp. . . . [Amsterdam] is a keen observer of people." —The Wichita Eagle
 
"A fresh, modern voice . . . Amsterdam's writing is tight, calculated, and compelling." —Andrew Hutchinson, author of Rohypnol
 
"In this book we hear a voice as naturally surprising as the jazz of Django Reinhardt or Dexter Gordon. A real writer, in short." —Gary Indiana, author of The Shanghai Gesture and Utopia's Debris
 
"Preternaturally assured, finely crafted and thoroughly accomplished." —The Age (Melbourne)
 
"Gleefully apocalyptic. . . . As ever with this kind of dystopian fiction, there is a satisfying tingle in imagining an Armageddon just round the corner. But Amsterdam also gives his book an emotional heart; it lies in the contrast between the narrator's very ordinary emotions—jealousy, fear, the desire to belong—and his extraordinary circumstances." —Financial Times