Language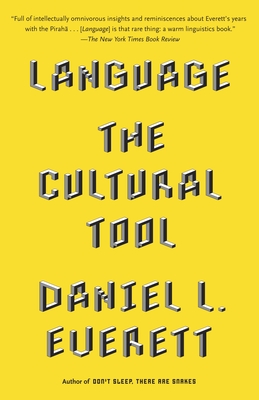 Language
The Cultural Tool
Vintage Books, Paperback, 9780307473806, 351pp.
Publication Date: December 11, 2012
* Individual store prices may vary.
Buy at Local Store
Enter your zip code below to purchase from an indie close to you.
or
Buy Here
Description
The most important and provocative anthropological fieldwork ever undertaken. Tom Wolfe
For years, the prevailing opinion among academics has been that language is embedded in our genes, existing as an innate and instinctual part of us. In this bold and provocative study, linguist Daniel Everett argues that, like other tools, language was invented by humans and can be reinvented or lost. He shows how the evolution of different language forms that is, different grammar reflects how language is influenced by human societies and experiences, and how it expresses their great variety. Combining anthropology, primatology, computer science, philosophy, linguistics, psychology, and his own pioneering research with the Amazonian Piraha, and using insights from many different languages and cultures, Everett presents an unprecedented elucidation of this society-defined nature of language. In doing so, he also gives us a new understanding of how we think and who we are.
About the Author
Daniel L. Everett is dean of arts and sciences at Bentley University. He has held appointments in linguistics and/or anthropology at the University of Campinas, the University of Pittsburgh, the University of Manchester, and Illinois State University.

www.daneverettbooks.com
Praise For Language…
"Full of intellectually omnivorous insights and reminiscences about Everett's years with the Pirahã . . . [Language] is that rare thing: a warm linguistics book." —The New York Times Book Review

"The most important—and provocative—anthropological fieldwork ever undertaken." —Tom Wolfe

"Revelatory. There is nothing about humans that is quite as astonishing as language."—The Guardian
 
"A book whose importance is almost impossible to overstate. This is an intellectual cri de coeur and a profound celebration of human diversity. . . . Very rich but also very readable."—The Sunday Times (London)

"[Language] is that rare thing: a warm linguistics book . . . A useful study of a burgeoning theory compatible with Darwinism, anthropology, psychology and philosophy—an interdisciplinary orientation the Chomskyans have largely spurned."—The New York Times Book Review
 
"[Language] deserves a serious reading." —The Economist
 
"Readers' eyes will . . . sparkle with new insight." —Kirkus Reviews
 
"Everett's stories of the Pirahã . . . bring to life the culture that fosters the language. The stories also anchor his linguistic proposals in anthropology. Most linguists might take this as an insult; Everett would accept it as a compliment." —The Globe and Mail (Canada)
 
"[Everett lobs] a scientific grenade . . . into the spot where anthropology, linguistics and psychology meet: he asserts that the Piraha language exhibits traits that call into question aspects of linguistic theories that have been widely accepted for decades." —Chicago Tribune
 
"Everett writes simply and persuasively about language. . . . His courage and conviction should give linguists pause for thought." —The Observer (London)