The Vampire Archives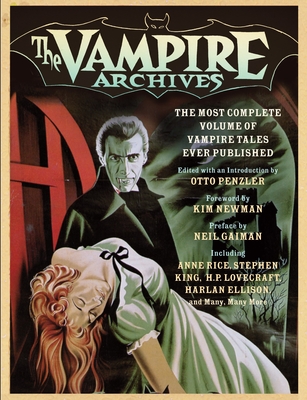 The Vampire Archives
The Most Complete Volume of Vampire Tales Ever Published
Vintage Books USA, Paperback, 9780307473899, 1034pp.
Publication Date: September 29, 2009
* Individual store prices may vary.
Shop Local
Enter your zip code below to find indies closest to you.
Description
The Vampire Archives is the biggest, hungriest, undeadliest collection of vampire stories, as well as the most comprehensive bibliography of vampire fiction ever assembled. Dark, stormy, and delicious, once it sinks its teeth into you there's no escape.

Vampires! Whether imagined by Bram Stoker or Anne Rice, they are part of the human lexicon and as old as blood itself. They are your neighbors, your friends, and they are always lurking. Now Otto Penzler—editor of the bestselling Black Lizard Big Book of Pulps—has compiled the darkest, the scariest, and by far the most evil collection of vampire stories ever. With over eighty stories, including the works of Stephen King and D. H. Lawrence, alongside Lord Byron and Tanith Lee, not to mention Edgar Allan Poe and Harlan Ellison, The Vampire Archives will drive a stake through the heart of any other collection out there.

Other contributors include:
Arthur Conan Doyle • Ray Bradbury • Ambrose Bierce • H. P. Lovecraft • Harlan Ellison • Roger Zelazny • Robert Bloch • Clive Barker
About the Author
Otto Penzler is the founder of the Mysterious Press and owns the Mysterious Press specialist bookshop in New York.

Kim Newman is a novelist, critic and broadcaster. His fiction includes the "Anno Dracula "novels, "Life's Lottery" and "Mysteries of the Diogenes Club", and "The Vampire Genevieve" as Jack Yeovil. His other non-fiction books include "Ghastly Beyond Belief" (with Neil Gaiman), "Horror: 100 Best Books" (with Stephen Jones), "Wild West Movies", "Millennium Movies "and BFI Classics studies of "Cat People "and "Doctor Who". He is a contributing editor to "Sight & Sound "and "Empire" magazines, has written plays for BBC radio, and directed and written a tiny film "Missing Girl". His official web-site, 'Dr Shade's Laboratory' can be found at www.johnnyalucard.com.

Neil Gaiman is the #1 New York Times bestselling author of more than twenty books, and is the recipient of numerous literary honors. Originally from England, he now lives in America.