A Nation of Deadbeats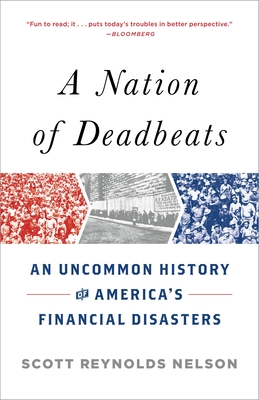 A Nation of Deadbeats
An Uncommon History of America's Financial Disasters
Vintage Books, Paperback, 9780307474322, 330pp.
Publication Date: June 4, 2013
* Individual store prices may vary.
Not Currently Available for Direct Purchase
or
Shop Local
Enter your zip code below to purchase from an indie close to you.
Description
Pundits will argue that the 2008 financial crisis was the first crash in American history driven by consumer debt. But in this spirited, highly engaging account, Scott Reynolds Nelson demonstrates that consumer debt has underpinned almost every major financial panic in the nation's history. From William Duer's attempts to profit off the country's post-Revolutionary War debt to an 1815 plan to sell English coats to Americans on credit, to the debt-fueled railroad expansion that precipitated the 1857 crash: in each case, the chain of banks, brokers, moneylenders, and insurance companies that separated borrowers and lenders made it impossible to distinguish good loans from bad. Bound up in this history are stories of national banks funded by smugglers, fistfights in Congress over the gold standard, America's early dependence on British bankers, and how presidential campaigns were forged in controversies over private debt. An irreverent, wholly accessible, eye-opening book.
About the Author
Scott Reynolds Nelson is assistant professor of history at the College of William and Mary in Williamsburg, Virginia.
Praise For A Nation of Deadbeats…
Praise for Scott Reynolds Nelson's A Nation of Deadbeats

"A fascinating historical narrative. . . . This revisionist account is eminently readable, in large part because Nelson offers flesh-and-blood examples rather than relying on abstractions."
—Kirkus Reviews
 
"Lucid. . . . This astute account of economic disruption and disaster through the Great Depression is a useful and engaging perspective on our propensity for repeating our financial mistakes."
—Publishers Weekly
 
"This might not qualify as 100% pure revisionist history, but it is certainly unconventional history, and hooray for that. . . . History focusing on the losers instead of the winners is especially effective. . . . A Nation of Deadbeats is especially timely, coming as it does during a nationwide and worldwide economic slowdown of at least four years duration and counting. . . . Even if those debtors are sometimes the victims of circumstances beyond their total control, they nonetheless can start ripples in the economy that become tidal waves."
—USA Today
 
"Exceptionally readable. . . . [Nelson] has painstakingly extracted the sensational details from the mucky ore of the history of financial crises in the U.S., welding them together. . . . Well worth reading—particularly as it is larded with entertaining characters and powerful citations."
—New York Journal of Books