Nine Lives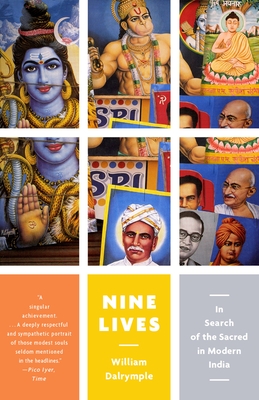 Nine Lives
In Search of the Sacred in Modern India
Vintage Departures, Paperback, 9780307474469, 275pp.
Publication Date: June 14, 2011
* Individual store prices may vary.
Shop Local
Enter your zip code below to find indies closest to you.
Description
From the author of The Last Mughal, an enlightening book that explores with remarkable compassion and expansive insight nine varieties of religious devotion in India today.

In portraits of people we might otherwise never know William Dalrymple distills his twenty-five years of travel in India to explore the challenges faced by practitioners of traditional forms of faith in contemporary India. For two months a year, a man in Kerala divides his time between jobs as a prison warden and a well-builder and his calling as an incarnate deity. A temple prostitute watches her two daughters die from AIDS after entering a trade she regards as a sacred calling. A Jain nun recalls the pain of watching her closest friend ritually starve herself to death.

Together, these tales reveal the resilience of individuals in the face of the relentless onslaught of modernity, the enduring legacy of tradition, and the hope and honor that can be found even in the most unlikely places.
About the Author
William Dalrymple was born in Scotland and brought up on the shores of the Firth of Forth. When he was twenty-two he wrote the highly acclaimed bestseller "In Xanadu," which was shortlisted for the John Llewellyn Rhys Memorial Prize. In 1989 Dalrymple moved to Delhi where he lived for six years researching his second book, "City of Djinns," which won the 1994 Thomas Cook Travel Book Award and the "Sunday Times" Young British Writer of the Year Award.
He is married to the artist Olivia Fraser, and they have three children. They now divide their time between London and Delhi.
Praise For Nine Lives…
"A singular achievement. . . . A deeply respectful and sympathetic portrait of those modest souls seldom mentioned in the headlines." —Pico Iyer, Time

"Not only a masterful text, but also an extaordinarily important work." —San Francisco Chronicle

"Fascinating and sometimes painfully moving. . . . This is the India we seldom see, peopled by obscure people whose lives are made vivid by their eloquent troubles and reckless piety." —The New York Times Book Review

"[This is] the age for writers like Mr. Dalrymple, who fall in with the rhythms and languages of foreign lands. Nine Lives shows us lives hidden almost entirely from Western readers. . . opening up the world in a compelling way." —Wall Street Journal

"Informed, compassionate, and careful to place the emphasis where it belongs: on the extraordinary people whose stories [Dalrymple] conveys." —Harper's
 
"Strikingly colorful. . . . [Dalrymple's] point—which he makes elegantly by quoting many voices—is that, as India hurtles toward modernity, it may be losing some of its soul." —The Washington Post
 
"Luminous. . . . Consists of nine riveting and thickly reported tales of individual devotion, which together summon up a whole world and sometimes end with devastating twists. . . . Nine Lives will only enhance [Dalrymple's] reputation." –The New Republic
 
"Fulfills the premise that a master artist can make something very difficult look easy. . . . You don't have to know a thing about India to enjoy this book, but when you're done you will know and appreciate much more about its people and their various lives—of the body, of the spirit and of the heart." —The Seattle Times
 
"Fascinating. . . . These might seem like exotic characters, but Dalrymple allows them to tell their own stories, and they emerge as deeply sympathetic and human." —Newsday
 
"Triumphant. . . . Not only illuminates India's relationship with religion but casts the genre itself in a new light. . . . A wise and rewarding book fizzing with Dalrymple's signature erudition and lightness of touch. . . . The travel book of the year." —The Guardian (London)
 
"An absolutely beautiful book, clean and honest and edifying and moving. . . . It's a delight." —Elizabeth Gilbert, author of Eat, Pray, Love
 
"A wonderful pageant of believers whose stories are as much about spirituality as about society."—Christian Science Monitor
 
"Moving. . . His nine articulate individuals are from highly distinctive and unusual milieus, and they embody the tensions and ideals of the great Indian systems of belief in personal, often painful ways. Taken together, they easily subvert conventional notions about Indian religiosity and provide an excellent antidote to much of what one reads in English about Hinduism, Buddhism, and Islam." —New York Review of Books
 
"Not since Kipling has anyone evoked village India so movingly. . . . The book gives an answer to Christopher Hitchens, Richard Dawkins and those who would condemn all religions for the sake of the fanatical fringe." —Wendy Doniger, Times Literary Supplement
 
"Straightforward reporting, clear writing and empathetic listening." —The Plain Dealer
 
"An absorbing book. . . . Dalrymple is a lively, knowledgeable and sympathetic guide to this world of faith." —The Daily Telegraph
 
"Exquisite. . . . William Dalrymple dazzles us with stories of how a deeper reality strokes the fire of life in the recesses of our souls. . . . By peering into the secret passages of their psyches, we learn more about our own self, our fantasies, our shadows, our longings, our hidden potential." —Deepak Chopra