In the Kingdom of Men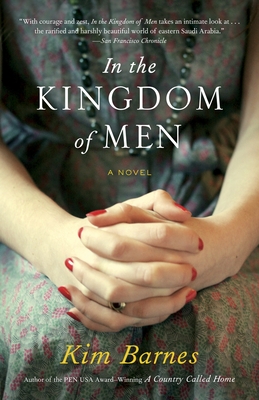 In the Kingdom of Men
Anchor Books, Paperback, 9780307474698, 321pp.
Publication Date: February 12, 2013
* Individual store prices may vary.
Buy at Local Store
Enter your zip code below to purchase from an indie close to you.
or
Buy Here
Description
Raised in a two-room shack by her strict Oklahoma grandfather, Gin Mitchell knows a better life awaits her when she marries hometown hero Mason McPhee. Even so, nothing can prepare her for what's to come when Mason takes a job with the Arabian American Oil company in 1960s Saudi Arabia.
 
Gin and Mason are given a home with marble floors, a houseboy to cook their meals, and a gardener to tend the sandy patch out back. Even among the veiled women and strict laws of shariah, Gin's life has become the stuff of fairy tales. But when the body of a young Bedouin woman washes up on the shores of the Persian Gulf and Mason disappears, her world starts to close in around her.
About the Author
After I graduated in 2014, I decided to stay in Lincoln (in the United Kingdom), and I now work from my home studio surrounded by books and my two cats. I can normally be found with a pencil in one hand and a cup of tea in the other. When I m not illustrating, I love to bake and garden. I am lucky enough to live right next to the lovely canal in Lincoln, where I often take short walks in the sunshine.
Praise For In the Kingdom of Men…
"With courage and zest, In the Kingdom of Men takes an intimate look at … the rarified and harshly beautiful world of eastern Saudi Arabia." —San Francisco Chronicle 
 
 "A mesmerizing novel, set in the American heartland and Saudi Arabia—two locations that on the face of it couldn't be more different. But from the point of view of a woman not allowed to be herself, the two places have startling similarities." —Elizabeth Berg, author of Once Upon a Time, There Was You
  
"Kim Barnes has created a heroine for the ages in Gin McPhee." —More
 
"Richly wrought. . . .  With a protagonist like this, Barnes could have set her novel in a single room, and we'd keep reading." —The Boston Globe

"If you want to understand, right in your gut, the history of the American relationship with Saudi Arabia; if you want a magical, layered story of west-inside-east, culture layered over culture, and the slow—still ongoing—revolution of gender and race oppression, In the Kingdom of Men is your book. It's Mad Men meets The Sheltering Sky, a Revolutionary Road for the oil-addicted. It's also an utter pleasure to read." —Anthony Doerr, author of Memory Wall

"Unfurled like a rich carpet, rolling out over a vast space before it gently settles and fills every corner. Barnes . . . gets more motion and feeling into a deceptively plain paragraph than many novelists can cram into a chapter. . . . The women who populate this novel are all heroic in their various ways, a wonderful juxtaposition alongside this man's world build by oil money." —The Seattle Times

"Something more than a novel about an [Oklahoman] who causes trouble in a foreign land. It's that, and a feminist bildungsroman." —The New York Times Book Review
"A great windswept adventure full of tension and suspense, In the Kingdom of Men is moving in the truest sense, sweeping the reader along with its gorgeous prose, a rich setting, and most of all, Gin McPhee, one of those rare characters who sits up on page one, grabs you and pulls you into her world." —Jess Walter, author of Beautiful Ruins


"A swashbuckling, thrilling ride of a book, In the Kingdom of Men transports readers to the sands of Arabia and the recesses of the human heart. Ginny McPhee is a heroine unlike any other, negotiating love, politics, the intricacies of marriage, and the journey to selfhood. A vivid and compelling tale." —Diana Abu-Jaber, author of Birds of Paradise

"Seldom has a book drawn me into its clutches as quickly as this one did. By the second sentence I was hooked on the first person account of Virginia Mae Mitchell. . . . With a compelling narrative that never flags, we are quickly transported from the dusty, red clay plains to the seemingly infinite desert sandscapes of Saudi Arabia." —Jay Trachtenberg, The Austin Chronicle

"A culturally complex story about American venality and greed." —The Washington Post
"An ambitious amalgam of sexism, racism, corporate colonialism, culture clash, class issues, religion, love and marriage, grief and loss." —The Oregonian

"[Barnes] does an excellent job of conjuring the sights, smells and heat of Saudi Arabia. She also has an astute understanding of the subtle, persistent pull of homesickness that lurks beneath the glamour of expatriate life." —Houston Chronicle

"I was transfixed by Kim Barnes's thoughtful, elegant account of a young American woman's experience of 1960's Saudi Arabia. It describes a piece of the world that seems utterly fresh, never-written-about, and In the Kingdom of Men brings it to vivid life. This is a historical novel which is not only romantic and dramatic and compelling, but has particular, important relevance to our current age." —Dan Chaon, author of Stay Awake and Await Your Reply

"Addictive . . . Barnes's sweeping drama takes the reader on a captivating journey." —Real Simple

"This novel has it all: an intriguing story that thunders to a thrilling climax, characters who grab our hearts, gorgeous prose and a setting that stuns the reader at every turn. Arabia!" —Ellen Sussman, author of French Lessons

"An immersive and bracing exploration of one woman's search for freedom amid repression. . . . Gin is a delightful heroine whose tenacity animates those around her, a quality that lays the groundwork for an extraordinary adventure and unsettling conclusion."  —Publishers Weekly (starred review)