Mark Twain's Other Woman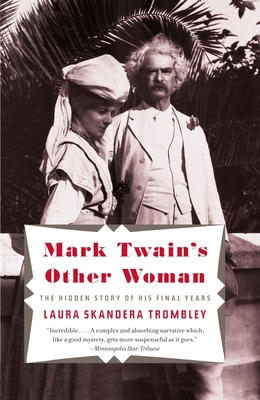 Mark Twain's Other Woman
The Hidden Story of His Final Years
Vintage Books USA, Paperback, 9780307474940, 333pp.
Publication Date: March 8, 2011
* Individual store prices may vary.
Buy Now
or
Shop Local
Enter your zip code below to purchase from an indie close to you.
Description
Laura Skandera Trombley, the preeminent Twain scholar at work today, reveals the never-before-read letters and daily journals of Isabel Lyon, Mark Twain's last personal secretary.
 
For six years, Isabel Lyon was responsible for running the aging Man in White's chaotic household, nursing him through several illnesses and serving as his adoring audience. But after a dramatic breakup of their relationship, Twain ranted in personal letters that she was "a liar, a forger, a thief, a hypocrite, a drunkard, a sneak, a humbug, a traitor, a conspirator, a filthy-minded and  salacious slut pining for seduction." For decades, biographers omitted Isabel from the official Twain history at his decree. But now, the truth of the split is exposed at last in a story that sheds light on a lionized author's final decade.
Praise For Mark Twain's Other Woman…
"Incredible. . . . A complex and absorbing narrative which, like a good mystery, gets more suspenseful as it goes." —Minneapolis Star-Tribune

"A treasure trove. . . . Isabel is an intriguing figure, but even more gripping is Trombley's portrait of Twain as a kind of American Lear, obsessed with his legacy and beset by the troubles of his surviving daughters." —St. Petersburg Times

"Compelling. . . . Goes beyond Twain's carefully constructed versions of events [for] a refreshing, fill-in-the-blanks effect." —Newsday

"Trombley gives [Twain's] 450-page rant against a former personal assistant the historical context and credibility that had been long missing." —Los Angeles Times

"Like Letters from the Earth, Twain continues to live long after his death. Now we have Laura Trombley's fascinating narrative of his last days. . . . The pieces fall into place: The funniest man on earth is revealed to be a much more complicated soul." —Ken Burns, filmmaker
 
"A remarkable investigative effort. . . . Gripping." —The Oregonian
 
"Researched to a 'T,' Mark Twain's Other Woman: The Hidden Story of His Final Years tells a story of dysfunction, deceit and duplicity the likes of which we associate not with Mark Twain—but with the pages of Henry James." —Brenda Wineapple, author of White Heat and Hawthorne, winner of the Pushcart Prize
 
"In this often revealing work, Trombley punctures the myth that Twain was affable and easygoing in his dotage." —The Boston Globe
 
"While presenting the case for Lyon, Trombley has some interesting things to say about the difficulties of being a 'new woman' in America 100 years ago." —St. Louis Post-Dispatch
 
"Trombley has proved to be adept at peeling back Samuel L. Clemens's carefully constructed persona and forcing scholars to reconsider some basic assumptions." —Bruce Michelson, president of the Mark Twain Circle of America.
 
"The points of friction in the story of Twain and Lyons mirror a Victorian drama." —Los Angeles Times  
 
"[A] remarkable book about an even more remarkable relationship. This friendship, which went sour, makes for engaging reading and his historical reporting at its very best. Laura Skandera Trombley brings both Twain and this very determined woman into sharp focus." —Tucson Citizen
 
"Fascinating and persuasive." —Financial Times
 
"Provides a disturbing picture of the author, and his family and friends, not found in the traditional Twain biographies." —The Star-Ledger
 
"This book is a revelation. . . . A first-rate account of Mark Twain's last decade. This account gives us a candid look at the cross-currents of wit, charm and irrational angers that marked and marred the great man's final years. Trombley's discoveries make for an illuminating portrait, and essential reading." —Meryle Secrest, author of Duveen: A Life in Art
 
"An engaging and at times shocking look at Mark Twain, his relationship with his secretary Van Kleek Lyon and his daughters. . . . An irresistible and controversial read." —Historical Novels Review
 
"Trombley's Mark Twain's Other Woman unlocks the door to long-suppressed secrets that marred the closing chapters of Mark Twain's life. A tragic story emerges, and Trombley's powerful narrative enables us to witness each dramatic scene." —Alan Gribben, author of Mark Twain's Library
 
"Lyon's story had been lost to history—until now. Lyon finally gets her due in this wonderfully researched book." —The Sacramento Book Review
 
"A riveting tale of the vortex of ambition, desire, jealousy and obsession swirling round one Great Man." —Emma Donoghue, author of Slammerkin and Room