Facing the Torturer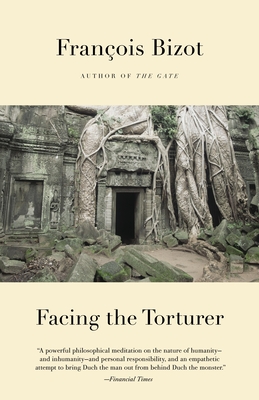 Facing the Torturer
Vintage Books, Paperback, 9780307475145, 209pp.
Publication Date: July 2, 2013
* Individual store prices may vary.
Buy at Local Store
Enter your zip code below to purchase from an indie close to you.
or
Not Currently Available for Direct Purchase
Description
In 1999, the media reported the arrest of Duch, aka the Butcher of Tuol Sleng the most notorious torturer and executioner of the Cambodian genocide. Duch's unexpected arrest after years in hiding presented Francois Bizot with his first opportunity to confront the man who d held him captive for three months in 1973, and whose strange sense of justice had resulted in Bizot's being the only Westerner to survive imprisonment by the Khmer Rouge. Only after his release had Bizot learned that his former captor and, in a way, his only companion in those three months had gone on to exterminate more than 10,000 Cambodians. Taking part in the trial as a witness, with Duch the sole defendant, would force Bizot to return to the heart of darkness. This is the testimony of what he discovered about the torturer and about himself on that harrowing journey.
About the Author
Francois Bizot is the author of The Gate. He is an ethnologist who has spent the greater part of his career studying Buddhism. He is the Director of Studies at Ecole Pratique des Hautes etudes and holds the chair in Southeast Asian Buddhism at the Sorbonne. He lives in Paris. (Facing the Torturer was translated from the French by Charlotte Mandell and Antoine Audouard.)"
Praise For Facing the Torturer…
Praise for Francois Bizot's Facing the Torturer

"A powerful philosophical meditation on the nature of humanity—and inhumanity—and personal responsibility, and an empathetic attempt to bring Duch the man out from behind Duch the monster."
—Financial Times
 
"Bizot bravely addresses the nature of genocide and the darkest heart of human nature."
—Library Journal
 
"Contemplative. . . . A searching and peculiar meditation on human nature."
—San Francisco Chronicle
 
"Mesmerizing. . . . Bizot presents a complex portrait of Duch that richly rewards close reading."
—Richmond Times-Dispatch

"As much an account of the events in court as a passionate and eloquent memoir. . . . François Bizot taps into his experience and feelings and explores how evil lurks in each of us."
—Le Monde

"François Bizot has written a book that will go down in history. He breaks one of the most hypocritical taboos: yes, the mass-murderer is a man, worse still, a man like any other. An exceptionally powerful book. A crucial account, to be read urgently by everyone."
—L'Express

"An honest exploration of what it means to share moments of humanity with a man most people would consider inhuman."
—Kirkus Reviews

"Profound and moving."
—Publishers Weekly

"A meditation on original sin and the banality of evil. . . . Those who have read The Gate will undoubtedly want to read this. . . . A hard and admirable book."
—The Spectator

"A soliloquy on the nature of evil. What, asks Francois Bizot again and again in different forms, makes a man who is in other ways ordinary and even humane into a torturer and mass executioner?"
—Literary Review

"Brilliantly written. . . Facing the Torturer is a deeply moving book."
—Asia Times

"Ten years after the worldwide success of The Gate—the account of his incarceration under the Khmers Rouge—François Bizot revisits this devastating experience in an exceptional book. This is more than just an important historical account—it provides an incredibly precise and gripping dissection of the prisoner's frame of mind. A profoundly literary endeavor to pull back the veils that we use to remain at a distance from mass murderers."
—Marianne

"This book takes us to the edge of an abyss, alarmingly far into the depths of the human soul."
—Libération

"Without self-righteousness or affectation, Bizot unravels the thread of lost innocence and impossible brotherhoods. Thus his torturer continues to torment him, down to the vile gratitude to which he remains obliged. The book is an odiously magnificent confession."
—Le Nouvel Observateur

"A terrifying but essential read. Facing the Torturer explores the essential question of the connection between a concept and its subjective experience. It's a touching, moving, even upsetting book. . . . It's luminous and grand."
—La Quinzaine littéraire

"The ethnologist offers a troubling testimony to the memory of his lost companions, and forces himself to question the bond—if ever there was one—which he shared with his torturer Duch."
—Le Journal du Dimanche

"A fascinating, beautiful work haunted by the enigma of Evil. An important book in which Bizot explores the ambiguity of the human soul."
—La Vie