Ransom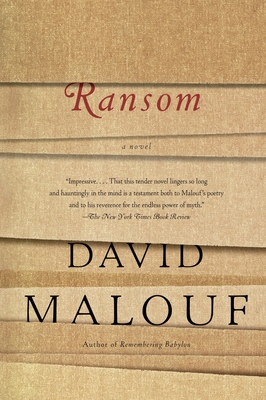 Ransom
Vintage Books USA, Paperback, 9780307475244, 224pp.
Publication Date: January 25, 2011
* Individual store prices may vary.
Buy at Local Store
Enter your zip code below to purchase from an indie close to you.
or
Buy Here
Description
In his first novel in more than a decade, award-winning author David Malouf reimagines the pivotal narrative of Homer's "Iliad" one of the most famous passages in all of literature.
This is the story of the relationship between two grieving men at war: fierce Achilles, who has lost his beloved Patroclus in the siege of Troy; and woeful Priam, whose son Hector killed Patroclus and was in turn savaged by Achilles. A moving tale of suffering, sorrow, and redemption, "Ransom "is incandescent in its delicate and powerful lyricism and its unstated imperative that we imagine our lives in the glow of fellow feeling.
About the Author
David Malouf is one of Australia's most celebrated writers. In a career spanning four decades, he has written poetry, essays, fiction and opera libretti. In 1996, his novel Remembering Babylon was awarded the first international IMPAC Dublin literary award. Malouf's short stories were collected and published in one volume, The Complete Stories, in 2007, which was shortlisted for the inaugural Australian prime minister's literary award the following year. His latest book is Revolving Days: Selected Poems (2008).
Praise For Ransom…
Praise for David Malouf and Ransom

"Impressive. . . . That this tender novel lingers so long and hauntingly in the mind is a testament both to Malouf's poetry and to his reverence for the endless power of myth."
—The New York Times Book Review

"An eloquent and deeply moving tale of war, kingship, fatherhood, our common mortal lot, and—not incidentally—the enduring power of a good story. . . . Every sentence sings."
—Dallas Morning News

"Subtle and extremely moving. . . . Highly inventive. . . . Ransom is a rich meditation on literary genre. . . . Embroidered with imaginative details that often reanimate familiar elements of the epic. . . . Like Euripides, Malouf has scrutinized the vast fabric of Homer's story, looking for open spaces in the weave to insert his own design."
—The New Yorker

"Thrillingly profound. . . . Malouf's prose feels timeless—lyric and direct in ways that recall the source material yet seem wholly contemporary."
—San Francisco Chronicle

"The 'matter of Troy' has provided the world with timeless examples of heroism, nobility, cleverness and tragic destiny. In Ransom, Malouf adds to this great tradition. . . . Ransom returns again and again to the fundamental human need for story and storytelling."
—The Washington Post
 
"Malouf is at once powerful and tender."
—Los Angeles Times
 
"A writer with great imaginative powers and a gift for acute psychological characterization."
—Boston Globe
 
"Malouf may fairly be called Australia's greatest novelist, and the reasons why are all here, in an economical package—the penetration of his mind into hearts and motivations; the limpid, lucid prose; the bracing immediacy of the story, the art of his artlessness. A simple tale, cobbled from a few lines of an ancient text, but Malouf brings Achilles and Priam and the wagon driver to turbulent life. . . . A remarkable feat."
—The Oregonian

"Exquisite. . . . Lovely and moving. . . .  Malouf doesn't exploit Homer's Iliad; he fully respects its majesty and at the same time fulfills his own deep need to link the distant past to the terrors of the present. Ransom is a joy to read."
—Providence Journal-Bulletin
 
"Vivid. . . . Priam's character [has] a warmth and immediacy that reflects Malouf's skill for animating historical figures."
—The Wall Street Journal
 
"Remarkable. . . . Highly evocative. . . . That [Malouf] is able to cut such an epic tale down to size (and in the process make it his own) is truly a testament to his gift as a novelist."
—Sacramento Book Review
 
"[A] lithe, graceful and deeply moving tale. . . . These pages of Ransom are nothing short of magical. Malouf's prose is delicate, marvellously alert to the natural world and endowed with a quality that has one name only: wisdom."
—The Sydney Morning Herald
 
"[Malouf is] a storyteller of achievement, for whom simple things gracefully become totems for deeper thought."
—Philadelphia Inquirer
 
"Lyrical, witty, gentle, this is above all a story of transformation. . . . Immensely moving."
—The Independent (London)
 
"Though Malouf's sparingly deployed details, vigorous language, and sly wit humanize these tragic heroes, the story is unmistakably epic and certainly the stuff of legend."
—Publishers Weekly (starred review)