Robert Redford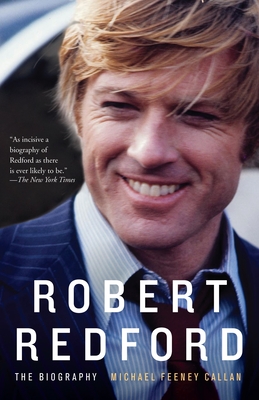 Robert Redford
The Biography
Vintage Books, Paperback, 9780307475961, 562pp.
Publication Date: May 15, 2012
* Individual store prices may vary.
Shop Local
Enter your zip code below to find indies closest to you.
Description
Robert Redford is among the most widely admired Hollywood stars of his generation, renowned for his iconic roles as the Sundance Kid, Bob Woodward and Jay Gatsby, and celebrated for his fierce commitment to environmental causes, independent filmmaking, and his Sundance Film Festival. Yet only now, in this revelatory biography written in close collaboration with the extraordinary actor and director himself, do we see the complex man beneath the Hollywood faCade.
Praise For Robert Redford…
"As incisive a biography of Redford as there is ever likely to be." —The New York Times

"One of the 10 Best Movie Books of the Year." –Entertainment Weekly
 
"Revealing. . . . An unusually well-written movie-star biography. . . . Robert Redford is as fascinating…as its subject." —The Wall Street Journal

"Meticulous. . . . Tells Redford's story through Redford's eyes and through the eyes of his family, friends and allied associates." —San Francisco Chronicle
 
"First-rate. . . . A layered portrait of one of the most famous—and elusive—faces in pop culture." —Milwaukee Journal Sentinel
 
"Deeply researched. . . . Callan's book begins and ends exactly where it should: with that quadrant of Utah soil christened by its owner 'Sundance.'" —The Washington Post

"Meticulous. . . . Covers in detail Redford's four-decade acting career, his emergence as a director and his dedication to environmental causes." —The New York Times Book Review
 
"Genuinely insightful . . . Michael Feeney Callan remains keenly aware of his subject's larger-than-lifeness, even as he tries to chip away to reveal the person underneath."  —Entertainment Weekly
 
"Callan's book is one of the most thoroughly researched, analytic examinations ever conducted into the life of a popular entertainer." —The Sunday Times (London)
 
"A precise, weighty analysis of Redford's life and impact, meticulously constructed and delivered with pace and style. . . . Set to become the definitive account, not only of Redford, but also of that era of movie-making that was his hey-day, the era of All The President's Men and The Candidate." —Irish Independent
 
"A deft narrative about the business of making mainstream movies from the 1960s to the present, loaded with insider interviews and compelling mini-histories of how Redford movies like 'The Candidate,' 'Out of Africa,' and 'A River Runs Through It' came to be made." —San Francisco Chronicle
 
"This is superior fare, a meticulously researched account of one of Hollywood's iconic heart-throbs, drawn from Redford's journals and correspondence and supplemented by copious taped interviews given over a number of years. . . . Compelling."  —The Mail on Sunday (UK)
 
"Carefully crafted. . . . Callan is clearly on his game when it comes to dissecting Redford's film career." —Newsday
 
"An elegant, perceptive book, admiring, friendly, but neither hagiographic nor obsequious." —The Guardian (UK)
 
"Prodigiously researched. . . . Offers much to admire. . . . Interviews from primary sources flesh out almost every aspect of his life." —Kansas City Star
 
"Bracing. . . . A fascinating study…of fame and our uneasy relationship with it." —The New York Post
 
"A highly descriptive history. . . . Tells a compelling story with dozens of enigmatic, intriguing characters. . . . An analysis of the way that history, personal or national, shapes us and we, in turn, shape it. . . . An entertaining, enriching reading experience." —PopMatters
 
"Exhaustive. . . . An open, honest appraisal of a true motion picture star. . . . A well-documented, well-written…portrait of a public figure known best from a collection of iconic films and from public endeavors." —The Anniston Star

"Michael Feeney Callan spent 14 years researching, interviewing and traipsing in the 74-year-old star's footsteps and has provided great insights into a man who shied from public scrutiny throughout a luminous career." —Pittsburgh Post-Gazette
 
"Too seldom is the life of an actor of Robert Redford's stature given such a finely detailed and well-written exploration." —Associated Press
 
"An elegant life of Robert Redford gets to the heart of an enigmatic, Gatsbyesque charmer who dreamed of freedom, honesty and social fulfillment. Feeney Callan has written an elegant, perceptive book, admiring, friendly. . . . He gives us Redford warts and all." —The Observer (London)