The Chemistry of Tears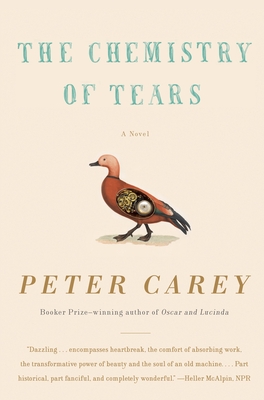 The Chemistry of Tears
Vintage Books, Paperback, 9780307476081, 229pp.
Publication Date: February 12, 2013
* Individual store prices may vary.
Buy at Local Store
Enter your zip code below to purchase from an indie close to you.
or
Buy Here
Description
A "Seattle Times" Best Book of 2012
When Catherine Gehrig, a museum conservator in London, falls into grief after her lover's sudden death, her boss gives her a special project. She will bring back to life a nineteenth-century mechanical bird. As she begins to piece the automaton together, Catherine also uncovers the diaries of Henry Brandling, who, more than a hundred years prior, had commissioned the bird for his very ill son. Catherine finds resonance and comfort in Henry's story. But it is the mechanical creature itself, in its uncanny imitation of life, that will link these two people across a century. Through the clockwork bird, Henry and Catherine will confront the mysteries of creation, the power of human invention, and the body's astonishing chemistry of love and feeling.
About the Author
Peter Carey, LL.B. LL.M. is a Solicitor and Consultant to Charles Russell where he advises on all aspects of e-commerce and data protection. He is a Visiting Professor at The College of Law and is the author of several leading books in the field of data protection and e-commerce including Data Protection in the UK. Peter is the Editor of the journal Privacy & Data Protection, and he lectures frequently on e-commerce issues.
Praise For The Chemistry of Tears…
"Dazzling . . . encompasses heartbreak, the comfort of absorbing work, the transformative power of beauty and the soul of an old machine. . . . part historical, part fanciful, and completely wonderful." —Heller McAlpin, NPR

"Ambitious, playful and engagingly strange." —San Francisco Chronicle

"Touching and thought-provoking." —The New York Times Book Review
 
"Deeply moving. . . tells the story of the essential human desire to return to the individual Edens that we inhabited. . . . beautifully told." —Nature

"Characters that beguile and convince, prose that dances or is as careful as poetry, an inventive plot that teases and makes the heart quicken or hurt, paced with masterly precision, yet with a space for the ideas to breathe and expand in dialogue with the reader, unusual settings of place and time: this tender tour de force of the imagination succeeds on all fronts." —The Independent (London)

 "Carey is one of the finest living writers in English. His best books satisfy both intellectually and emotionally; he is lyrical yet never forgets the imperative to entertain. . . . A wholly enjoyable journey." —The Economist

"Carey is one of the most original novelists writing today." —The New Republic

"Vividly rendered. . . . Carey has given each story the chaotic quality of hallucination. . . . He shapes the two madnesses with imaginative intensity." —The Boston Globe

"A beautifully written, richly layered novel that includes treats like a meaningful, hidden message in Latin and a mysterious blue wooden block hidden inside the automaton. . . . Its graceful subtlety will keep you thinking long after you've closed the book." —Vancouver Sun

"A short novel that bristles with ideas. . . . Carey is a master novelist." —The Oregonian

"Heartbreaking. . . . [A] profoundly detailed study of love and grief. . . . Carey has built us a captivating replica of the most timeless piece of machinery of all—a broken heart." —The Seattle Times

"Leave it to a protean virtuoso like Peter Carey to write a novel, The Chemistry of Tears, that draws compelling parallels between a Victorian-era automaton of a defecating duck and the 2010 BP oil spill in the Gulf of Mexico. And, what's more, to make of it another delightfully recondite tour-de-force performance." —The Toronto Star

"For his new, briskly paced novel, The Chemistry of Tears, he has pulled off a nifty trick, offering interconnected plots set in two distinct eras. . . . Carey's deft, spare prose is full of striking images. . . . Carey explores a series of interconnected themes that are admirably complex for such a short book." —Richmond Times-Dispatch

"A writer of such sustained flair that he has, only two years after his Man Booker–shortlisted Parrot and Olivier in America, delivered another stylish tour de force. . . . With typical dogged panache, Carey's exploration of technology and tears indicates that emotion defies rationalism's impositions." —The Daily Telegraph (London)