Doomed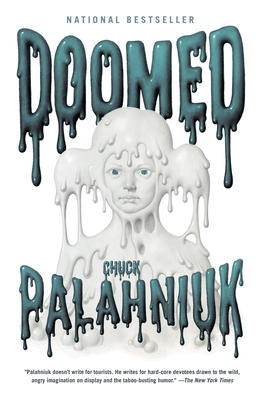 Doomed
Anchor Books, Paperback, 9780307476548, 329pp.
Publication Date: July 15, 2014
* Individual store prices may vary.
Shop Local
Enter your zip code below to find indies closest to you.
Description
Welcome to Purgatory. Chuck Palahniuk style.
After a botched Halloween ritual, Madison Spencer, the snarkiest dead girl in the universe, finds herself trapped in Purgatory, otherwise known as Earth. The upside: she is no longer subject to physical limitations (she can pass through doors and walls). The downside: well, she's still dead. Her first stop is her parents' luxurious apartment, where she encounters her grandmother ghost. For Madison, the encounter triggers memories of the awful summer she spent upstate. As she revisits the painful truth of what transpired over those months, her saga of eternal damnation takes on a new and sinister meaning. It turns out, Madison and her parents have always been key elements of Satan's master plan doomsday.

About the Author
Chuck Palahniuk is the author of Fight Club, which was made into a movie directed by David Fincher, as well as Survivor, Damned, and Tell-All, among other books. He lives in Washington State.
Praise For Doomed…
Praise for DOOMED:

"If you only read one book this year about a dead teenager posting on message boards about playing supernaturalist and tempting Satan's wrath, let it be this one."
—Kirkus

"...A grand, funny, troubling and rewarding read, and personally, I can't wait for the third of the trilogy. Damaged? Delighted? Devilled? Doubted? Simply Dead? Maddie is my new post-alive heroine."
—The Guardian

"Those who aren't frightened by the lurid littering of gutter humor and oozing bodily fluids will find in Doomed a master satirist and culture critic at the height of his bold, anarchic powers."
—Nashville Scene

"Palahniuk's fans will surely be pleased..."
—Publishers Weekly