The Parthenon Enigma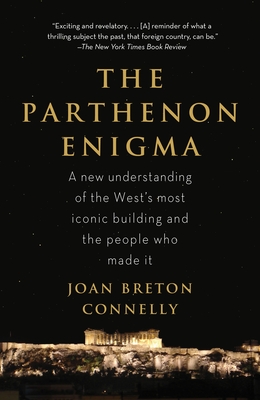 The Parthenon Enigma
Vintage, Paperback, 9780307476593, 528pp.
Publication Date: November 4, 2014
* Individual store prices may vary.
Buy Now
or
Shop Local
Enter your zip code below to purchase from an indie close to you.
Description
A "New York Times" Notable Book and one of "The Daily Beast"'s Best Books of the Year
Winner of the Ralph Waldo Emerson Award
Since the Enlightenment, the Parthenon the greatest example of Athenian architecture has been venerated as the definitive symbol of Western democratic values. Here, Joan Breton Connelly challenges this conventional wisdom, drawing on previously undiscovered sources to present a revolutionary new view of this peerless building. Reaching back across time to trace the Parthenon's story from the laying of its foundation, Connelly finds its true meaning not in the rationalist ideals we typically associate with Athens but in a vast web of ceaseless cultic observances and a unique mythic identity, in which democracy in our sense of the word would have been inconceivable. Marshalling a breathtaking range of textual and visual evidence, and full of fresh insights woven into a thrilling narrative that brings the distant past to life, "The Parthenon Enigma" sheds a stunning new light on the ancient Athenians from whom we claim cultural descent and on Western civilization itself.
About the Author
Joan Breton Connelly is Professor of Classics and Art History at New York University. She is the author of "Votive Sculpture of Hellenistic Cyprus." A field archaeologist, she has worked in Greece, Kuwait, and Cyprus, where she is Director of the NYU Yeronisos Island Excavations. She is a recipient of a MacArthur Fellowship in recognition of her work on Greek art, myth, and religion, including her reinterpretation of the Parthenon frieze.