Shorter, Faster, Funnier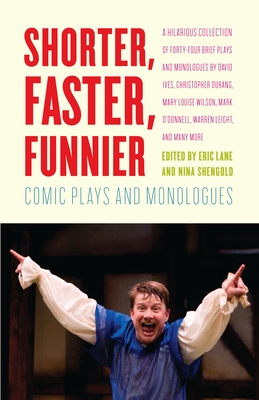 Shorter, Faster, Funnier
Comic Plays and Monologues
Vintage Books, Paperback, 9780307476647, 530pp.
Publication Date: May 3, 2011
* Individual store prices may vary.
Buy Now
or
Shop Local
Enter your zip code below to purchase from an indie close to you.
Description
This cornucopia of comedy showcases works by major playwrights and emerging young writers, with casts of all sizes and diverse and challenging roles for actors of every age and type. You ll discover such colorful characters as a businessman free-falling from a plane, an embittered sword swallower, a punkish girl skateboarder, and retirees in post-apocalyptic Siberia, alongside plays that unleash the humor in high school reunions, alien invasions, office cubicle farms, and even post-Katrina New Orleans. Perfect for actors, students, theater lovers, and comedy fans, "Shorter, Faster, Funnier" covers the spectrum of humor, from slyly witty to over-the-top outrageous.
Rob Ackerman Billy Aronson John Augustine Pete Barry Dan Berkowitz Adam Bock Eric Coble Philip Dawkins Anton Dudley Christopher Durang Liz Ellison Halley Feiffer Peter Handy Jeffrey Hatcher Amy Herzog Mikhail Horowitz David Ives Caleen Sinnette Jennings Ean Miles Kessler Dan Kois Eric Lane Drew Larimore Warren Leight Mark Harvey Levine Elizabeth Meriwether Michael Mitnick Megan Mostyn-Brown Mark O Donnell Nicole Quinn Wayne Rawley Theresa Rebeck Jacqueline Reingold Laura Shaine Nina Shengold Jane Shepard Edwin Sanchez Samara Siskind Daryl Watson Barbara Wiechmann Mary Louise Wilson Garth Wingfield Gary Winter Elizabeth Wong Dana Yeaton.
About the Author
Eric Lane was born and raised in London. He served in the Royal Air Force and is a graduate of Cambridge University with degrees in English and Theology. Eric served for nine years in the Anglican ministry in Carlisle and London, UK. After that he ministered in independent evangelical churches in various parts of the UK. He is now retired and living in Yateley, Hampshire.

Eric Lane and Nina Shengold are editors of twelve contemporary play collections. Their other titles for Vintage Books include "Plays for Actresses, Leading Women: Plays for Actresses II, Take Ten: New Ten-Minute Plays, Take Ten II: More Ten-Minute Plays, Under Thirty: Plays for a New Generation, "and "Talk to Me: Monologue Plays. "For Viking Penguin, they edited "The Actor's Book of Contemporary Stage Monologues, The Actor's Book of Scenes from New Plays, Moving Parts: Monologues from Contemporary Plays, The Actor's Book of Gay and Lesbian Plays "(Lambda Literary Award nominee), and "Telling Tales: New One-Act Plays."
Nina Shengold received the ABC Playwright Award and the L.A. Weekly Award for "Homesteaders, "published by Samuel French. Her "Romeo/Juliet," a five-actor adaptation of Shakespeare's play, is published by Broadway Play Publishing. Her ten-minute plays have been performed at the Actors Theatre of Louisville and dozens of other theaters. Ms. Shengold won the Writers Guild Award and a GLAAD Award nomination for her teleplay "Labor of Love, "starring Marcia Gay Harden; other screenplays include "Blind Spot, "with Joanne Woodward and Laura Linney, "Unwed Father, Double Platinum, "and a flm adaptation of Jane Smiley's "Good Will. "She is artistic director of the upstate New York theater company Actor's & Writers. Her first novel, "Clearcut, "was published by Anchor Books.
Eric Lane is an award-winning playwright and filmmaker. Plays include "Heart of the City, Times of War, Shellac, Cater-Waiter, "and "Dancing on Checkers' Grave, "which starred Jennifer Aniston. Mr. Lane has written and produced two short filims: "First Breath "and "Cater-Waiter. "For his work on TV's"Ryan's Hope, "he received a Writers Guild Award. Honors include the Berrilla Kerr Playwrighting Award, La Mama Playwright Development Award, numerous Yaddo fellowships, and a St. James Cavalier Centre for Creativity fellowship in Malta. Mr. Lane is an honors graduate of Brown University, and is artistic director of Orange Thoughts Productions, a not-for-profit theater and film company in New York City.