Barney's Version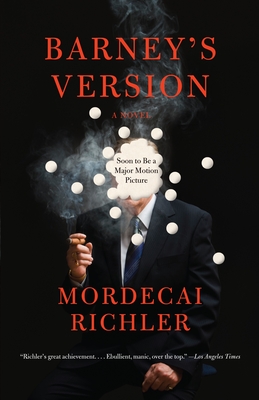 Barney's Version
Vintage Books USA, Paperback, 9780307476883, 417pp.
Publication Date: May 4, 2010
* Individual store prices may vary.
Shop Local
Enter your zip code below to find indies closest to you.
Description
Barney Panofsky—Canadian expat, wily lover of women, writer, television producer, raconteur—is finally putting pen to paper so he can rebut the charges about him made in his rival's autobiography.  Whether it's ranting about his bohemian misadventures during the 1950's in Paris, his tumultuous three marriages, or his successful trashy TV company, Totally Unnecessary Productions, he quickly proves that his memory may be slipping, but his bile isn't.  But when he's charged with the murder of his own best friend—caught in bed with the second Mrs. Panofsky—Barney's version of things might not be enough to keep him out of trouble.
About the Author
A two-time recipient of Canada's Governor's General Award and the winner of Screenwriters Guild of America Award for Best Screenplay (for the film version of "The Apprenticeship of Duddy Kravitz"), Mordecai Richler published 10 novels before his death in 2001. He was also a regular contributor to a diverse range of magazines, including "Gentlemen's Quarterly, The Spectator, The New Statesmen" and "Punch".


Praise For Barney's Version…
"Richler's great achievement. . . . Ebullient, manic, over the top." —Los Angeles Times

"At once falling-down funny, angry, and heartbreakingly poignant." —The Dallas Morning News
 
"Cunningly designed for maximum suspense and beaucoup laughs. . . . Exuberant." —Time
 
"Vintage Richler: funny, tough, and touching." —San Francisco Examiner
 
"Richler's aim is still deadly. . . . [With] a caustic wit and Falstaffian charm." —The New York Times Book Review

"A fine, funny novel. . . . Deft, irreverent, and affecting." —The New York Times
 
"A satisfying experience; this is a masterfully executed novel—a funny, touching, mature work." —St. Louis Post-Dispatch
 
"[Richler's] best. . . . It is time to recognize Mr. Richler as one of North America's most powerful novelists." —The Washington Times
 
"Grossly funny. . . . A rousing spectacle. . . . A novelist at the top of his game." —The Wall Street Journal
 
"Funny and engaging. . . . Richler's admirers will not want to miss it." —Washington Post Book World
 
"Richler brings off one of the most difficult feats of a satirical novelist—winning the affection of the reader for a character who is a world-class vulgarian.  Barney is very, very funny." —The Boston Globe
 
"Wildly comic. . . The years . . . have added depth to Richler's power to outrage and amuse." —New York Review of Books
 
"Hilarious. . . . Barney Panofsky is right up there with such creations as Moses Herzog and Randle Patrick McMurphy as outrageous swimmers against the tide of conformity.  His wicked sense of humor will endear him to all but the most censorious." —Minneapolis Star Tribune
 
"A brilliantly slapdash fictional memoir. . . Hilarious. . . . Raucous but elegiac." —Entertainment Weekly
 
"A rollicking novel laden with rue, a self-portrait of a creative personality who never found a creative outlet he could respect, a paean to the pleasures and perils of drink, a celebration of ice hockey and tap dancing . . . [and] a murder mystery with an uproarious solution." —The New Yorker
 
"A touching human work [which] celebrates the power of love, the importance of family, the value of work, and the frightening process of aging. . . . [An] eloquent portrait of an impossible man." —Toronto Star