A Taste for Absinthe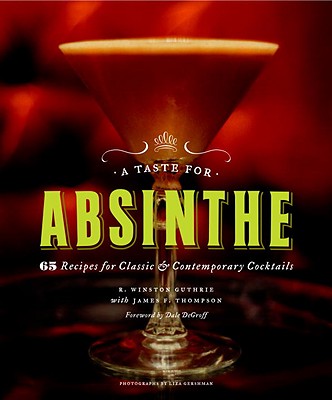 A Taste for Absinthe
65 Recipes for Classic and Contemporary Cocktails
Clarkson Potter, Hardcover, 9780307587534, 176pp.
Publication Date: September 21, 2010
* Individual store prices may vary.
Buy at Local Store
Enter your zip code below to purchase from an indie close to you.
or
Not Currently Available for Direct Purchase
Description
Absinthe's renaissance is quickly growing into a culinary movement. The "Green Fairy" is now showing up on cocktail menus at chic restaurants around the country. A Taste for Absinthe celebrates this storied and complex liquor by bringing you 65 cocktail recipes from America's hottest mixologists to enjoy as you discover the spirit that has fascinated artists, musicians, and writers for centuries.
Absinthe expert R. Winston Guthrie shares the intriguing history of this famous beverage and a wide range of absinthe cocktails crafted by celebrated bartenders such as Jim Meehan of New York's PDT, Erik Adkins of San Francisco's Slanted Door, and Eric Alperin of The Varnish in Los Angeles. In addition to the recipes—such as the Salute to Sazerac (with rye whiskey, Angostura bitters, and lemon peel) and the Green Goddess (fresh basil leaves, cucumber vodka, simple syrup, line juice, and fresh thyme)—you will find:
- a primer on the accoutrements (spoons, glasses, fountains) for serving absinthe
- a how-to on executing your own absinthe drip
- a guide to buying the best-quality absinthe (whether imported or domestic)
- a lesson on how to discern between real absinthe and fake
- sidebars on absinthe's rich history 

Whether you want to learn everything you need to know to host "L'Heure Verte" (the Green Hour) and impress your friends with your beautiful accoutrements and practiced pouring technique, or just make a really delicious drink, A Taste for Absinthe will bring you up to speed on the most talked about liquor in history.
About the Author
R. WINSTON GUTHRIE is an absinthe expert and the founder of www.AbsintheBuyersGuide.com, which is the premier source for information about the drink, including tips on what to buy and how to find accessories such as glasses and spoons. He lives in San Francisco with his wife.

JAMES F. THOMPSON is a New York-based writer and editor. In addition to extensive publishing work, he has been an English professor and a teacher aboard a navy destroyer performing operations in the Mediterranean.

Liza Gershman is an award-winning photographer and writer. Her work has been featured in many publications, including the San Francisco Chronicle, Daily Candy, Outside Magazine, Napa Valley Life, Eater SF, and Beer Connoisseur.