The Essential Cuisines of Mexico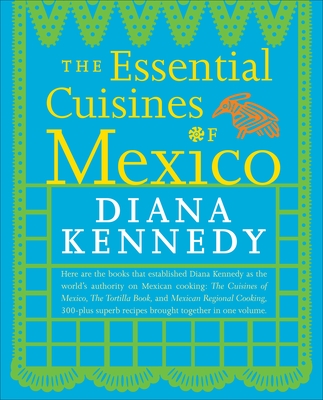 The Essential Cuisines of Mexico
Clarkson Potter Publishers, Paperback, 9780307587725, 525pp.
Publication Date: October 20, 2009
* Individual store prices may vary.
Buy Now
or
Shop Local
Enter your zip code below to purchase from an indie close to you.
Description
More than twenty-five years ago, when Diana Kennedy published The Cuisines of Mexico, knowledge and appreciation of authentic Mexican cooking were in their infancy. But change was in the air. Home cooks were turning to Julia Child for an introduction to French cuisine and to Marcella Hazan for the tastes of Italy. Through Diana Kennedy they discovered a delicious and highly developed culinary tradition they barely knew existed. The Cuisines of Mexico, Mexican Regional Cooking, and The Tortilla Book became best-sellers, and Diana Kennedy was recognized as the authority on Mexican food.
Now a new generation has discovered that Mexican food is more than chimichangas, that they can find fresh hierbas de olor (pot herbs, including marjoram and Mexican bayleaf) and chilacas in their markets. The book that will become indispensable in their kitchens is The Essential Cuisines of Mexico.
Diana has combined her three classic books in one volume, refining recipes when possible, bringing them up to date without losing the spirit of their generation. Old friends will be delighted to revisit these refreshed classics and to find more than thirty new recipes from different regions of Mexico. Among these discoveries are the very popular arroz a la tumbada (rice with seafood) from Veracruz, a pico de gallo with peaches from the state of Mexico, and tasty snacks from the cantinas of Merida.
Newcomers will delight in Diana's "word pictures" -- descriptions of her travels and discoveries -- and in her off-the-cuff comments. Whether they turn to this book for the final word on tamales, recipes for tasty antojitos to serve with drinks, or superb tacos, they will find there is no better teacher of Mexican food. How enviable to attempt for the first time Calzones del Diablo (yes, the Devil's Pants), and what a pleasure to succumb to Diana's passion for Mexican food.
About the Author
A British citizen, Diana Southwood went to Mexico in 1957 to marry Paul P. Kennedy of the New York Times. Today she is widely considered the foremost researcher, teacher, and writer on the regional foods of Mexico and has written eight books on the subject. She has been bestowed the highest honor given to foreigners by the Mexican government, the Order of the Aztec Eagle, for her work of disseminating Mexican culture through its foods. She has also received numerous awards from other gastronomic institutions and was decorated with an MBE by Queen Elizabeth for her work in strengthening cultural relations between Mexico and the United Kingdom, as well as for her work for the environment, which is always reflected in her texts. For the past thirty years, her studies have been centered around her ecological house in the state of Michoacan.
Praise For The Essential Cuisines of Mexico…
"Diana Kennedy's books on Mexican cooking are different. They demand to be devoured."
-- William Rice, Chicago Tribune

"Every time Diana Kennedy publishes a new book I am delighted."
-- Alice Waters