Three Maids for a Crown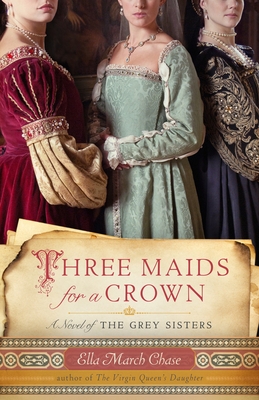 Three Maids for a Crown
A Novel of the Grey Sisters
Broadway Books, Paperback, 9780307588982, 419pp.
Publication Date: August 2, 2011
* Individual store prices may vary.
Buy at Local Store
Enter your zip code below to purchase from an indie close to you.
or
Buy Here
Description
In the second novel from Ella March Chase, we meet sixteen-year-old Jane Grey, a quiet and obedient young lady destined to become the shortest reigning English monarch. Her beautiful middle sister Katherine Grey charms all the right people--until loyalties shift. And finally Lady Mary Grey, a dwarf with a twisted spine whose goal is simply to protect people she loves--but at a terrible cost.
In an age in which begetting sons was all that mattered and queens rose and fell on the sex of their child, these three girls with royal Tudor blood lived under the dangerous whims of parents with a passion for gambling. The stakes they would wager: their daughters' lives against rampant ambition.
About the Author
Elle March Chase is the author of The Virgin Queen's Daughter and Three Maids for a Crown. She lives in East Moline, IL.
Praise For Three Maids for a Crown…
"Chase's prose is engaging, and her rich, detailed portraits of Renaissance women,
particularly those of a kindly but haunted Mary I and a vicious, conceited Elizabeth, are unforgettable."--Booklist

"High praise to Ella March Chase, who knows her Tudor history, for putting the fascinating and doomed Grey sisters at the center of an ingenious work of fiction."—G. J. Meyer author, The Tudors
 
"Thanks to the skilled craftsmanship of Ella March Chase, the three Grey sisters come vividly to life in Three Maids for a Crown, an intimate portrait of their struggle to survive in the hostile environment of the Tudor court--a world brilliantly recreated in this thoroughly engrossing novel."—Kate Emerson, author of the Secrets of the Tudor Court Series
 
"With lyrical prose, Ella March Chase tells the riveting story of the Grey sisters, from Lady Jane Grey's nine day reign to all that came after. Three Maids for a Crown is a beautiful tale that gives Jane, Katherine, and Mary Grey what they never had in life: a voice."--Christy English, author of To Be Queen: A Novel of the Early Life of Eleanor of Aquitaine
 
"In Three Maids for a Crown Ella March Chase powerfully evokes the courageous stories of the three truly unforgettable Grey sisters, saintly Jane, beautiful Kat and misshapen Mary.  Each maid triumphs, then falls prey to their cousins, first Queen Mary Tudor and then Elizabeth I, both queens terrified of the three maids' royal Tudor blood. The sisters find the triumphant love their queenly cousins are denied, but each is forced to pay a heavy price. At last, Chase writes their untold story, woven throughout with fascinating period detail.  Not to be missed if you love well-told Tudor stories, or if you have a sister."--Jeane Westin, author of His Last Letter: Elizabeth I and the Earl of Leicester
 
"Ella March Chase vividly portrays the paranoia of the Tudor court in Three Maids for a Crown. Lady Jane Grey and her sisters navigate their tragedy with compelling grace, ultimately powerless against the two queens who fear them. An absorbing and heartbreaking story."--Emma Campion, author of The King's Mistress