A Triple Knot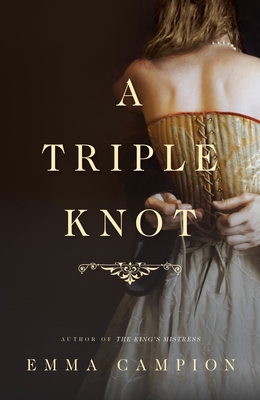 A Triple Knot
Broadway Books, Paperback, 9780307589293, 465pp.
Publication Date: July 8, 2014
* Individual store prices may vary.
Buy at Local Store
Enter your zip code below to purchase from an indie close to you.
or
Buy Here
Description
The critically acclaimed author of "The King's Mistress" brings another fascinating woman from history to life in an enthralling story of political intrigue, personal tragedy, and illicit love.
Joan of Kent, renowned beauty and cousin to King Edward III, is destined for a politically strategic marriage. As the king begins a long dynastic struggle to claim the crown of France, plunging England into the Hundred Years War, he negotiates her betrothal to a potential ally and heir of a powerful lordship.
But Joan, haunted by nightmares of her father's execution at the hands of her treacherous royal kin, fears the king's selection and is not resigned to her fate. She secretly pledges herself to one of the king's own knights, one who has become a trusted friend and protector. Now she must defend her vow as the king furious at Joan's defiance prepares to marry her off to another man.
In "A Triple Knot," Emma Campion brings Joan, the Fair Maid of Kent to glorious life, deftly weaving details of King Edward III's extravagant court into a rich and emotionally resonant tale of intrigue, love, and betrayal.
About the Author
EMMA CAMPION is the author of "The King's Mistress "and did her graduate work in medieval and Anglo-Saxon literature. She lives in Seattle. Visit her at www.emmacampion.com.
Praise For A Triple Knot…
"A Triple Knot is a superbly written, evocative tale of Joan of Kent that captivated me from the first page and held me until the very end. With a deft eye for detail and a wonderfully authentic evocation of time and place, Campion has delivered what is certain to become a classic."
—Diane Haeger, author of The Secret Bride: In the Court of Henry VIII

"In this meticulously researched, richly detailed and empathetic novel, Emma Campion skillfully brings to life the enchanting Joan, Fair Maid of Kent and First Princess of Wales who was described by the chronicler Jean Froissart as 'the most beautiful woman in all the realm of England, and the most loving.' With a bigamous union bracketed by two secret marriages—one to the Black Prince—she makes fascinating reading for anyone interested in the glittering court of Edward III where intrigue and danger walk hand in hand with royalty and love." 
—Sandra Worth, author of The King's Daughter: A Novel of the First Tudor Queen

"With grace, accuracy and authenticity, Emma Campion brings Joan of Kent and her world to vivid, captivating life in A Triple Knot. Campion's 14th century is as detailed, gorgeous and fascinating as a millefleur tapestry—her history is immaculate, her characters convincing, and Joan, who is sometimes glossed over in the history books as the Fair Maid of Kent and little more, is complex yet sympathetic as Campion clarifies all the questions that historians might raise about this enigmatic woman. This exciting, compelling historical novel immerses the reader until the very last sentence. I loved A Triple Knot and I look forward to more from Emma Campion!"
—Susan Fraser King, author of Lady Macbeth and Queen Hereafter

"Emma Campion's Joan of Kent is a remarkable creation. She springs off the page, completely alive, growing in stature and confidence as her young
years pass, steadfast in her love in spite of all adversities. Compassionate, loving, she moves with grace and splendor throughout. A Triple Knot is a brilliant, tender portrait of a passionate woman in dangerous times."
—Chris Nickson, author of the Richard Nottingham novels