Life Without Limits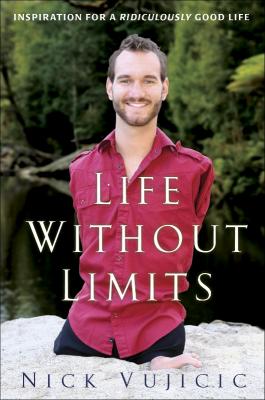 Life Without Limits
Inspiration for a Ridiculously Good Life
Waterbrook Press, Hardcover, 9780307589736, 256pp.
Publication Date: October 26, 2010
* Individual store prices may vary.
Buy at Local Store
Enter your zip code below to purchase from an indie close to you.
or
Buy Here
Description
"Life Without Limits "is an inspiring book by an extraordinary man. Born without arms or legs, Nick Vujicic overcame his disability to live not just independently but a rich, fulfilling life, becoming a model for anyone seeking true happiness. Now an internationally successful motivational speaker, his central message is that the most important goal for anyone is to find their life's purpose despite whatever difficulties or seemingly impossible odds stand in their way.
Nick tells the story of his physical disabilities and the emotional battle he endured trying to deal with them as a child, a teen, and a young adult. "For the longest, loneliest time, I wondered if there was anyone on earth like me, and whether there was any purpose to my life other than pain and humiliation." He shares how his faith in God has been his central source of strength and explains that once he found his own sense of purpose--inspiring others to make their lives and the world better--he found the confidence to build a rewarding and productive life without limits.
Nick offers practical advice for realizing a life of fulfillment and happiness by building trust in others, developing supportive relationships, and gaining strength for the journey. He encourages the reader by showing how he learned to accept what he could not control and focus instead on what he could.
"I do believe my life has no limits I want you to feel the same way about your life, no matter what your challenges may be. As we begin our journey together, please take a moment to think about any limitations you've placed on your life or that you've allowed others to place on it. Now think about what it would be like to be free of those limitations. What would your life be if "anything "were possible?"
--Nick Vujicic, from "Life Without Limits.
About the Author
Born in 1982 in Brisbane, Australia, without any
medical explanation or warning, Nicholas Vujicic
came into the world with neither arms nor legs.
Imagine the shock his parents felt when they
saw their first-born brand new baby boy for the
first time, only to find he was what the world
would consider imperfect and abnormal. A
limbless son was not what nurse Dushka Vujicic,
and her husband Pastor Boris Vujicic had been
expecting. How would their son live a normal
happy life? What could he ever do or become
when living with such a massive disability? Little
did they or anyone else know that this beautiful
limbless baby would one day be someone
who would inspire and motivate people from all
walks of life. God uses Nick to touch lives and
bring the hope of Jesus Christ to people across
the globe.
Now at 27 years old, this limbless young man
has accomplished more than most people accomplish
in a lifetime. Nick recently moved to
California, USA, where he is the president of an
international non-profit organization, Life Without
Limbs, and also has his own motivational
speaking company, Attitude Is Altitude.