Pets Who Want to Kill Themselves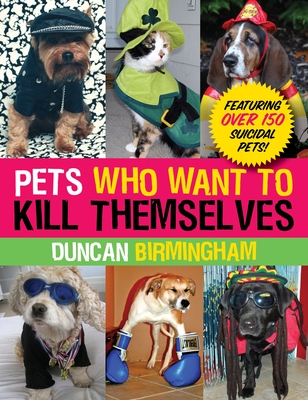 Pets Who Want to Kill Themselves
Three Rivers Press (CA), Paperback, 9780307589880, 160pp.
Publication Date: December 1, 2009
* Individual store prices may vary.
Not Currently Available for Direct Purchase
or
Shop Local
Enter your zip code below to purchase from an indie close to you.
Description
PEOPLE LOVE THEIR PETS.
SOME PEOPLE LOVE THEIR PETS
A LITTLE TOO MUCH.
Who could blame Mr. Whiskers for trying to high-dive from a penthouse window or Fluffy for crawling into a washing machine? After being dressed up for Halloween, married off in elaborate weddings, toted everywhere in baby backpacks, or just plain coddled within an inch of their sanity by obsessively doting owners, these pets are on the verge of a nervous breakdown. Or worse. They d call the suicide hotline but they don t have fingers.

About the Author
Duncan Birmingham has taught paper mechanics at the university level for 20 years and has an extensive library of books on pop-up. He is the author of several books on the subject and his Pop-Up! A Manual of Paper Mechanisms was hailed as the most comprehensive book to date on the subject. He lives in Bristol, UK.
Praise For Pets Who Want to Kill Themselves…
"This book is laugh-out-loud funny…"
—Pittsburgh Post-Gazette                              
 
Isn't this a festive title for a holiday book? With tongue firmly planted in cheek, this little picture book has captions to describe what some pets are really thinking. A Multipoo in a dress, wearing chic sunglasses, notes, "She dresses me 'cause it's cheaper than having me spayed." There's a bunny dressed as a skunk with the caption, "Is this your not-so-subtle way of telling me I stink?" A cat in a graduation cap opines, "A college degree in this economy? I might as well slit my wrists."
—Hartford Courant

More than 150 photos of dogs and cats in costumes taken by "people [who] love their pets a little too much." The author, an authority on Bigfoot for Weekly World News, has captioned each. A longhair mutt dressed in red polka-dotted booties and a gingham wrap complains: "You idiot. You've got me dressed as a Charlotte when everyone knows I'm a total Carrie." A shamefaced Yorkie in a tutu demands to know: "So where is this 'Swan Lake,' and is it deep enough to drown in?" A furry-faced puppy, posed on a tricycle with a bow plastered on its forehead, says: "I can't wait to ride it. Where's the nearest busy intersection?" Really, this one is too cute for words.
—NY Daily News


Praise for the website:
The site posts pictures of domestic animals being made to do things by humans they really, really shouldn't, like getting carted around in a backpack-style contraption, being dressed up as "Woofgang Pup" complete with foofy chef hat and blinged-out shades, or nuzzling up to Kurt Russell's chest.
—NBC.com

Featuring miserable-looking pets wearing fake reindeer antlers... snapshots of bulldogs in bunny costumes and cats wearing wigs

—New York Times

ENTERTAINMENT WEEKLY Popwatch Site Of The Day

"The captions are what really make the blog successful. I actually had to close the browser for fear that I would start laughing too loudly in my otherwise quiet office building."

—Phillyburbs.com