Life Upon These Shores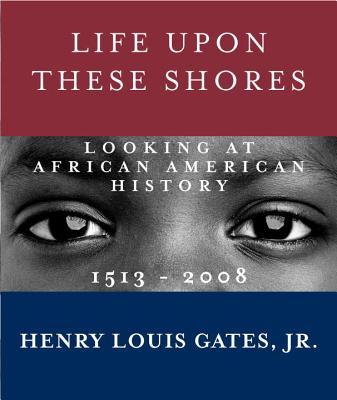 Life Upon These Shores
Looking at African American History, 1513-2008
Knopf Publishing Group, Hardcover, 9780307593429, 487pp.
Publication Date: November 22, 2011
* Individual store prices may vary.
Buy at Local Store
Enter your zip code below to purchase from an indie close to you.
or
Buy Here
Description
Henry Louis Gates, Jr., gives us a sumptuously illustrated landmark book tracing African American history from the arrival of the conquistadors to the election of Barack Obama.

Informed by the latest, sometimes provocative scholarship and including more than seven hundred images—ancient maps, fine art, documents, photographs, cartoons, posters—Life Upon These Shores focuses on defining events, debates, and controversies, as well as the signal achievements of people famous and obscure. Gates takes us from the sixteenth century through the ordeal of slavery, from the Civil War and Reconstruction through the Jim Crow era and the Great Migration; from the civil rights and black nationalist movements through the age of hip-hop to the Joshua generation. By documenting and illuminating the sheer diversity of African American involvement in American history, society, politics, and culture, Gates bracingly disabuses us of the presumption of a single "black experience."

Life Upon These Shores is a book of major importance, a breathtaking tour de force of the historical imagination.
About the Author
Henry Louis Gates, Jr. (Ph.D.Cambridge), is Alphonse Fletcher University Professor and Director of the W. E. B. Du Bois Institute for African and American Research, Harvard University. He is the author of Life Upon These Shores: Looking at African American History, 1513 2008; Black in Latin America; Tradition and the Black Atlantic: Critical Theory in the African Diaspora; Faces of America; Figures in Black: Words, Signs, and the Racial Self; The Signifying Monkey: A Theory of Afro-American Criticism; Loose Canons: Notes on the Culture Wars; Colored People: A Memoir; The Future of Race with Cornel West; Wonders of the African World; Thirteen Ways of Looking at a Black Man; and The Trials of Phillis Wheatley. His is also the writer, producer, and narrator of PBS documentaries Finding Your Roots; Black in Latin America; Faces of America; African American Lives 1 and 2; Looking for Lincoln; America Beyond the Color Line; and Wonders of the African World. He is the editor of African American National Biography with Evelyn Brooks Higginbotham, and The Dictionary of African Biography with Anthony Appiah; Encyclopedia Africana with Anthony Appiah; and The Bondwoman s Narrative by Hannah Crafts, as well as editor-in-chief of TheRoot.com.
Praise For Life Upon These Shores…
Praise for Henry Louis Gates's Life Upon These Shores

"A distinguished scholar surveys, with lavish illustrations, 500 years of the African-American experience. . . . From the conquistadors and the origins of slavery, through the Revolutionary period, the rise of abolitionism, the Civil War and Reconstruction, the Jim Crow era, the Great Migration, both World Wars and the 20th century civil-rights movement, up to President Obama's election, the supremely qualified Gates guides us through centuries of history . . . stunning illustrations . . . striking, comprehensive." –Kirkus Reviews
 
"You can't beat the fresh and heady scholarship of Life Upon These Shores…Challenging the notion of a single 'Black Experience,' Gates contextualizes his narrative with more than 800 images and doesn't duck controversy." –Library Journal
 
"Gates documents the famous, the obscure, and the long forgotten…[A] chronicle of the pressing issues and events of each generation and the incredible diversity covered by the appellation African American. A tour de force." –Booklist
 
"Meticulously researched…a book that truly celebrates the resilience and achievements of African-Americans." –BlackAmericaWeb.com
 
"Gates avoids cliché, meticulously illuminating the influence and contributions of Blacks in America: from African conquistadors to the election of President Barack Obama. This ambitious title redefines the relevancy of the past to our lives." –Uptown Magazine
 
"[Life Upon These Shores] would make an excellent addition to a home or school. In fact, if you're feeling generous this season, pick one up and donate it to the middle school library nearest you." –Journal Sentinel
 
"Compiled with rigorous ambition and scholarship by Harvard professor Henry Louis Gates, Jr., this book weaves nearly 900 images and reams of clear-eyed storytelling into an extraordinary chronology. Not only does a breathtaking range of African-American expression and experience emerge, a portrait of independence, fortitude and deep faith—the essence of American life—comes shining through." –NPR (Best Gift Books of 2012)
 
"an excellent example of Gates's ability to maintain high standards of scholarship while making a broad, dense subject accessible to a modern audience…A remarkable accomplishment that should endure through many editions. Highly recommended." –Choice
 
"Reading Life Upon These Shores is like walking through history one day at a time. The rich content of this book pulls the reader in many different directions, and yet Mr. Gates keeps the direction focused…With each new story we sit at Mr. Gate's feet, rest our chin in our hands, and listen and learn…Mr. Gates makes us richer with the knowledge of what went before—and what can be in the future." –New York Journal of Books
 
"This is not a book to plunk down on the coffee table and flip through on occasion. It deserves to be read and read closely, short essay by short essay." –Philly Online
 
"[Gates] tells things the way they were, not the way we would like them to be…This book pulls together a valuable account of the African-American experience upon these shores. It is worth a read by all Americans who want to learn where we have been as a nation." –Houston Chronicle
 
"A stupendous undertaking…a cornucopia of riches…conceptualized and executed with loving care and rigorous intellectual grounding." –Counterpunch
 
"An amazing compendium of information…it is enlightening to have a wide-angle lens turned on this epic, to see a picture of the whole." –Arts Critic Atlanta