Come, Thief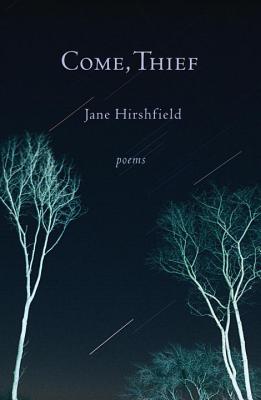 Come, Thief
Knopf Publishing Group, Hardcover, 9780307595423, 93pp.
Publication Date: August 23, 2011
* Individual store prices may vary.
Buy at Local Store
Enter your zip code below to purchase from an indie close to you.
or
Buy Here
Description
A revelatory, indispensable collection of poems from Jane Hirshfield that centers on beauty, time, and the full embrace of an existence that time cannot help but steal from our arms.
Hirshfield is unsurpassed in her ability to sink into a moment's essence and exchange something of herself with its finite music and then, in seemingly simple, inevitable words, to deliver that exchange to us in poems that vibrate with form and expression perfectly united. Hirshfield's poems of discovery, acknowledgment of the difficult, and praise turn always toward deepening comprehension. Here we encounter the stealth of feeling's arrival ( as some strings, untouched, / sound when a near one is speaking. / So it was when love slipped inside us ), an anatomy of solitude ( wrong solitude vinegars the soul, / right solitude oils it ), a reflection on perishability and the sweetness its acceptance invites into our midst ( How suddenly then / the strange happiness took me, / like a man with strong hands and strong mouth ), and a muscular, unblindfolded awareness of our shared political and planetary fate.
To read these startlingly true poems is to find our own feelings eloquently ensnared. Whether delving into intimately familiar moments or bringing forward some experience until now outside words, Hirshfield finds for each face of our lives its metamorphosing portrait, its particular, memorable, singing and singular name.
"Love in August
"
White moths
against the screen
in August darkness.
Some clamor
in envy.
Some spread large
as two hands
of a thief
who wants to put
back in your cupboard
the long-taken silver.
About the Author
The author of five previous poetry collections and a book of essays, Jane Hirshfield has been a finalist for both the National Book Critics Circle Award and England s T. S. Eliot Prize for Poetry, and she is the winner of the Poetry Center Book Award, the California Book Award, and fellowships from the Academy of American Poets, the National Endowment for the Arts, and the Guggenheim and Rockefeller foundations. Her work has appeared in The New Yorker, Atlantic Monthly, The Nation, the Los Angeles Times, and multiple volumes of The Best American Poetry and Pushcart Prize anthologies.