The Smitten Kitchen Cookbook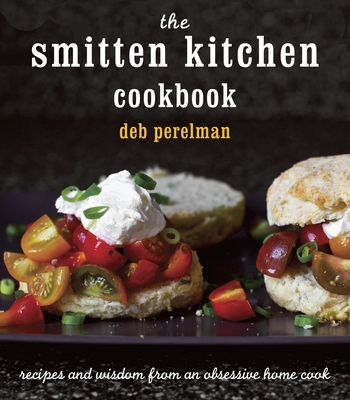 The Smitten Kitchen Cookbook
Knopf Publishing Group, Hardcover, 9780307595652, 321pp.
Publication Date: October 30, 2012
* Individual store prices may vary.
Buy at Local Store
Enter your zip code below to purchase from an indie close to you.
or
Buy Here
Description
NATIONAL BESTSELLER
Winner of the IACP Julia Child First Book Award * Named one of Cooking Light magazine's Top 100 Cookbooks of the Last 25 Years
The long-awaited cookbook by Deb Perelman of Smitten Kitchen--home cook, photographer, and celebrated food blogger.

Deb Perelman loves to cook. She isn't a chef or a restaurant owner--she's never even waitressed. Cooking in her tiny Manhattan kitchen was, at least at first, for special occasions--and, too often, an unnecessarily daunting venture. Deb found herself overwhelmed by the number of recipes available to her. Have you ever searched for the perfect birthday cake on Google? You'll get more than three million results. Where do you start? What if you pick a recipe that's downright bad?
So Deb founded her award-winning blog, Smitten Kitchen, on the premise that cooking should be a pleasure, and that the results of your labor can--and should--be delicious . . . every time. Deb is a firm believer that there are no bad cooks, just bad recipes. She has dedicated herself to creating and finding the best of the best and adapting the recipes for the everyday cook.
And now, with the same warmth, candor, and can-do spirit her blog is known for, Deb presents her first cookbook: more than 100 recipes--almost entirely new, plus a few favorites from the site--all gorgeously illustrated with hundreds of her beautiful color photographs.
The Smitten Kitchen Cookbook is all about approachable, uncompromised home cooking. Here you'll find better uses for your favorite vegetables: asparagus blanketing a pizza; ratatouille dressing up a sandwich; cauliflower masquerading as pesto. These are recipes you'll bookmark and use so often they become your own, recipes you'll slip to a friend who wants to impress her new in-laws, and recipes with simple ingredients that yield amazing results in a minimum amount of time. Deb tells you her favorite summer cocktail; how to lose your fear of cooking for a crowd; and the essential items you need for your own kitchen. From salads and slaws that make perfect side dishes (or a full meal) to savory tarts and galettes; from Mushroom Bourguignon to Chocolate Hazelnut Crepe Cake, Deb knows just the thing for a Tuesday night, or your most special occasion.
About the Author
Deb Perelman is a self-taught home cook and photographer; and the creator of SmittenKitchen.com, an award-winning blog with a focus on stepped-up home cooking through unfussy ingredients. In previous iterations of her so-called career, she's been a record store shift supervisor, a scrawler of -happy birthday- on bakery cakes, an art therapist, and a technology reporter. She likes her current gig--the one where she wakes up and cooks whatever she feels like that day--the best. The Smitten Kitchen Cookbook is her first book. Deb lives in New York City with her husband and delicious baby son.
Praise For The Smitten Kitchen Cookbook…
Praise for Deb Perelman and The Smitten Kitchen Cookbook

"[Deb's recipes] deliver in a big showstopping way, which is why she's my go-to for holiday entertaining."
—Jenny Rosenstrach, author of Dinner: A Love Story
 
"The Smitten Kitchen Cookbook is nothing short of stunning. Deb's photos are breathtaking, and her collection of recipes—a marvelous combination of familiar/reassuring and urban/daring—is just glorious. I had no idea how Deb could possibly outdo what she already does so beautifully on her website, but she has. The bar for cookbooks has officially been set."
—Ree Drummond, author of The Pioneer Woman Cooks
  
"Deb Perelman is the no-nonsense girlfriend who tells you what's what in the kitchen. The one who always knows exactly what you're in the mood for, how to make the best version of it, and, most important, how to save you from screwing it up. Perelman is a little bossy, and a lot opinionated. But you adore her for it. She will do right by you when you need that potluck dish, that birthday cupcake. You'll soak up every word of her confident, amusing writing, you'll be beguiled by her gorgeous food photography—you'll be smitten, indeed."
—Amanda Hesser, co-founder of Food52.com and author of The Essential New York Times Cookbook

"This is the book that every cook needs in their kitchen. Deb's obsession with getting it right, and her practical cooking tips garnered from cooking in a modest kitchen, ensure that anyone will have the same success that her millions of followers, including me, have come to expect. I want to cook each and every one of these recipes—right now!"
—David Lebovitz, author of The Sweet Life in Paris
 
"I've been waiting for this book for a long time. It is a 320-page gem of well-tested, beautifully photographed, wonderfully curated recipes. Part of the brilliance here is the range of inspiration—weeknight-friendly recipes, treats sure to win hearts and smiles, and plenty of family-style inspiration for potlucks and get-togethers."
—Heidi Swanson, author of Super Natural Every Day (and 101cookbooks.com)
 
"Good news, everyone! The Smitten Kitchen Cookbook has arrived just in time. . . . Given how difficult it was to find a spare copy of the book, all of our mothers are about to be impressed." 
—Boston Phoenix

"As someone who spends way too much time online already, I'm delighted that Perelman has put her sumptuous recipes into a form that sits nicely on my kitchen counter. . . . A winner!"
—The Saturday Evening Post
 
"Perelman is the queen of food bloggers."
—The Record
 
"Deb Perelman's collection of recipes is mouth-watering. . . . [She] projects an inviting warmth and chattiness. She's funny . . . and self-deprecating enough to ease your culinary insecurities."
—The Christian Science Monitor
 
"If you're looking for some new spice in your diet or a quick, yet elegant dish to serve at a dinner party, try out The Smitten Kitchen Cookbook. The results will be rewarding and impossible to resist."
—Iowa State Daily
 
"Worth the wait."
—The Boston Globe
 
"We've been admirers of Deb Perelman and her cooking blog Smitten Kitchen for years, and are stoked that her simple, elegant recipes and gorgeous photos have finally made their way into a cookbook. . . . With more than 300 photos taken by Perelman, chronicling everything from step-by-step how to's to beauty shots of the final dishes, the finished product looks as good as we're sure the recipes will taste."
—SF Weekly
 
"It's a lovely book to hold, to read—and to cook from."
—Montreal Gazette
 
"[Deb] has the matter-of-factness of Mark Bittman, but the zing and eye for decadence of David Chang. Not to mention, the whole package looks as sumptuous as the dishes contained therein. . . . All the while, she writes like a good friend who just happens to be a whiz in the kitchen. Smitten is exactly what you'll be by this book."
—The Forward
 
One of "this fall's best new cookbooks"
—The National Post
 
"A solid collection of interesting and useful recipes. . . . Includes lots of great general cooking knowledge that even veteran home cooks will appreciate."
—BlogHer
 
"This fearless home cook's humorous anecdotes and delectable photos make for a food blog-gone-book that translates beautifully into any kitchen.'"
—Publishers Weekly (starred review)
 
"Two years ago I started reading (and devouring) the Smitten Kitchen blog. I have since made more than thirty of her recipes and have been waiting for her forthcoming first cookbook."
—The Paris Review (blog)
 
"Perelman's supremely helpful, visually stunning, wittily worded food blog really did deserve to be named one of 2011's best blogs. . . . Perelman's recipes are accessible but not Betty Crocker plain; this is fun, energized eating. Get it!"
—Library Journal
 
"A blog with a wonderfully homey feel . . . [Perelman's] creations are . . . mouthwatering."
—Time, a Best Blog of 2011
 
"For four years, Deb Perelman has been blogging her cooking pursuits from her tiny New York City kitchen as a newlywed and then as a new mother. This is the result of hours spent perfecting her own recipes and interpreting those of the best food publications out there. Some of the recipes featured can be complicated, but you have Deb's warm chatter, funny anecdotes, encyclopedic knowledge of food and cookbooks, cooking, and gorgeous photography getting you through it. She's a farmers' market shopper and hence her blog is completely seasonal, and archived that way as well. You'll see her tackle the impossible—a wedding cake—and the very simple, 'How to Turn a Bucket of Cheap Tomatoes into a Perfect Pot of Sauce.' Do we really have to wait until 2012 for the Smitten Kitchen cookbook?"
—Gwyneth Paltrow, on her blog GOOP
 
"Smitten Kitchen reads like a conversation with a witty friend who can recommend the perfect nosh for any occasion."
—O, The Oprah Magazine
 
"Warm and encouraging, the photos are pure food porn, and the something-for-everyone recipes sound sublime."
—Entertainment Weekly

"Perelman's thoughtful prose and sometimes humorous posts read like an e-mail from your best friend—only with better photos."
—Better Homes and Gardens
 
"An enthusiastic kitchen amateur chronicles her adventures, offering a mix of easy recipes, smart and witty commentary, and beautiful photos."
—Real Simple
 
"One of our favorite cooking blogs . . . We are big fans of Deb Perelman—the founder, cook, writer, and photographer behind the whole operation—and her gorgeous food photos, simple recipes, and charming voice."
—Everyday Food
Thursday, Nov 1, 2012
Blogger and now cookbook author Deb Perelman insists you don't need a big or gourmet kitchen to make good food. Since 2006, she's been tracking down, testing and blogging about recipes she thinks pretty much anyone can make � all from her tiny New York kitchen. More at NPR.org