The Homecoming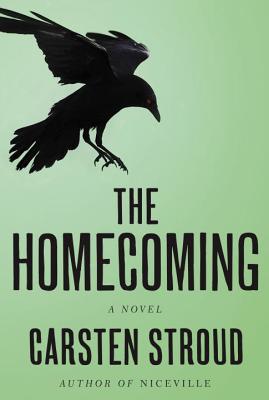 The Homecoming
Knopf Publishing Group, Hardcover, 9780307700964, 413pp.
Publication Date: July 16, 2013
* Individual store prices may vary.
Shop Local
Enter your zip code below to find indies closest to you.
Description
From its explosive opening to its eerie climax, The Homecoming is a page-turning, labyrinthine thrill ride that returns to Niceville . . . where evil lives far longer than men do.

When two plane crashes set off a spellbinding chain reaction of murder, inadvertent kidnapping, corporate corruption, and financial double-dealing, it's not enough that Niceville detective Nick Kavanaugh (ex–Special Forces) has to investigate. He and his wife, family lawyer Kate, have also just taken in brutally orphaned Rainey Teague. Something bothers Nick about Rainey—and it isn't just that the woman in charge of attendance at Rainey's prep school has disappeared. In fact, people have long been disappearing from seemingly placid Niceville, including, most disturbingly, Kate's father. Using his files, Kate and Nick start to unearth Niceville's blood stained history, but something (or is it Nothing?) stands in their way.

Once again, Carsten Stroud gives us unforgettable characters, including Coker, the steely, amoral police sniper, and Harvill Endicott, an urbanely manipulative psychopath, not to mention Warren Smoles, the most conniving lawyer you will ever meet. Stroud's unique storytelling gifts bring us into a world where protecting your family from the unknown becomes almost impossible but essential for survival.

Anything is possible in The Homecoming. 

About the Author
Carsten Stroud is the author of the New York Times bestseller Close Pursuit and the award-winning Sniper's Moon, both set in the New York City Police Department. His critically acclaimed book, Black Water Transit, has been bought by Bruce Willis, with filming set to begin in March 2005. Stroud lives with his wife, writer and researcher Linda Mair, in Thunder Beach, on the Lake Huron shoreline.
Praise For The Homecoming…
"An addictive small-town terror symphony masquerading as a beach read. . . . Stroud writes with a dry with and a conversational snap." —Entertainment Weekly
 
"The Homecoming is classic southern noir crossed with a bit of Dean Koontz, and Stroud doesn't let the supernatural overpower the plot.  Simply terrific." —Margaret Cannon, The Globe and Mail (Toronto)
 
"Stroud works with the precision of a watchmaker. . . Snappy dialogue is the rocket fuel that propels this swift-moving book. . . The high-speed chase that roars onto the page a fourth of the way into the story [is] a beautifully set-up, thrilling scene. . . and it holds up against anything Hollywood can offer for summer entertainment. Besides, can you immerse yourself in a Hollywood blockbuster while sunning on the beach?" —Doug Childers, The Richmond Times-Dispatch

"Stroud's tight plotting and colorful characters bounce between hard-boiled crime drama and suspenseful, creepy supernatural thriller. . . . The Homecoming is a breathless read with endless surprises and the solid writing of an author firmly in control of his craft." —Rob LeFebvre, Shelf Awareness

"A genre-bending, page-turning, suspenseful read that is impossible to put down or to forget." —Booklist
 
"A rich, realistic supernatural thriller." —Publishers Weekly