W Is for Wasted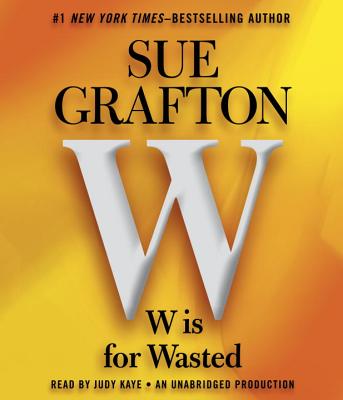 W Is for Wasted
Random House Audio Publishing Group, Compact Disc, 9780307704313, 14pp.
Publication Date: September 10, 2013
* Individual store prices may vary.
Buy at Local Store
Enter your zip code below to purchase from an indie close to you.
or
Buy Here
Description
Of the #1 "New York Times "bestselling Kinsey Millhone series, NPR said, Makes me wish there were more than 26 letters.
"Two dead bodies changed the course of my life that fall. One of them I knew and the other I d never laid eyes on until I saw him in the morgue."
The first was a local PI of suspect reputation. He d been gunned down near the beach at Santa Teresa. It looked like a robbery gone bad. The other was on the beach six weeks later. He d been sleeping rough. Probably homeless. No identification. A slip of paper with Millhone's name and number was in his pants pocket. The coroner asked her to come to the morgue to see if she could ID him.
Two seemingly unrelated deaths, one a murder, the other apparently of natural causes.
But as Kinsey digs deeper into the mystery of the John Doe, some very strange linkages begin to emerge. And before long at least one aspect is solved as Kinsey literally finds the key to his identity. And just like that, she says, the lid to Pandora's box flew open. It would take me another day before I understood how many imps had been freed, but for the moment, I was inordinately pleased with myself.
In this multilayered tale, the surfaces seem clear, but the underpinnings are full of betrayals, misunderstandings, and outright murderous fraud. And Kinsey, through no fault of her own, is thoroughly compromised.
W is for . . . wanderer . . . worthless . . . wronged . . .
"W is for wasted.
About the Author
Sue Grafton entered the mystery field in 1982 with the publication of "'A' Is for Alibi", which introduced female hard-boiled private investigator, Kinsey Millhone, operating out of the fictional town of Santa Teresa, (aka Santa Barbara) California. "'B' is for Burglar" followed in 1985 and the series, now referred to as 'the alphabet' mysteries, is still going strong. In addition to her books, she s published several Kinsey Millhone short stories, and with her husband, Steven Humphrey, has written numerous movies for television, including A Killer in the Family (starring Robert Mitchum), Love on the Run (starring Alec Baldwin and Stephanie Zimbalist) and two Agatha Christie adaptations, Sparkling Cyanide and Caribbean Mystery, which starred Helen Hayes. Grafton is published in 28 countries and 26 languages. She loves cats, gardens, and good cuisine. Sue has a home in Montecito, California, and another in Louisville, the city in which she was born and raised.

Judy Kaye s versatile career includes theater, television, and opera. In 2012, she won a Tony award for her role in "Nice Work If You Can Get It". Some of her many Broadway roles include "Mamma Mia!, Ragtime", and "The Phantom of the Opera, " for which she also won a Tony award. Kaye has performed with the New York Philharmonic, the Boston Symphony, the London Symphony, and many other orchestras. A frequent audiobook narrator, she is the voice of Kinsey Millhone in Sue Grafton s alphabetical series.