Word Hero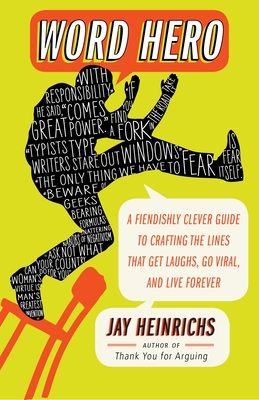 Word Hero
A Fiendishly Clever Guide to Crafting the Lines That Get Laughs, Go Viral, and Live Forever
Three Rivers Press (CA), Paperback, 9780307716361, 352pp.
Publication Date: October 4, 2011
* Individual store prices may vary.
Buy at Local Store
Enter your zip code below to purchase from an indie close to you.
or
Not Currently Available for Direct Purchase
Description
Yes, it's true: you "can "learn how to be a verbal wizard
Ever hear someone utter an unforgettable phrase and feel yourself reacting with with well, "awe? "Ever read a great quote and think "I could never come up with anything that clever"?
Daunting as it may seem, there's nothing mystical about witcraft. Crafting memorable lines" doesn t "require DNA-encoded brilliance. What it "does "require is some knowledge of the tricks and techniques that make words stick.
In "Word Hero, "Jay Heinrichs rescues the how-to of verbal artistry from cobwebbed textbooks and makes it entirely fresh even a little mischievous. Fear not: on offer here are not dry, abstract ideas couched in academic jargon. Rather, Heinrichs takes you on an amusing and amazingly "helpful " tour of the mechanisms that make powerful language work. You ll learn how to slyly plant your words in people's heads and draw indelible verbal pictures by employing such tools as crashing symbols, rapid repeaters, Russian Dolls and even the powers of Mr. Potato Head.
With those tools and others tucked in your utility belt, you might not immediately achieve wordsmith immortality but you "will "become a better speaker, writer, and raconteur and long after people have forgotten everything else, they ll remember "your "priceless lines.
About the Author
Jay Heinrichs, former editor of National Wildlife magazine and DartmouthAlumni Magazine, and group publisher of the Ivy League Magazine Network, is the author of The Yankee Way to Simplify Your Life and co-author ofHome Remedies from a Country Doctor. He lives near Middlebury, Vermont.
Praise For Word Hero…
"If you dare to be clever with words, Word Hero will help you to make good on that dare."
--Richard Lederer, nationally bestselling author of ANGUISHED ENGLISH and GET THEE TO A PUNNERY
 
 "WORD HERO takes the mystery out of clever wordplay and hands readers the tools to craft unforgettable expressions of their own. Way to spill the beans, Heinrichs. With this little book, everyone and their mother will know the secrets to being witty, pithy, and memorable. From my spot in the unemployment line, I stab at thee."
--June Casagrande, author of IT WAS THE BEST OF SENTENCES, IT WAS THE WORST OF SENTENCES
 
"Whether your goal is to pen unforgettable ad copy, add zest to your fiction, or just release a cascade of laughter, WORD HERO will get you there. Prepare to learn a lot -- and be simultaneously amused."
--Jan Venolia, author of REWRITE RIGHT!, WRITE RIGHT! and THE RIGHT WORD
 
"If you love words, WORD HERO will magnify your wit, wisdom, and creative expression." 
--Dave Trottier, author of THE SCREENWRITER'S BIBLE

"This will be of interest to readers on debate teams or in creative-writing classes, as well as to anyone needing a few pointers to make their speech stand out. For anyone fascinated by fun, fantastic, and frivolous words, or for those who want to give speeches where the susurration of their words causes listeners' hearts to thud, this is the book." --School Library Journal