Afterwards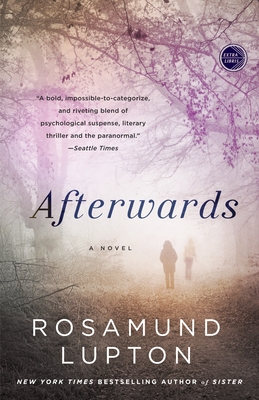 Afterwards
Broadway Books, Paperback, 9780307716552, 415pp.
Publication Date: April 2, 2013
* Individual store prices may vary.
Buy at Local Store
Enter your zip code below to purchase from an indie close to you.
or
Buy Here
Description
"A GRIPPING NOVEL." New York Times Book Review
When her children's school is set ablaze, Grace runs into the burning building to rescue her teenage daughter, Jenny. In the aftermath, badly injured, Grace learns the police have identified the arsonist, but they have blamed the wrong person. Only Detective Sarah McBride, the sister-in-law Grace has never liked, is searching forthe real arsonist--a hunt that becomes urgent when it's clear Jenny is still the perpetrator's target.
Page-turning suspense combines with a beautiful portrayal ofdeep family bonds to make this a stunning and riveting read.
Now with Extra Libris material, including a reader's guide and bonus content.
About the Author
Rosamund Lupton is the internationally bestselling and critically acclaimed author of the novels Sister and Afterwards. Her New York Times bestselling debut Sister was a New York Times Editor s Choice, a Target Book Club pick, winner of the Strand Magazine Critics Award, and has been translated into more than thirty languages, with international sales of over 1.5 million copies. Lupton lives in London with her husband and two sons.
Praise For Afterwards…
"A bold, impossible-to-categorize, and riveting blend of psychological suspense, literary thriller and the paranormal…Afterwards proves that Lupton isn't just good — she's wickedly good."
—Seattle Times

"A gripping novel."
—New York Times Book Review

"Lupton's finely wrought portrait of motherly love is genuinely moving."
—Boston Globe

"Readers...will be equally smitten with Afterwards, as much an homage to the mother-daughter relationship as it is a crime novel...There are so many twists, turns and heartbreaks in this tragic, tense novel."
—USA Today
 
"With its hint of a Jodi Picoult family saga blended with an eerie Ruth Rendell mystery, Afterwards should appeal to readers of both genres."
—BookPage

"Lupton takes her readers on a totally harrowing ride as she melds a suspenseful procedure with an emotionally fraught drama. Within a taut and sinuous narrative, heartbreak over a broken family vies with fear that the arsonist will return…Masterful pacing and a highly charged atmosphere combine to make this an exceptionally gripping read." 
—Booklist, starred review

"Lupton's dexterity at handling the subplots and possible suspects is dazzling. … Lupton creates such lovely, believable feelings in all of her characters…that what's ostensibly a supernatural story feels very, very human."
—Oprah.com

"Excellent and full of plot twists."
—The Daily American

"Lupton's superb follow-up to Sister…The uncommon but convincing narrative technique, adroit twists, and memorable characters combine to provide a wise and poignant portrait of a family confronted with malice and heartbreaking decisions." 
—Publishers Weekly, starred review

"A wonderful mix of smart thriller with tear-provoking literature; a fine blend of Jodi Picoult and P.D. James…Lupton has written a riveting story that will resonate with readers long after they have turned the last page."
—Library Journal, starred review
 
"A full-throttle psychological thriller, ring-fenced by a mother's love…With each turn of the page, Lupton seems to add another element and motive to the mix…This compulsive read confirms Lupton's instinctive commercial flair."
—Kirkus

"The author of the outstanding Sister has done it again - in fact she's outdone herself. It's hard to come up with enough superlatives to do justice to Afterwards, a brilliant mystery where the two key investigators are both in a coma....Rush out to get a copy - and add Sister too if you haven't discovered it yet. They are both brilliant reads."
—Bookloons.com

"Rosamund Lupton (Sister) offers up an intricately plotted combination of thriller, speculative fiction and mother-daughter celebration in Afterwards…Lupton delivers a top-notch mystery with red herrings galore; even the most seasoned mystery reader will do a double-take at the arsonist's identity. However, the rich emotional topography is the most spellbinding feature in Afterwards. At its heart, Lupton's story deals with parents and children, the bonds that allow family members to share their joy and their pain and the struggle parents face between wanting their offspring to stay children forever and needing to let go…Readers are encouraged to grab a box of Kleenex, put Mom on speed dial and discover what comes afterwards."
—Shelf Awareness

"Afterwards is an exceptional literary thriller that resonates with depth and despair. It's got it all: a gripping plot with twists and turns, a horrific crime, and a beautiful love story layered into the fine fabric of a family, who are torn apart by a devastating betrayal."
—Chevy Stevens, New York Times bestselling author of Still Missing and Never Knowing

"In Afterwards, we see a master's touch on every page. Uncompromising emotional impact, a poet's sonorous style and a gripping story all come together to make this a transcendent literary experience. I guarantee this novel will touch everyone."
—Jeffery Deaver, New York Times bestselling author of Carte Blanche and Edge

"Brilliantly conceived and executed, Afterwards asks a mother's most terrifying question: what if your children were in mortal danger and you were unable to do a thing to save them? It's a heartbreaking and fearless journey that proves once again: Rosamund Lupton is truly a force to be reckoned with."
—Carla Buckley, author of The Things That Keep Us Here