The Informationist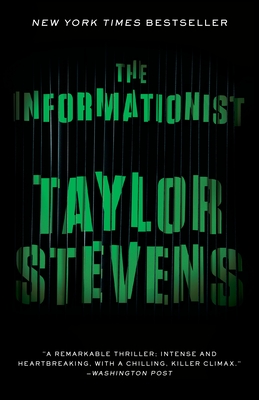 The Informationist
A Thriller
Broadway Books, Paperback, 9780307717108, 327pp.
Publication Date: October 18, 2011
* Individual store prices may vary.
Buy at Local Store
Enter your zip code below to purchase from an indie close to you.
or
Buy Here
Description
Governments pay her.
Criminals fear her.
Nobody sees her coming.
Vanessa Michael Munroe deals in information. After escaping a traumatic childhood in lawless central Africa, she is now sought after by corporations, heads of state, and private clients who can afford her unique brand of expertise.
When a Texas oil billionaire hires her to find his daughter who has vanished in Africa, Munroe finds herself back in the darklands she once knew so well, fighting mysterious forces determined to keep the fate of the missing girl a secret. If she has any hope of getting out of the jungle alive, Munroe must finally face up to the demons of the past she's tried for so long to forget.
About the Author
TAYLOR STEVENS is the New York Times bestselling and award-winning author of The Catch, The Doll, and The Innocent, all featuring Vanessa Michael Munroe. Her novels have received critical acclaim, have been published in twenty languages, and The Informationist has been optioned for film by James Cameron's production company, Lightstorm Entertainment. Raised in communes across the globe and denied an education beyond the sixth grade, Stevens broke free of the Children of God and now lives in Texas, where sheis currently at work on the next Munroe adventure."
Praise For The Informationist…
"An irresistible, gorgeously written thriller....impossible-to-put-down....Hollywood, let the casting wars begin."--The Dallas Morning News

"Extraordinary….No one has written a more exhilarating, adroit, and stylish debut for a suspense series since Raymond Chandler introduced Philip Marlowe in The Big Sleep back in 1939."--TheDailyBeast.com

"A globe-trotting thriller. . . . The Informationist is an accessible, crisply told tale."--NYTimes.com

"One can't help but think that Munroe and Salander are lone wolves who, if they ever had a chance to meet, might discover they are really part of the same hunting pack...Stevens...writes with the confidence of one who knows she's hit on a winning series character who has the world at her beck and call."--Los Angeles Times

"The Informationist is a remarkable thriller; intense and heartbreaking, with a chilling, killer climax."- Associated Press

"In the wake of the stunning success of Stieg Larsson's The Girl With the Dragon Tattoo comes a thriller by an American writer whose protagonist is drawing comparisons to Lisbeth Salander. The good news: Vanessa Munroe, the woman at the center of The Informationist, Taylor Stevens' debut novel, lives up to the hype. Best of all, Munroe evokes the spirit and intelligence of the gutsy, damaged Salander, but she's far from derivative...Much will be made of the similarities between Munroe and Salander. But in some ways, Munroe's brooding personality and her ability to blend in to her surroundings bring to mind the provocative Jason Bourne. Thank goodness a sequel to this fiery novel is in the works."--USA Today

"Vanessa Munroe is the book world's newest tough-girl action hero."- New York Post

"A Dazzling new thriller...The Informationist is Steven's first novel but it reads as if she's already a master of the genre."--New York Daily News 

"Stevens' debut novel, The Informationist [is] an international thriller featuring a most unusual hero."--Fort Worth Star-Telegram

"The star of this novel- an androgynous espionage agent named Vanessa Munroe- boasts a mysterious past and impressive survival skills."- Entertainment Weekly 

"Taylor Stevens in her first novel has achieved the gripping story telling technique of many acclaimed authors."- Paramus Post

"The Informationist pushes every one of my buttons: exotic locale, sassy and competent protagonist, crisp dialogue and nonstop action. A fine debut—can't wait for the sequel!"--Book Page, Bruce Tierney

"Stevens' debut novel is as compelling as her actual back story. Like Vanessa Munroe, a heroine haunted by her hijacked childhood, Stevens was raised all over the world in a religious cult. But the similarity ends there in this breathless, international thrill ride as Vanessa lies, kills and uses her incredible gift for getting what she wants. But underneath all the action is an even more powerful story of a woman trying to make peace with her personal demons."--Family Circle, Darcy Jacobs

"Stevens's blazingly brilliant debut introduces a great new action heroine, Vanessa Michael Munroe, who doesn't have to kick over a hornet's nest to get attention, though her feral, take-no-prisoners attitude reflects the fire of Stieg Larsson's Lisbeth Salander…. Thriller fans will eagerly await the sequel to this high-octane page-turner."—Publishers Weekly (Starred, boxed review)

"Stevens has penned a fast-paced, gripping, edgy mystery with a heroine whom even Lisbeth Salander would admire."--Library Journal (Starred)

"Dazzling…Munroe is a model of an emerging action heroine: like Stieg Larsson's Lisbeth Salander, not a guy in a girl suit but not one to whimper in the corner, either."--Booklist
 
"A riveting procedural, and a multi-dimensional thriller, with a heroine that hooks you from her first appearance."--OpenLetters.com

"An utterly smashing debut, starring an unforgettable heroine who could go toe to toe with Lisbeth Salander—and claw her way on top. One of the best thrillers of the year!"—Tess Gerritsen, New York Times bestselling author of ICE COLD

"With its break-neck pacing set against the simmering violence of Central Africa, THE INFORMATIONIST is a thriller of the highest caliber. Michael Munroe is a heroine you've never seen before—a shape-shifter who's sharp, fast, and deadly, but still vulnerable to her own demons. Powered by intricate plotting that leads to a climax on a grand scale, this novel announces Taylor Stevens as a writer to watch."--Colin Harrison  

"A turbo-charged debut with a protagonist as deadly as she is irresistible. With THE INFORMATIONIST Taylor Stevens has crafted a thriller that's smart, sexy, fast-paced—and impossible to put down."
—Vince Flynn

"A terrific thriller with piercing tension, chest-tightening adventure, and a one-of-a-kind heroine I've continued to think about long after finishing the last page.  Taylor Stevens is a born storyteller. I couldn't put THE INFORMATIONIST down."
—Michael Palmer, author of The Last Surgeon

"Stevens debuts with a tightly written thriller woven around an uncommon heroine with a knack for putting facts together and coming up with the right answers...the writing is stellar, the heroine grittier than Lara Croft and the African setting so vivid that readers can smell the jungle and feel the heat—a gifted debut with much promise."--Kirkus