Grace Before Meals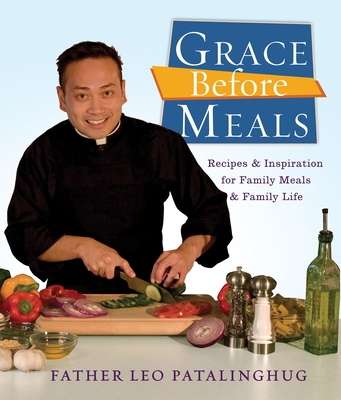 Grace Before Meals
Recipes and Inspiration for Family Meals and Family Life
Doubleday Religion, Paperback, 9780307717214, 176pp.
Publication Date: July 27, 2010
* Individual store prices may vary.
Buy at Local Store
Enter your zip code below to purchase from an indie close to you.
or
Buy Here
Description
With just a few ingredients and a few hours of time, your kitchen can become the perfect setting not only for a delicious meal but for experiencing the greatest blessings in life.
In "Grace Before Meals: Recipes and Inspiration for Family Meals and Family Life," Father Leo Patalinghug (yes, the same Father Leo who defeated Bobby Flay on "Throwdown ") helps you make family meals a way of life. Combining more than 30 simple but delicious recipes related to personal milestones, family holidays, and faith observances, along with scriptural references and short essays offering wisdom on faith, values, and family togetherness, Father Leo shows that mealtime is the perfect setting for discussing the major issues all families face. In fact, research shows that frequent family dinners can reduce many risks facing children, including drug and alcohol abuse, teen pregnancy, depression, eating disorders, and poor academic performance. These are meals that nourish body and spirit.
About the Author


Stella Snyder's most recent publishing project was Here's Where I Stand, a memoir by U.S. Senator Jesse Helms. She is a contributor to the anthology 'Tis the Season andthe author of scores of articles, columns and essays that have appeared in major newspapers and national magazines. She is also the mother of two former teenagers.
Praise For Grace Before Meals…
"I can think of no greater pastoral and societal priority than the renewal of family life.  And I can think of no better place for this renewal to take place than around the dinner table.  Father Leo is leading the charge with his wise and practical book, Grace Before Meals."
– Father Jonathan Morris, Fox News Analyst and Author of The Promise: God's Purpose and Plan for when Life Hurts
 
"Brilliant! Grace Before Meals is a delicious invitation to celebrate family and food in ways that will nourish both the body and the soul."
– Matthew Kelly, New York Times bestselling author of The Rhythm of Life and Rediscovering Catholicism
 
"The "New Evangelization" proclaimed by Pope John Paul II takes the people of the Church into many different venues -- including, says Father Leo Patalinghug, the kitchen. And why not? The Master himself did a lot of his teaching over meals, and identified himself and his enduring love for his people with bread and wine. Catechetics-through-cooking might seem new, but it's as old as the Gospels, and in Father Leo, this ancient craft has an engaging 21st century practitioner."
– George Weigel Distinguished Senior Fellow, Ethics and Public Policy Center
 
"I happily endorse Grace Before Meals by Father Leo E. Patalinghug. Father Patalinghug was a student of mine at the Pontifical North American College in Rome when I was rector. How pleased I am to learn that he is now nurturing and caring for both souls and bodies, the first through sacraments and the second through good cooking. Our human family and our supernatural family – the Church – will be strengthened."
– Most Reverend Timothy M. Dolan, Archbishop of New York
 
"Through his amazing ministry and this wonderful new book, Father Leo Patalinghug has cooked up the perfect recipe for a fun, faith-filled and delicious family life.  This book is packed not only with delectable meals any family can prepare, but also with thought provoking commentary to get conversations flowing around your dinner table.  You'll enjoy Father Leo's culinary treats, his spiritual inspiration, and the great wit and good cheer with which he draws friends and family closer together to celebrate life, love and great food."
– Lisa M. Hendey, Founder of CatholicMom.com and author of The Handbook for Catholic Moms
 
"Grace Before Meals is much more than a motto or book title.  It's really a conscious life choice to value the true worth of sharing meals with family and friends.  Fr. Patalinghug has beautifully captured the essence of what eating a meal with loved ones should be – a time to reflect, to be thankful to God for all He has given us and to take some time out of a busy day to truly connect with your family.  The book is equally inspirational as it is appetizing."
– Thomas S. Monaghan, Chancellor & Founder of Ave Maria University
 
"Patalinghug is using his role as a budding celebrity chef to preach the importance of the dinner table in family life."
– The Washington Post
 
"Father Leo Patalinghug is looking to bring families closer together and closer to God using the simplest of recipes: Stir things up and have dinner together."
– National Catholic Register
 
"Grace Before Meals is a movement. A movement to get families back to the kitchen to feed each other – physically and spiritually."
– Catholic Digest