Killing the Messenger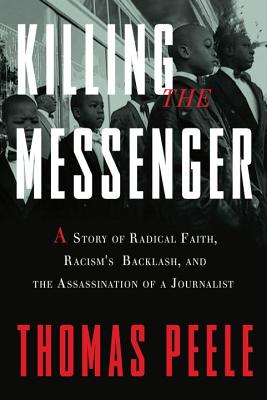 Killing the Messenger
A Story of Radical Faith, Racism's Backlash, and the Assassination of a Journalist
Crown Publishing Group (NY), Hardcover, 9780307717559, 441pp.
Publication Date: February 7, 2012
* Individual store prices may vary.
Buy at Local Store
Enter your zip code below to purchase from an indie close to you.
or
Not Currently Available for Direct Purchase
Description
When a nineteen-year-old member of a Black Muslim cult assassinated Oakland newspaper editor Chauncey Bailey in 2007—the most shocking killing of a journalist in the United States in thirty years—the question was, Why? "I just wanted to be a good soldier, a strong soldier," the killer told police.   A strong soldier for whom?

Killing the Messenger is a searing work of narrative nonfiction that explores one of the most blatant attacks on the First Amendment and free speech in American history and the small Black Muslim cult that carried it out. Award-winning investigative reporter Thomas Peele examines the Black Muslim movement from its founding in the early twentieth century by a con man who claimed to be God, to the height of power of the movement's leading figure, Elijah Muhammad, to how the great-grandson of Texas slaves reinvented himself as a Muslim leader in Oakland and built the violent cult that the young gunman eventually joined. Peele delves into how charlatans exploited poor African Americans with tales from a religion they falsely claimed was Islam and the years of bloodshed that followed, from a human sacrifice in Detroit to police shootings of unarmed Muslims to the horrible backlash of racism known as the "zebra murders," and finally to the brazen killing of Chauncey Bailey to stop him from publishing a newspaper story. 
 
Peele establishes direct lines between the violent Black Muslim organization run by Yusuf Bey in Oakland and the evangelicalism of the early prophets and messengers of the Nation of Islam.  Exposing the roots of the faith, Peele examines its forerunner, the Moorish Science Temple of America, which in the 1920s and '30s preached to migrants from the South living in Chicago and Detroit ghettos that blacks were the world's master race, tricked into slavery by white devils. In spite of the fantastical claims and hatred at its core, the Nation of Islam was able to build a following by appealing to the lack of identity common in slave descendants. 

In Oakland, Yusuf Bey built a cult through a business called Your Black Muslim Bakery, beating and raping dozens of women he claimed were his wives and fathering more than forty children.  Yet, Bey remained a prominent fixture in the community, and police looked the other way as his violent soldiers ruled the streets.
 
An enthralling narrative that combines a rich historical account with gritty urban reporting, Killing the Messenger is a mesmerizing story of how swindlers and con men abused the tragedy of racism and created a radical religion of bloodshed and fear that culminated in a journalist's murder.

THOMAS PEELE is a digital investigative reporter for the Bay Area News Group and the Chauncey Bailey Project. He is also a lecturer at the University of California, Berkeley, Graduate School of Journalism.  His many honors include the Investigative Reporters and Editors Tom Renner Award for his reporting on organized crime, and the McGill Medal for Journalistic Courage. He lives in Northern California.
About the Author
Thomas Peele's journalism career began in Bridgehampton, New York in 1983. He has since worked for seven daily newspapers. Today he is an investigative reporter for the Bay Area News Group. Peele is also a lecturer at the University of California, Berekely, Graduate School of Journalism, co-teaching a class on public-records reporting. He has won more than 50 journalism awards, for long term investigations of government corruption, the environment, casino gambling and murders and a story in the first person voice of a Christmas tree waiting to be bought on Christmas Eve. He has a bachelor's degree in journalism from Long Island University, and a masters in creative writing from the University of San Francisco.
Praise For Killing the Messenger…
"Gripping and insightful…A page-turner, in the tradition of great true-crime novels such as Truman Capote's In Cold Blood." -- San Francisco Bay Guardian

"A story told with the authority and nuance that comes with exhaustive research…Without a doubt Killing the Messenger will stand as the definitive work on Bailey's murder and Oakland's Your Black Muslim Bakery." – The Associated Press

"[A] chilling narrative…Peele's undying integrity not only uncovers enough hard-hitting facts to thoroughly close both the investigation and the murder, but also restores our trust that justice can be served."  -- Uptown Magazine

"A very well written and thoroughly researched book…Peele bring vital historical context to the contemporary aspects of his tale…Killing the Messenger may well be the best, most thoroughly researched, and – with exceptions noted – most objective book thus far written on the subject, and is no doubt destined to become required reading in many colleges and universities.  Hopefully it will also be read in prisons, to educate young black men that Tricknology comes in all colors.  If the devil is indeed in the details, Peele has given us many demons to exorcise." – Columbia Journalism Review

"An astonishing account…Reading it, I kept flashing back to "The Wire," David Simon's devastating HBO series on the disintegration of the American city. There are details in this book that even Simon couldn't have dreamed up…Peele's writing is straightforward and free of sensationalism…More than a gripping true-crime story, Killing the Messenger is an indictment of a corrupt and cowardly civic culture that isn't unique to Oakland." – Cleveland Plain Dealer

"Killing the Messenger will be a revelation to many readers, detailing 100 years of American history that simply isn't part of the mainstream lexicon. Peele masterfully draws a line from the "radical faith" that the scars of slavery and Jim Crow helped popularize to the bullets that turned Chauncey Bailey into "a First Amendment martyr."" – San Francisco Chronicle

"[Thomas Peele] is the kind of writer who can convert the passion of newswriting into an art form, even if it's a subject -- the assassination of a journalist, and the events that led up to it -- that's never pretty nor polished.  Indeed, he managed to take a complex subject -- the rise of a family in Oakland, Calif. that worshiped the Nation of Islam, and then conspired to assassinate a journalist to protect themselves -- and make it simple, dramatic and unique." – Tom Davis, The Huffington Post

"The murder of Oakland journalist Chauncey Bailey and a family's violent rise to prominence is given gripping life…Compelling reading…And it is a chilling reminder of the murder and acts of intimidation that confront journalists around the world regularly. Seeking to bring light to the truth can be a dangerous pursuit, even here in the land of the free." – LA Times

"With a sense of immediacy and purpose, Peele reconstructs the story in gripping fashion. He is especially adept at describing personalities…Killing the Messenger leaves no stone unturned in its historical account. The author illuminates each new character — even if it means going back a generation or two — and then puts him into the context of the story. In doing so, he shows how racism and oppression spawned a radical faith rooted in revenge." – Youngstown Vindicator

"A complex, carefully constructed story of the development of the Black Muslim Movement and one of its most notorious leaders." – Kirkus

"[An] eye-opening narrative about radical religion and its consequences...Peele renders characters and scenes with rich detail and his chronicle of events surrounding Bailey's death unfolds with the seamlessness of a fictional thriller, would that were the case." – Publisher's Weekly

"[A] riveting account." - Booklist

"A riveting account of the events that led up to Bailey's murder…It is an exhaustively researched narrative that details the rise and fall of Your Black Muslim Bakery…[with] Sometimes stomach-churning detail."  - Oakland Tribune

"This is totally chilling, incredibly strange material, and the book is sweeping, site-specific, and compulsively readable." – The Observer's Very Short List


"Killing the Messenger is a crackling work of nonfiction, impossible to put down. Like Krakauer's Under the Banner of Heaven, Thomas Peele unpacks a tale of extremism and evil spawned by another peculiar American religion, The Nation of Islam. The malicious leader Yusuf Bey and his murderous followers and sons in the Your Black Muslim Bakery cult wreaked bloody havoc on the Bay Area for decades, until finally brought down by their brazen killing of a community journalist, Chauncey Bailey." - Nina Burleigh, New York Times bestselling author of The Fatal Gift of Beauty

"Tough, taut, and true! Killing the Messenger is a non-fiction noir trip through the dark side of religion, journalism, racial politics, and law enforcement. A REAL thriller." – Robert Lipsyte, author of An Accidental Sportswriter

"Peele exposes the sordid and homicidal history of the Nation of Islam and its offshoots. Yusuf Bey, like David Koresh and Jim Jones before him, was the leader of a cult of personality. While most members of any cult are essentially good but misguided people, Peele shows how anyone, no matter how well-intentioned, will do almost anything – including kill – if he believes his leader is divine. Chauncey Bailey was, sadly, a victim of Bey's megalomania." --Karl Evanzz, author of The Judas Factor and The Messenger: The Rise and Fall of Elijah Muhammad

"Thomas Peele is one of the great investigative reporters working today.  His remarkable and obsessively researched book charts the trajectory of an Oakland crime family responsible for a string of murders. More important, perhaps, it exposes the willful myopia of the city officials and community leaders who allowed this outfit to operate over a span of decades."  -A.C. Thompson, Investigative reporter, ProPublica and PBS Frontline