Provence, 1970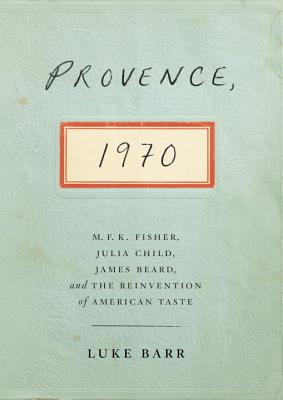 Provence, 1970
M.F.K. Fisher, Julia Child, James Beard, and the Reinvention of American Taste
Clarkson Potter Publishers, Hardcover, 9780307718341, 320pp.
Publication Date: October 22, 2013
* Individual store prices may vary.
Buy at Local Store
Enter your zip code below to purchase from an indie close to you.
or
Not Currently Available for Direct Purchase
Description
Provence, 1970 is about a singular historic moment. In the winter of that year, more or less coincidentally, the iconic culinary figures James Beard, M.F.K. Fisher, Julia Child, Richard Olney, Simone Beck, and Judith Jones found themselves together in the South of France. They cooked and ate, talked and argued, about the future of food in America, the meaning of taste, and the limits of snobbery. Without quite realizing it, they were shaping today's tastes and culture, the way we eat now. The conversations among this group were chronicled by M.F.K. Fisher in journals and letters—some of which were later discovered by Luke Barr, her great-nephew. In Provence, 1970, he captures this seminal season, set against a stunning backdrop in cinematic scope—complete with gossip, drama, and contemporary relevance.
About the Author
Luke Barr is an editor at "Travel + Leisure "magazine. A great-nephew of M.F.K. Fisher, he was raised in the San Francisco Bay Area and in Switzerland, and graduated from Harvard. He lives in Brooklyn with his wife and their two daughters.
Praise For Provence, 1970…
"Luke Barr has inherited the clear and inimitable voice of his great-aunt M.F.K. Fisher, and deftly portrays a crucial turning point in the history of food in America with humor, intimacy and deep perception. This book is beautifully written and totally fascinating to me, because these were my mentors—they inspired a generation of cooks in this country." —Alice Waters
 
"Luke Barr conjures the past and pries open the window on a little known moment in time that had profound implications on how we live today. With an insider's access, a detective's curiosity, and a poet's sensitivity, he illuminates a culinary clique that not only changed the way we eat, but how we think about food. Provence, 1970 is as much a meditation on the nature of transition and the role of friendship, as it is on the power of food to unite, divide, and ultimately nourish the soul. For this a 'non-foodie' it was a revelation—for the connoisseur among us, it may well be orgiastic." —Andrew McCarthy, author of The Longest Way Home: One Man's Quest for the Courage to Settle Down
 
"Luke Barr has brought the icons of the food world vibrantly to life and captured the moment when their passion for what's on the plate sparked a cultural breakthrough.  His graceful prose provides a thorough, affecting account of their talents and reveals how their disparate personalities defined the very essence of French cuisine." —Bob Spitz, author of Dearie
 
"Brilliant conversation, dimmed lights, culinary intrigue, urchin mousse, a glass of Sauternes . . . Luke Barr has written one of the most delicious and sensuous books of all time. It brims with love of food and wine." —Gary Shteyngart, author of The Russian Debutante's Handbook and Super Sad True Love Story

"Luke Barr has written a lovely, shimmering, immersive secret history of an important moment that nobody knew was important at the time."
—Kurt Andersen
 
"Luke Barr has written a wonderful, sun-dappled account of the pleasures of cooking and eating in good company. With the deftest of touches, he describes a gathering of celebrated chefs—including Julia Child, his great-aunt M. F. K. Fisher, James Beard, and Richard Olney—and the way their American palates transformed French culinary rules for a homegrown audience. Both a meditation on the power of friendship and the uses of nostalgia, Provence, 1970 is the kind of book you want to linger with as long as possible."
—Daphne Merkin

"Luke Barr paints an intimate portrait of the ambitious, quarrelsome, funny, hungry pioneers who brought about a great culinary shift—the ending of the classical era, and the beginning of a newly experimental, wide-ranging, ambitious cuisine, one that was inspired by France but was quintessentially American in style and flavor. Provence, 1970 gives a front-row seat to the creation of modern American cooking."
—Alex Prud'homme, co-author with Julia Child of My Life in France