Learning to Swim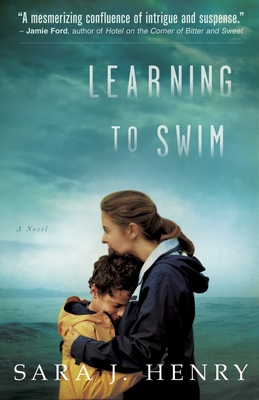 Learning to Swim
Broadway Books, Paperback, 9780307718396, 296pp.
Publication Date: December 20, 2011
* Individual store prices may vary.
Buy at Local Store
Enter your zip code below to purchase from an indie close to you.
or
Buy Here
Description
Winner of the Anthony Award for Best First Novel, the Agatha Award for Best First Novel, and the Mary Higgins Clark Award
When she sees what looks like a child tumbling from a ferry into frigid Lake Champlain, Troy Chance dives in without thinking. When she gets the child to shore she discovers that his name is Paul, he speaks only French and no one seems to be looking for him.
Her determination to protect Paul pulls Troy from her quiet life in a small Adirondack town into an unfamiliar world of wealth and privilege in Canada and then in Vermont. Her attachment to him and the danger she faces when she tries to unravel the mystery of his abandonment force her to evaluate everything she thought true about herself.
Sara J. Henry's riveting, award-winning debut will keep readers engrossed right up to its shattering conclusion.
"From the Hardcover edition.
About the Author
Sara J. Henry has been a columnist, soil scientist, book and magazine editor, Web designer, writing instructor, and bicycle mechanic. Learning to Swim is her first novel.
Praise For Learning to Swim…
"A single woman dives headlong from a ferry into Lake Champlain to rescue a child, and then must figure out what to do with him. Compulsively readable, this is all about what we do for love."  —Boston Globe
 
"In Henry's tense first novel, a young woman rescues a boy from the waters of Lake Champlain, only to see her unruffled life abruptly give way to an unfamiliar world of wealth, privilege and danger. "  —The New York Times
 
"From the opening page, Learning to Swim is a terrific debut. This moving and insightful psychological thriller features the inspiring Troy Chance—an everywoman hero who women will admire and men will want to meet. I can't wait for her next adventure."
—Michael Robotham, bestselling author of Bleed for Me and The Wreckage
 
"Readers will root for Troy Chance from the dramatic opening of Learning to Swim right through to its surprising close. Move over, Kinsey Millhone." —Meg Waite Clayton, bestselling author of The Wednesday Sisters and The Four Ms. Bradwells  

"Learning to Swim is a gut-wrenching, heart-thumping twist of the knife. A compelling tale of mystery's holy trinity: love, loss, and betrayal."  —Reed Farrel Coleman, award-winning author of Hurt Machine and Gun Church
 
"From its shocking opening to its stunning conclusion, Learning to Swim is a frightening ride. Sara J. Henry will quite literally take your breath away."  —J.T. Ellison, award-winning author of Where All the Dead Lie and So Close the Hand of Death
 
"Learning to Swim is a thriller of the most thrilling kind—a smart and crafty story with whiffs of Rebecca that insists from the first sentence that you sit down and not stand up again until you've read the last word. Tell your loved ones to take care of themselves."
—Quinn Cummings, author of Notes from the Underwire
 
"In her debut, the first in a projected series, Henry proves herself to be a smooth and compelling storyteller. And her lead is highly appealing: an athletic, fiercely independent young woman who, like crime-fiction author Gillian Flynn's feisty females, is capable of making delightfully acerbic observations." —Booklist
 
"Sara J. Henry's debut starts with a bang—or, more literally, a splash—and doesn't let up until the final page." —BookPage
 
"Freelance writer Troy Chance, the protagonist of Henry's impressive first novel, impulsively, and literally, dives into trouble when she sees a youngster fall from a ferry boat on Lake Champlain. ... Henry adroitly handles Troy's exposure to new emotions as she reexamines her life and relationships." —Publishers Weekly
 
"A compelling plot, a pervading sense of foreboding, well-constructed characters."  —Kirkus Reviews

 "Take a gulp of air before diving into Vermonter Sara J. Henry's new mystery, because you're likely to hold your breath for the whole first chapter." —Rutland Herald 

"This debut novel is a stunner. This disturbing, moving, compelling book will keep readers engaged until the very last page. It is smart, intense, and full of unexpected plot twists."—Tucson Citizen 

"Part mystery thriller, part family tragedy, part tentative romance, it succeeds on all levels."—Knoxville News Sentinel