The Present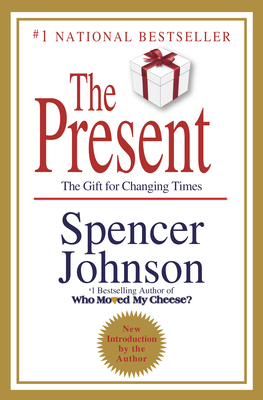 The Present
The Secret to Enjoying Your Work and Life, Now!
Broadway Business, Hardcover, 9780307719546, 111pp.
Publication Date: April 13, 2010
* Individual store prices may vary.
Buy Now
or
Shop Local
Enter your zip code below to purchase from an indie close to you.
Description
For over two decades, Spencer Johnson has been inspiring readers with his simple yet profound stories of the challenges we face in these times of unprecedented change.
 
The Present is an engaging story of a young man's journey to adulthood, and his tireless search for The Present, a mysterious and elusive gift he first hears about from a wise old man.  This Present, according to the old man, is the most valuable gift a person can receive.  Why? Because it is the one thing that doesn't change in changing times.
 
As the young boy becomes a man, he grows disillusioned with his work and his life.  So he returns to ask the old man to help him find The Present. The old man responds, "Only you have the power to find The Present for yourself." Heeding the old man's advice, the young man embarks on a worldwide search for this magical gift that remains unchanging in a changing world, and holds the secret to personal happiness and lifelong success.
 
It is only after the young man has searched high and low and all but given up his relentless pursuit that he discovers The Present—and all of the promises it offers.
 
Like the young man, you may find that it is the best gift you can ever give to yourself — and to those you care about.
About the Author
Spencer Johnson, M.D., is one of the world's most respected thinkers and beloved authors.

His eleven international bestselling books include the #1 titles "Who Moved My Cheese?"(R) "An A-Mazing Way to Deal with Change, "the most widely read book on change, and "The One Minute Manager"(R), the world's most popular management method for over two decades, coauthored with Kenneth Blanchard.

Dr. Johnson is often referred to as "the best there is at taking complex subjects and presenting simple solutions that work."

He recieved a B.A. degree in Psychology from the University of Southern California, an M.D. degree from the Royal College of Surgeons, and performed medical clerkships at the Mayo Clinic and the Harvard Medical School.

He has served as Leadership Fellow at the Harvard Business School, and is currently Advisor to the Center For Public Leadership at Harvard's John F. Kennedy School of Government.

His work has captured the attention of major media, including the Associated Press, the BBC, CNN, "Fortune", the "New York Times", the "Today" show, "Time" magazine, "USA Today", and United Press International.

More than forty-six million copies of Spencer Johnson's books are in print worldwide in more than forty-seven languages.
Praise For The Present…
"Many of the people I have observed could have been even happier and more successful, in their careers and their lives, had they been given the gift of The Present."

Norman Augustine, Fmr. Chairman and CEO, Lockheed Martin Corp.,
Fmr. Chairman, American Red Cross, Fmr. Lecturer, Princeton University