How We Love Our Kids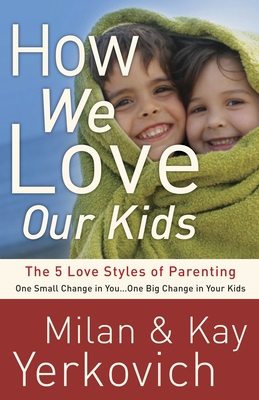 How We Love Our Kids
The 5 Love Styles of Parenting
Waterbrook Press, Paperback, 9780307729248, 294pp.
Publication Date: March 15, 2011
* Individual store prices may vary.
Buy Now
or
Shop Local
Enter your zip code below to purchase from an indie close to you.
Description
One "Small Change" in How You Love
One "Big Change" in your Kids
Having problems with your kids? What if "you" are the problem and you just can t see it? "How We Love Our Kids" offers a unique approach, to help you as a parent transform your kids by making specific changes in how you love. It's the "only" book specifically for parents that reveals the unseen forces that shape every interaction with your kids.
Identify which of the five love styles you have.
Discover the surprising dynamics that shape your parenting.
Get rid of your buttons so your kids can t push them.
Create a close connection with your kids that will last a lifetime.
Learn the seven gifts every child needs.
Based on years of research in the area of attachment and bonding, "How We Love Our Kids" shows parents how to overcome the predictable challenges that arise out of the five love styles and helps parents cultivate a secure, deep connection with a child of any age. Retool your reactions and refocus on how you love. Start today. Watch your kids flourish and thrive as they receive what was missing in your love.
"With four self-assessments and powerful application tools to use with children of all ages.
About the Author
Milan Yerkovich is a weekly talk show host on the "New Life Live!" radio program. An ordained pastor with a master's degree in biblical studies, he has been helping couples and families build healthier relationships for more than twenty-five years. Previously a pastoral counselor for The Center for Individual and Family Therapy, Milan now teaches seminars on relationships and intimacy and is cofounder of Relationship 180, a non-profit ministry for Christian leaders and laity.
Kay Yerkovich is a licensed marriage and family therapist with a master's degree in counseling. She has been using attachment theory in her professional counseling of couples and families for more than thirteen years.
The Yerkoviches have been married thirty-three years and are the parents of four adult children. They make their home in Southern California.


Praise For How We Love Our Kids…
Praise for How We Love Our Kids

"Milan and Kay provide us with the tools of self-awareness which can enable us to consciously examine the love styles of the past and become conscious of the stored feelings and emotions that we carry forward into parenting. This book will now be one of my primary reading recommendations."
—Michael W. Shannon, MD

"Another home run for Milan and Kay Yerkovich!"
— Sherrie Eldridge, speaker and author of Twenty Things Adoptive Parents Need to Succeed

"After reading this book, our first thoughts were, Every parent needs to read this book—regardless of the ages of their children, and, Reading this book could not only protect children from the pains of growing up but also heal the parents' hearts. This book offers insightful, practical ways of understanding children and parenting. We recommend it."
—Roger and Becky Tirabassi, authors of Let Love Change Your Life

"This book is a true gift to parents who yearn to understand and communicate with their children, thus bringing about healing and restoration. Milan and Kay remind us that God is our perfect model for parenting. This book has touched my life, and I know it will touch yours too."
—Elizabeth John, MD

"Milan and Kay provide us an entirely new way of looking at parenting. Rather than focusing solely on the how-tos of parenting, they help us explore the powerful forces of our own upbringings on how we parent and provide a path to change those forces for good in the lives of our children. As a parent educator for over twenty-five years, I see this book as the resource we've been missing!"
—Laura Taggart, licensed marriage and family therapist

"Finally! A treatment of parenting that acknowledges the eight-hundred pound gorilla in the room: parents working out their personal issues on their children. If you want to transform your child's life, then let Milan and Kay gently, firmly, and skillfully guide you on this amazing journey of personal change."
—Kenny Luck, author of Soar, Fight, and Dream

"Imagine decreasing the drama in your home by simply learning how to comfort one another. How We Love Our Kids unfolds five distinct love styles in parenting—their traits, strengths, and pitfalls. The real-life stories allow us to see ourselves and how we naturally express ourselves to our children. Whatever blend of love styles is under your roof, Milan and Kay will show you the direct route to building deeper love, intimacy, and connection."
—Sheri Denham, PhD, MFT, and co-host of New Life Live

"If you've ever struggled with being a good enough parent, ever been triggered by your child's behavior in ways you'd be too embarrassed to recount, or ever compensated with your child to override your guilt, then you won't want to miss How We Love Our Kids!"
— Jill Hubbard, PhD, co-host of New Life Live and author of The Secrets Women Keep and The Secrets Young Women Keep

"Milan and Kay have given us great insights into how our own attachment issues affect our parenting styles. Every parent needs to read this book, regardless of the ages of their kids."
—David Stoop, PhD, author of Just Us and Forgiving the Unforgivable