Spiritual Warfare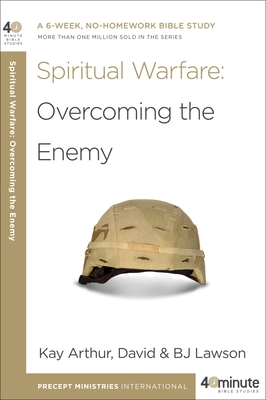 Spiritual Warfare
Overcoming the Enemy
Waterbrook Press, Paperback, 9780307729798, 65pp.
Publication Date: December 20, 2011
* Individual store prices may vary.
Buy Now
or
Shop Local
Enter your zip code below to purchase from an indie close to you.
Description
Are you ready for battle?
Whether you realize it or not, you live in the midst of spiritual combat. Your enemy, the devil, is dangerous, destructive, and determined to keep you from effectively serving God. In order to defend yourself against his attacks, you need to know how the enemy operates.
Through this six-week study you will gain a thorough knowledge of the enemy's tactics and schemes. As you discover the truth about Satan--including the limits of his power--you will be equipped to stand firm against his attacks and to develop a strategy for living daily in victory.
"40 minutes a week could change your life "
The 40-Minute Bible Studies series from the teaching team at Precepts Ministries International tackles the topics that matter to you. These inductive study guides, designed to be completed in just six 40-minutes lessons with no homework required, help you discover for yourself what God says and how it applies to your life today. With the leader's note and Bible passages included right in the book, each self-contained study is a powerful resource for personal growth and small-group discussion.
About the Author
Kay Arthur is a four-time Gold Medallion award-winning author, member of NRB Hall of Fame, and beloved international Bible teacher. She and her husband, Jack, cofounded Precept Ministries International to teach people how to discover truth through inductive study. Precept provides teaching and training through study books, TV and radio programs, the Internet, and conferences in over 180 countries and 70 languages.

After graduating from Pittsburg State University, Chris Watson began working on his first film, Mob Daze. Watson cowrote and produced the comedy, directed by Dave Thomas, and starring Robert Z'Dar and Joe Estevez. The following year he made his directorial debut with the low-budget cult shocker Zombiegeddon, which he also wrote, produced, and acted in. Based on the success of this film, Watson was soon tapped to produce the films Slaughter Party, Minds of Terror, and Evil Ever After. In addition, Watson has worked on a handful of films by other directors in various capacities, including casting director, screenwriter, and second unit director, and has even appeared on the hit Showtime series Family Business. Watson most recently co-wrote and directed "Dead in Love" featuring Margaret O'Brien, Richard Norton, Tony Todd, Kristin Minter, Joshua Leonard, Eric Edwards and more. "Dead in Love" won the audience award for Best Film at the Barebones Film Festival in competition with nearly 200 other films.