The Winnowing Season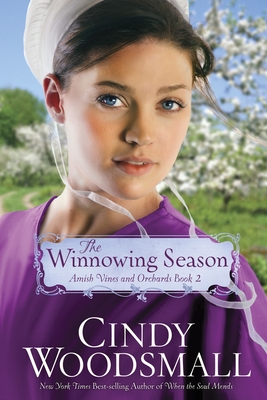 The Winnowing Season
Waterbrook Press, Paperback, 9780307730046, 322pp.
Publication Date: April 2, 2013
* Individual store prices may vary.
Buy at Local Store
Enter your zip code below to purchase from an indie close to you.
or
Buy Here
Description
The tornado that devastated Kings Orchard pushed Rhoda, Samuel, and Jacob to make a new start inMaine. Are they strong enough to withstand the challenges of establishing an Amish community and brave enough to face the secrets that move with them?
On the eve of their departure to begin a new Old Order Amish community outside of Unity, Maine, Rhoda Byler is shocked to discover that choices made by her business partner and friend, Samuel King, have placed her and her unusual gifts directly into the path of her district's bishop and preachers. She is furious with Samuel and is fearful that the Kings will be influenced by the way her leaders see her, and not what they know to be true that Rhoda's intuition is a gift from God.
Jacob King won t be swayed by community speculation. He loves Rhoda, believes in her, and wants to build a future with her inMaine. But when the ghosts of his past come calling and require him to fulfill a great debt, can he shake their hold before it destroys what he has with Rhoda? Samuel has a secret of his own one he ll go to great lengths to keep hidden, even if it means alienating those closest to him. Throwing himself into rehabilitating the once-abandoned orchard, Samuel turns to a surprising new ally.
Book 2 of the Amish Vines and Orchards series asks: can the three faithfully follow God's leading and build a new home and orchard inMaine? Or will this new beginning lead to more ruin and heartbreak?
About the Author
Cindy Woodsmall and her husband make their home in Georgia and have raised and home schooled three sons. Her husband became her staunchest supporter while she took writing courses, attended seminars, and strove to write a story from seeds sown years ago when her best friend was a Beachy Amish Mennonite girl. When the Heart Cries is Cindy's first novel.
Praise For The Winnowing Season…
Praise for The Winnowing Season

"Cindy Woodsmall weaves a page-turning plot in The Winnowing Season, featuring the mysterious Rhoda Byler and a supporting cast of other complex characters. This story grabbed my heart and kept on tugging—long after I'd read the last word. I can't wait for the third book in the series!"
—Leslie Gould, author of Courting Cate

"Cindy Woodsmall creates Amish characters in a way no other author does. Her obvious love for and intimate knowledge of the Amish allow the reader into the characters' lives aside from the religious aspect of the community. They laugh, and I laugh with them. They hurt, and so do I. Add to the characters a compelling plot and a girl with an unusual gift, and the book is impossible to put down."
—Tracey Bateman, author of The Widow of Saunders Creek

Praise for A Season for Tending

"Woodsmall honors the Amish through her well-researched story, with a heartfelt romance and lovable characters."
—Romantic Times

"I have to say that I love this book. The characters in the story are dimensional and interesting. Woodsmall has created families, situations, and places that are believable, geared toward modern-day life with current challenges… It makes both families more endearing. I look forward to the next book in the series."
—www.thechristianmanifesto.com

"Cindy's well-developed, multidimensioned characters cause readers to care about them, their lives, and their problems. Their choices and decisions that carry the story forward also reveal biblical wisdom without preaching. I'm sure this new series will add many new readers to Cindy's growing fan base."
—www.midwestbookreview.com

"A Season for Tending is the first in Woodsmall's new series, Amish Vines and Orchards, and her characters will leave you missing friends when the last page is read. Book 2 can't come soon enough!"
—CBA Retailers and Resources