The Dragons of Chiril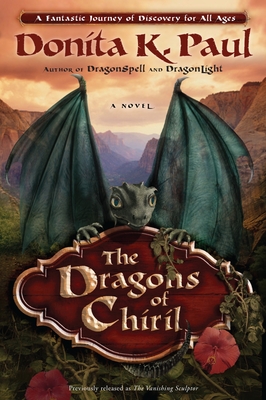 The Dragons of Chiril
Waterbrook Press, Paperback, 9780307730114, 398pp.
Publication Date: June 21, 2011
* Individual store prices may vary.
Buy at Local Store
Enter your zip code below to purchase from an indie close to you.
or
Buy Here
Description
Before DragonSpell, on a different continent and a different time, a young emerlindian's desperate decision threatens to disrupt the foundation of the world.
Tipper has been caring for her family's estate for years now, ever since her father disappeared, making a living by selling off his famous artwork. Then she learns that three statues she sold were carved from an ancient foundation stone, and the fabric of her reality is crumbling.
She must free her father and save the world. But she can't do it alone.
Her ragtag band of adventurers includes Beccaroon, a giant parrot; Bealomondore, an aristocratic young artist; a handsome dragonkeeper prince; the Wizard Fenworth; and the tumanhofer librarian Librettowit. Together they travel through valleys and kingdoms and consort with purveyors of good and agents of evil to find and reunite the missing statues. Will they learn to rely on Wulder's grace and guidance along the way?
Previously released as The Vanishing Sculptor
About the Author
Donita K. Paul is the author of the bestselling DragonKeeper Chronicles with over a quarter of a million books in print.
Praise For The Dragons of Chiril…
Praise for The Dragons of Chiril

"Have you ever looked at a painting from a distance and thought it beautiful, only to draw nearer to it and realize it was more exquisite, complex, and wonderful than you ever imagined? The Dragons of Chiril by Donita K. Paul is like that. I began reading and liked it. As usual, I found myself happily enveloped in a vivid world full of emerlindians,
tumanhofers, and dragons. But then, just when I thought the work was beautiful, something deep within me started to tingle…and I began to see that The Dragons of Chiril was far more than simple entertainment or escape. I had one 'aha!' moment after another. Clues everywhere, right in front of my eyes, blossomed into truth, until at last I put down the book and swam in the rich waters of adventure, peace, and blessed melancholy—the rare state revealing that you've been touched by the story of an inspired author. The Dragons of Chiril is sure to be loved by readers and re-readers of every age."
—WAYNE THOMAS BATSON, best-selling author of the Door Within Trilogy, Isle of Swords, and Isle of Fire

"Donita K. Paul never fails to satisfy the imagination and delight the soul. In The Dragons of Chiril, she takes us beyond the boundaries of her beloved DragonKeeper chronicles and opens up vast new realms of wonder. The adventure of Tipper, the sculptor's daughter, will strike a responsive chord in the heart of every reader who has ever faced a seemingly impossible challenge. This is fantasy that truly illuminates reality!"
—JIM DENNEY, author of the Timebenders series

"The Dragons of Chiril is a delightful tale of otherworldly adventures laced with heavenly meanings. Author Donita K. Paul skillfully transports you to a fantasy world populated with emerlindians, tumanhofers, speaking grand parrots, wizards, and magical librarians; where flying dragons communicate and mysterious portals whisk you across the world. Readers young and old will love journeying along with the enchanting questing party on their mission to save the world and discover a loving God."
—MEGAN DIMARIA, author of Searching for Spice and Out of Her Hands

"Stunning beginning to a new series! Rarely does an author recapture the exquisite charm and the bold freshness first discovered in her initial series. Donita K. Paul fans are in for a treat as they uncover new wonders and enchantment in the world of Chiril. New readers will revel in the magical blend of mischief and mayhem woven with wittiness and intrigue throughout this engaging tale. From the zany disposition of Lady Peg to the spirited charm and wit of Tipper, her youthful daughter, The Dragons of Chiril tingles our most fervent emotions of love, joy, and hope. An exciting complement to the DragonKeeper series, and a fantastical adventure for inaugural audiences of all ages."
—ERIC REINHOLD, author of The Annals of Aeliana, Ryann Watters and the King's Sword, and Ryann Watters and the Shield of Faith