Twice a Bride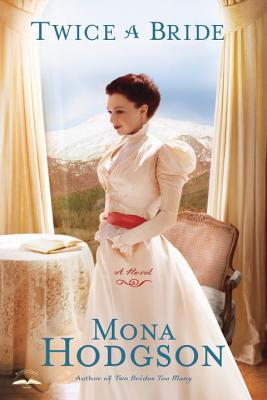 Twice a Bride
Waterbrook Press, Paperback, 9780307730329, 306pp.
Publication Date: October 2, 2012
* Individual store prices may vary.
Buy at Local Store
Enter your zip code below to purchase from an indie close to you.
or
Buy Here
Description
Love lost doesn t mean love lost "forever."
Can unexpected romance deliver a second chance for two deserving widows?
Full of resolve, young widow Willow Peterson decides to pursue her dreams to be an artist as she settles into a new life in the growing mountain town of Cripple Creek. When she lands a job working as a portrait painter with handsome entrepreneur and photographer Trenton Van Der Veer, the road before Willow seems to be taking a better-than-anticipated turn.
With questions tugging at several hearts in town, including the Sinclair Sisters beloved Miss Hattie, change is traveling down the tracks as several unexpected visitors make their way out West. Will the new arrivals threaten the deep family bonds of the Sinclair sisters and the roots of love that are just taking hold for Willow?
Filled with the resonating questions that all women face, this romance awakens hope against grief, love against loss, and dreams against life's unexpected turns.
About the Author
Mona Hodgson is the author of nearly 30 children's books and also writes 19th century historical fiction. In addition to writing and speaking, Mona likes to read mysteries and love stories, hike Arizona, travel to Africa, play table games, and play Wii Tennis. She lives in central Arizona where she spies roadrunners, quail, cottontail rabbits, and even an occasional skunk in her yard.
Praise For Twice a Bride…
Praise for The Sinclair Sisters of Cripple Creek Series

"A beautiful tale. Intriguing. Inviting. Inspiring."
—Cindy Woodsmall, author of The Hope of Refuge and When the Soul Mends

"It's always a joy to read a historical novel that isn't afraid to let its women escape the farm. Cripple Creek's cast of colorful characters play host to a new romance, as well as pulling back the curtain on a local family tragedy. This
sequel does more than simply tell the "next" story; it revisits the characters we've already come to love and creates a complementary depth to an entertaining new tale."
—Allison Pittman, author of Stealing Home and The Bridegrooms

"Ida believes her future is secure in a man's world. After all, she has drive and determination. But what happens when she meets a man who makes a withdrawal from her heart? Author Mona Hodgson makes discovering the answer to this question a rich, rewarding adventure."
—DiAnn Mills, author of A Woman Called Sage and the Texas Legacy Series

"All the ups and downs of a romance with a delightful dose of history, with characters that will sneak into your heart and take up residence. More, more, we want more."
—Lauraine Snelling, author of No Distance Too Far and the Daughters of Blessing Series